Facebook owned Whatsapp messaging service has become an imperative application for all smartphone users. Available across all major mobile platforms (and now, on desktops as well), the messenger had managed to clock 1 billion daily active users, when it announced the milestone back in July. Since its reign under Facebook, Whatsapp has undergone a lot of changes, and updates for the same have been rolled out at a steady pace. May it be the inclusion of voice/video calls, or the Snapchat cloned auto-disappearing status/text updates, Facebook has surely changed the way we had been using Whatsapp previously. With upcoming features like Whatsapp for Businesses and Peer-to-Peer Payment, the beta app updates are an indication as to how Whatsapp is trying to expand its role in the market.
A new beta version for the messenger was released today, in which the application finally boasted about its self-designed emojis. After using iOS inspired emojis for quite some time, the new android beta update includes Whatsapp's own line of emojis. Somewhat flat and less rounded, the new emojis seem to be a fusion of Google and iOS emoji.
"At a glance these could be confused for Apple's own emojis," says Jeremy Burge of Emojipedia, who first noted the update. "It appears that the brief for this project may have been 'take Apple's emojis, and change them enough so we can call them our own'. Is that a bad thing? Perhaps not, given how change-averse most users can be."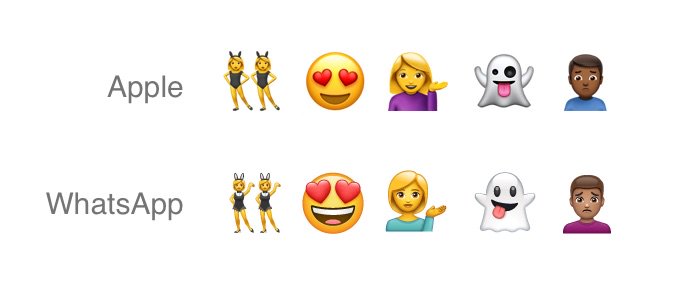 Separating its set of emojis altogether in v2.17.364 beta update, it seems like Whatsapp doesn't want to rely on third parties for its supply of emojis anymore. After all, if Facebook and its "Messenger" application can have a dedicated line of emojis, then why can't Whatsapp have one for itself? You can check the new update by downloading the application from here, or enrolling yourself in the Play Store Beta Program.
Do let us know your take on the new design, in the comments below.
Get notification about our latest updates, leaks, hacks & exciting offers in realtime!