Recently the MOTO Z2 had shown up on Motorola China's website and we felt that it was pretty much confirmed that the company planned to launch the same on the 25th July event. But, today a new Motorola handset has surfaced on GFXBench muddying up the field. The biggest issue is that the Motorola XT1789 does not match up with any of the recently leaked MOTO devices' predictions. So what might be the latest MOTO handset, let us dive right in.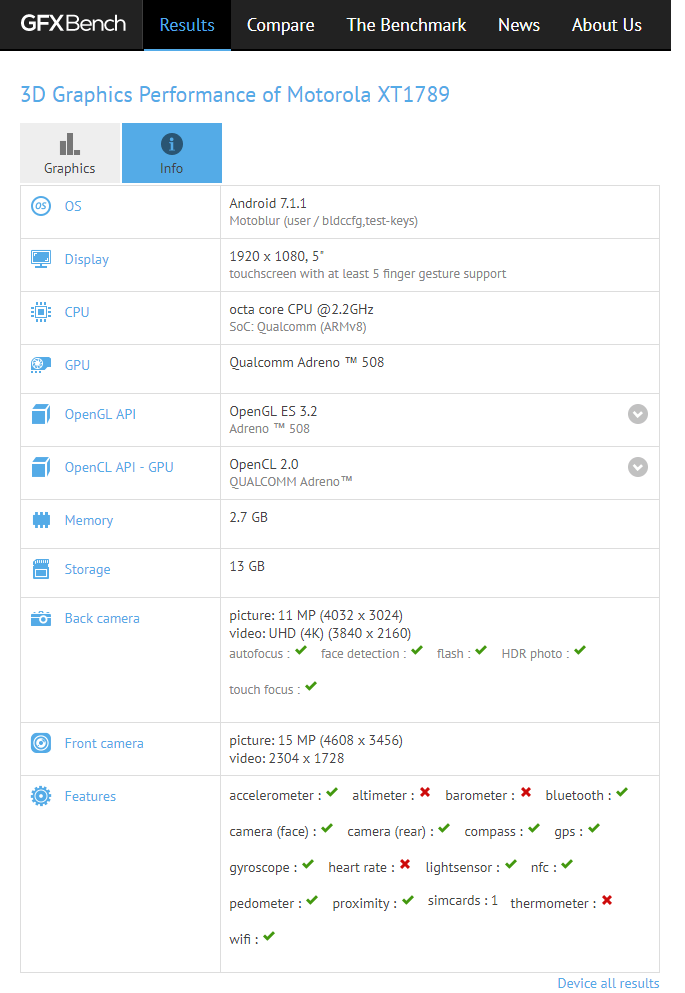 The mystery Motorola handset comes with a 5.0-inch full-HD (1080 x1920) touchscreen display. On the chipset front, it carries a Qualcomm Snapdragon SoC with an octa-core CPU clocked up to @2.2GHz and Adreno 508 GPU. Speculations are rife that this is either the upcoming Snapdragon 630 or the mid-range flag-bearer, the Snapdragon 660. The chipset is complemented with 3GB of RAM and 16GB of internal storage. For the camera, the XT1789 has been provisioned with a 12-megapixel rear camera with a dedicated flash, autofocus, touch-focus, face detection support and HDR capability. Unusually the selfie camera up front is a 16-megapixel sensor which is the highest pixel count for such a camera on any Motorola MOTO handset. On the OS front, Motorola has provisioned the smartphone with Android v.7.1.1, Nougat.
Read More: The MOTO G5S Plus gets leaked, better build quality and dual cameras
Overall this makes the handset unique and not fit in with any recently leaked MOTO handset concept, it has a 5.0-inch display, while the upcoming MOTO G5S range will come with a 5.2-inch display minimum. The camera configuration does not match up with the dual camera MOTO X4 either, so unless this is GFXBench misinterpreting/misrepresenting the data, it cannot be that handset either.
On the sensor front, the Motorola XT1789 has an accelerometer, Bluetooth, Compass, GPS, Gyroscope, Pedometer, NFC and WiFi. GFXBench also tells us that the smartphone has a single SIM slot. Overall, currently with the limited data, we have on hand we cannot rightly pin down which handset is this and whether we would be seeing a glimpse of it at the 25 July New York event.
Follow us on our social media to keep up to date with the latest in the world of Android.