Most brands which make Android smartphones are not keen on the idea of Android tablets. A niche market spawned by Apple's iPad line of products, Android hardware partners have found it hard to break into the market with Apple's offerings being supremely dominant. Motorola Mobility had released the tablets under the DROID line way back in 2011 but after a lukewarm response quickly withdrew from the market. Now under Lenovo, the company is looking to take another stab at the segment.
Android Police quotes a private source that has tipped them of about Motorola working on a new Android tablet. They also shared a screenshot (attached below) that illustrates one of the upcoming features of the device, Productivity Mode. The report goes on to state that the company has worked on providing it with a premium look and feel as well. Apart from this image though the information is rather sparse with no details about what hardware it might be carrying, what is the project name or a potential release window. Even with the lack of all this information, AP is supremely confident in their source and further speculate whether the device will be launched with cellular connectivity options or not.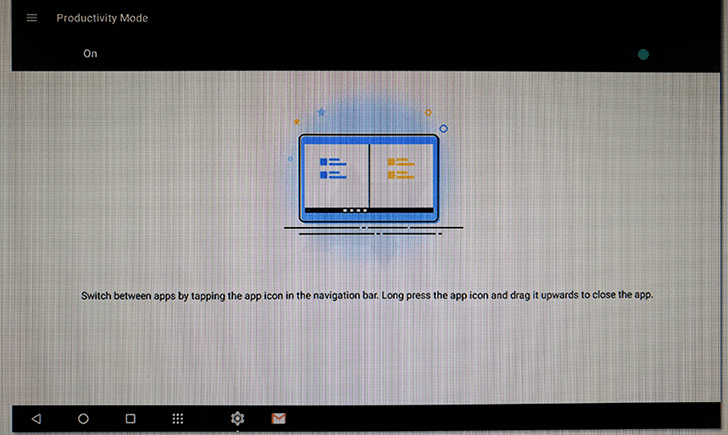 Getting back to the screenshot provided, Motorola is looking to implement a feature called "Productivity Mode" which a user can toggle on or off. When you turn it ON, you can pin applications to the navigation bar and quickly switch between them without having to pull up the multitask UI or returning to the home screen. According to the report, one can manipulate the applications by long-holding on an icon in the navigation bar dragging it up which suggest that these applications will be kept running in the memory in the background till they are manually turned OFF or a user steps out of the Productivity Mode.
Apart from this the screenshot also shows a dedicated application drawer button on the navigation bar which makes sense in this particular mode for faster and easier multitasking.
For the latest in the world of Android, follow us on our social media.
Get notification about our latest updates, leaks, hacks & exciting offers in realtime!