When Xiaomi announced MIUI 9, they laid down a road map of the rollout of the firmware in three stages. The first stage of closed beta had just 3 devices and was the earliest to get the new MIUI 9 update. Those were the Xiaomi Mi 6, Mi 5X, and Redmi Note Note 4X (Qualcomm version). The second batch included a bigger list. The Mi MIX, Mi Note 2, Mi 5, Mi 5s, Mi 5s Plus, Mi 5c, Mi Max 2, Mi Max, Mi 4S, Mi 4c, Mi Note Pro, and Redmi 4X were among them. Again this was also a closed beta update.
The third batch is the biggest update Xiaomi has ever done. Moreover, it's ahead of schedule. This should be an open beta update for the third batch. Since a closed beta was released 2 weeks back. All this is with regards to the Chinese Developer ROM. We don't have details regarding the Global ROM.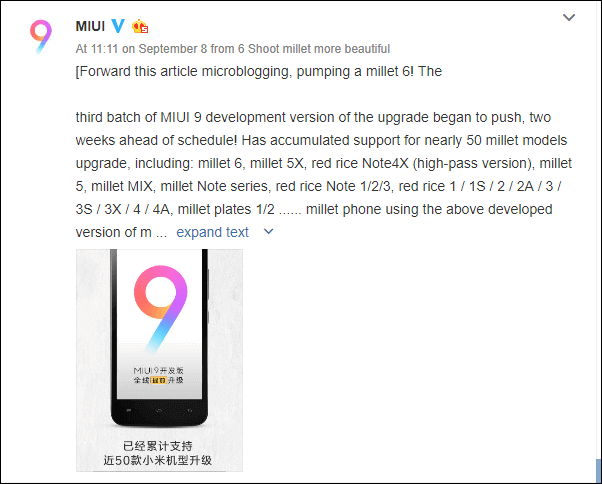 The list of eligible devices in the third batch of MIUI 9 CLosed Beta update is rather long.
Here it is:
Mi 3, Mi Note 3, Mi Note 2 / 2S, Mi Pad 3, Mi Pad 2, Mi Pad 1, Redmi Pro, Redmi Note 4X-MediaTek version, Redmi Note 4 (all versions), Redmi Note 3S / 3X, Redmi Note 3 (all versions), Redmi Note 2 (all versions), Redmi Note (all versions), Redmi Note 1S, and Redmi Note 1
Eligible devices will have to be on the MIUI 8 developer ROM to get a direct OTA update to this new version. Otherwise, stable ROM users will first have to head to the forum to unlock the ROM. Then manually download the respective file for their model, then flash the ROM. In this case a system backup is highly suggested. Also, if you somehow don't have any idea how to root your device or flash a ROM, then it is better to stay put till the stable ROM is released. Xiaomi has stated that it will be releasing the stable ROM in October.