Today, we have got a leak from Weibo along with an invitation to industry watchers to the official unveiling of the MediaTek P30 and P23 chips. The two chipsets would be announced in an event on the 29th of August in Beijing.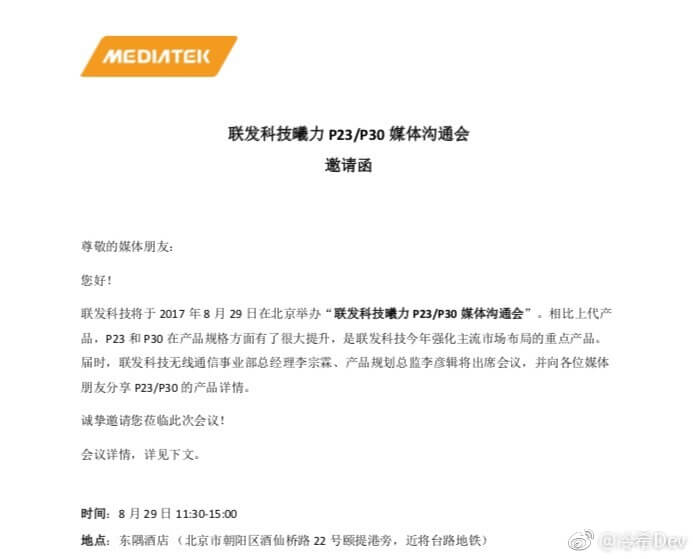 The MediaTek P23 is a mid-range SoC and comes with an octa-core CPU. The chipset is rumoured to support 2K resolution displays and dual cameras, it is also to support Cat.7 and have a memory controller capable of handling LPDDR4X.
The MediaTek P30 SoC is also to feature an octa-core CPU but this would be composed of a quad-core cluster of ARM Cortex A72 cores and a quad-core cluster of ARM Cortex A53 cores. The peak clock frequency of both the clusters is ~1.5GHz, the chipset would be coming with support for Cat.10 and a theoretical download speed of 600Mbps.
Both the chipsets would be manufactured by TSMC but the Helio P23 would be on the 16nm process while the Helio P30 will be on the 12nm process. We have not heard much from MediaTek this year regarding their product stack. This combined with their steady disappearance from mid-range smartphones has lead to a rather subdued atmosphere around the brand.
Read More: MediaTek forced to lower prices on the yet unrevealed Helio P23 chipset
A Weibo user has also alleged that OPPO, VIVO, Xiaomi and Meizu are likely to adopt the new Helio P23 chipsets for smartphones scheduled to launch in Q4 2017. He also states that MediaTek expects to ship ~3 million units of each chip per month.
Follow us on our social media to keep up to date with the latest in the world of Android.