Android Oreo is still a distant pipe dream for many, even flagships. The sad fact is that even after more than a month of release, Android Oreo runs on a mere 0.2% of devices. But big OEMs have started work for builds of their flagship phones. Most recent addition is Huawei. The good people at XDA managed to lay their hands on a beta build of Oreo for the Mate 9. And they were kind enough to let us in on some of its upcoming features. The Oreo treat comes assorted with EMUI 6 as we expected. But there are some neat features. We know that the Mate 10 will have EMUI 6 but here's a heads up if you want to know what's cooking.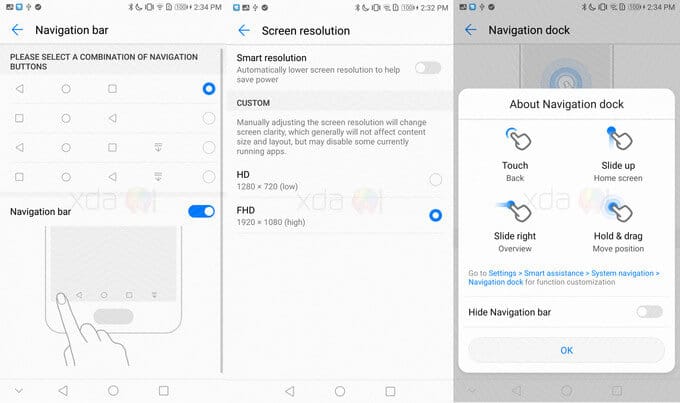 Like most other builds, Android Oreo features like strict background app limits, notification channels, P-i-P mode are all there. The notification channels are not based on AOPS but on EMUI 5. So, expect some surprises there.
I know you want to see some EMUI 6 features. So, here's what we saw. EMUI 6 comes with screen resolution controls like the Galaxy S8. So you can scale down to as low as 720p. This ought to help you squeeze more battery juice when you need it. Another leaf out of Samsung's book is the button to hide the Navigation bar. With the Mate 9 16:9 aspect ratio, this can be a good feature. Also, this immersive mode is already there on the Chinese Huawei Mate 9. So, it isn't new. Alternatively, you can just use a floating button of you don't like the navigation bar. EMUI 6's button is a bit different from its previous iteration as it uses gestures. For example, slide up to go home, slide right for recents, and touch to go back.
Apart from that, the build also has Substratum support. Woah! did you expect that? And it is one of the phones that will be a part of project Treble.
There are still some more changes listed in the XDA article that you might want to look at. For that, we leave a link to the source below.