The LG V30 is the second flagship by LG this year and one of the most anticipated Android devices to be launched. Recently, an LG devices was spotted on the Geekbench benchmarks database bearing the following model number, LGE LG-H932PR. What makes us believe that this may be the LG V30 is the SoC listed as powering the handset, a certain Qualcomm Snapdragon 835 with an octa-core processor clocked @1.9GHz.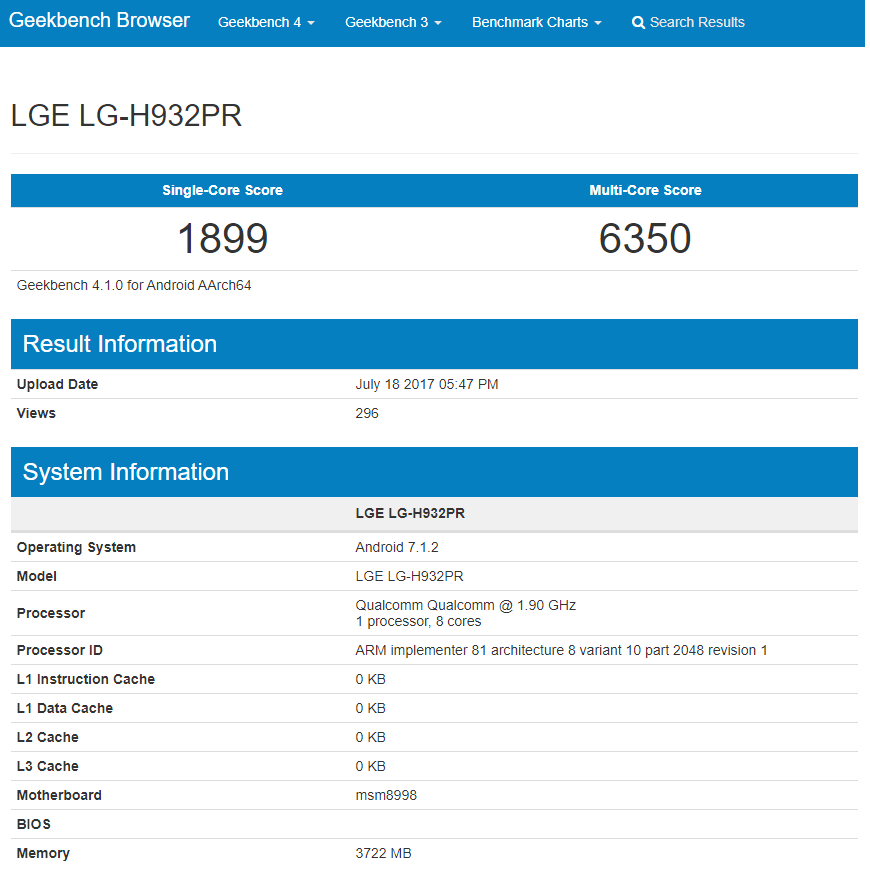 The LGE LG-H932PR is further listed with 4GB of RAM and running Android v.7.1.2, Nougat. With these specifications the handset posts scores of 1899-points and 6350-points in the single-core and multi core benchmark tests respectively. This pretty much falls in line with other Snapdragon 835 powered devices and means that if not exceptional, the LG V30 at the very least is a competitive smartphone on paper.
Apart from these details listed on Geekbench the LG V30 is to have a 5.7-inch OLED display most likely with the companies latest "FullVision" 18:9 aspect ration in place. At the back, it is alleged to carry a dual camera module composed of twin-13 megapixel sensors. For the first time in the history of LG's V-series smartphones, we are seeing the introduction of wireless charging, discarding of the characteristic secondary display and an introduction of IP68 qualification at the expense of a non-removable battery. The battery unit powering this handset is rumoured to be a 3200mAh unit. On the storage front, we are hearing that the smartphone will likely feature 64GB of internal memory.
Read More: LG-H932PR a.k.a. the LG V30 is likely to be launched just prior to IFA 2017 in Berlin
Follow us on our social media to keep up to date with the latest in the world of Android.