LG and Samsung, the two consumer electronics behemoths have quite a rivalry and it is no surprise that it has spilt over into the smartphone arena as well. Earlier this year LG had launched its G6 flagship up to a month in advance of Samsung's Galaxy S8 in a bid to upset the latter. Now according to a leak on Weibo, it seems the company plans to repeat the same performance by launching the LG V30 early in August, once again just ahead of its rival Samsung releasing their Galaxy Note8.
The LG V series handsets have a storied past themselves with the LG V10 being introduced in October 2015, the LG V20 came on the scene in October 2016 and was the first non-Google device to come with Android Nougat onboard. Now it is the V30's turn and somehow LG has managed to push up the launch by two months time. This is most likely to avoid getting caught in between the anniversary edition iPhone launch and Goole putting out their own Pixel 2 devices.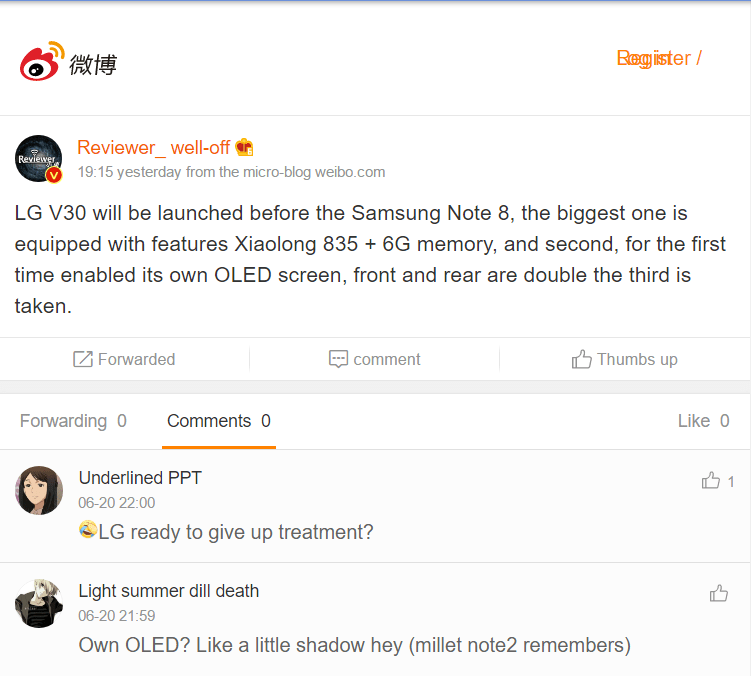 It is speculated that the LG V30 would come with an OLED panel based display which would be manufactured by LG's own Display arm. The display is most likely to sport the 18:9 "FullVision" aspect ratio with a resolution of 1440 x2880 pixels, just like G6 earlier in this year. Apart from this, it would likely retain the secondary display on top of the primary display to show information like notifications and alerts without turning on the complete display. The leak also details that the LG V30 would most likely feature the Qualcomm Snapdragon 835 SoC and 6 GB of RAM.
Read More: LG Exalt LTE: Verizon's first 4G LTE feature phone priced @$168
To compete against Samsung finally putting dual cameras on their flagship phablet, the V30 will allegedly feature dual cameras on the back as well as on the front. Currently, we do not know what flavour of Android, the V30 would have onboard but we are keeping our fingers crossed that it is Android O. The LG V30 is increasingly looking like a more attractive package than the G6 which was released a scant few months ago. Although we can only say that authoritatively once the smartphone is out in the open.
Follow us on our social media to keep up to date with the latest in the world of Android.