We have heard all kinds of things about the LG G6 even before the phone has even come into existence. We have heard that the LG G6 will have a dual rear camera setup , the device will come with Qualcomm Snapdragon 821 with upto 6 GB of ram , it will come with the latest UX 6.0 which runs on top of Android v7.0 Nougat.
Also Read : LG G6's New UI Revealed!
Also this device will feature IP67 rating which promises water resistance upto 1 meter for 30 minutes . Now , one of the leaks has actually been confirmed by LG just less than a week to go for the official release of the smartphone. LG has posted a photo showing the rear and front of possibly the LG G6's front and back camera with a 100° and a 125° wide-angled lens respectively.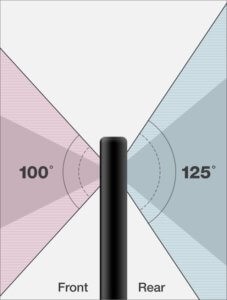 In a press release, LG confirms that on the rear of the phone, we'll find two 13MP sensors, one equipped for standard shots, the other for wide-angle images. This is a pretty big upgrade considering LG's previous dual camera setups have used a single high-resolution camera for standard shots, but an inferior camera for those spectacular wide-angle images.
Also Read : This latest LG G6 leak shows the device from all the angles.
LG will reveal the LG G6 on February 26th at MWC , Barcelona.We have seen all that the device will likely offer and it looks to be a winner on paper . Let's hope that this device keeps up with LG's expectations .