We are closing in towards the official launch of the NOKIA 8 and concurrently we have more leaks about it. This time, Chinese website @ITHome has managed to get its hands on leaked screenshots of the device's camera interface. First having surfaced on the Chinese website, Baidu, there is some credibility to these since they match up with earlier leaks and most NOKIA leaks come from Chinese sites these days.
Dual cameras were pretty much confirmed on the NOKIA 8 but the latest leaks also tell us about the sensor arrangement. Till date, there have been two types of dual-camera arrangements on smartphones, the iPhone type, in which one sensor takes regular shots and the secondary sensor is primed for providing optical zoom. The other arrangement was pioneered by Huawei in whose case the secondary sensor captures images in black and white for retouching colours on already captured images. In the NOKIA flagship's case, it is the latter arrangement; One of the two cameras captures images in colour while the latter captures them in black-and-white. This was confirmed thanks to the various modes and icons detailed in the leaked UI.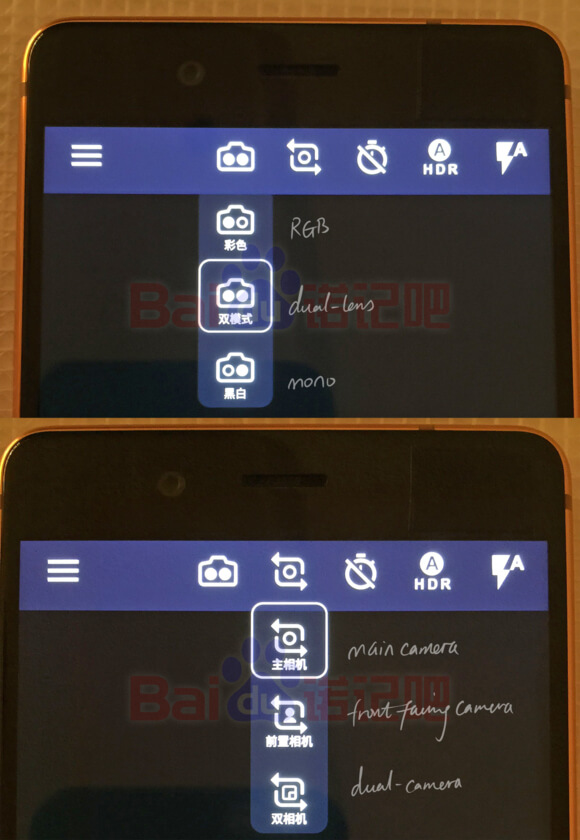 As seen in the images (above), users have a choice between RGB, dual-lens or Monochrome (black and white) from the drop down camera setup menu before taking pictures. The second photo reveals the presence of a "dual camera" mode which allows you to use the selfie and the rear camera to create a collage in real time. Although not a feature unique to the NOKIA 8, its presence is nonetheless appreciated due to its scarcity in other devices.
Read More: NOKIA 8 surfaces on Geekbench; coming with Android O onboard?
The NOKIA 8 would be the first Android powered flagship bearing the NOKIA brand packing in a Qualcomm Snapdragon 835 SoC, coupled with 4GB /6GB of RAM and 64GB of internal memory which is expandable via microSD card. It is also expected to be one of the first devices to release with Android O out of the box.
Follow us on our social media to keep up to date with the latest in the world of Android.