A supposedly leaked image of the iPhone 8 technical schematics was posted on Weibo and claims to showcase the technical drawing for the tenth-anniversary iPhone straight from Foxconn. The image shows a front with minimal bezels compared to the iPhone 7.
On the rear, we can see a dual camera setup along with the dual-tone, dual-LED flash module arranged in a vertical fashion. As leaked by an earlier rumour, we can see a Touch ID sensor placed at the back which is situated below the Apple logo. A larger screen can be seen but the size of the chassis is comparable to the 4.7-inch iPhone 7.
As depicted in the image, this is supposedly an image of the design sketches for the iPhone 8's Engineering Validation Test third revision. This is an early stage in Apple's production cycle and a device must pass through this test before it is finalised.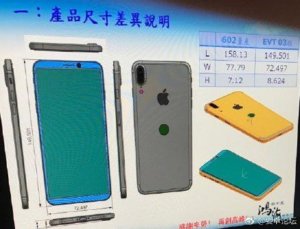 Therefore this is certainly not the final design of the iPhone 8. There have been rumours that Apple is partnering with Synaptics to embed the Touch ID sensor into the display. But other reports claimed that the company is having delays and the technology may not make it to the tenth anniversary iPhone.
The iPhone 8 dimensions go with the claims of trusted KGI Securities Analyst Ming-Chi-Kuo, sporting a 5.8 inch OLED display in the form fact of the 4.7-inch iPhone.
Also, the table to the left in the image shows the dimensions of the iPhone 7s and the numbers on the right column depict the dinewions of the iPhone 8. This means that the iPhone 8 will be 8.6 mm thick, which is 1mm thicker than the iPhone 7s.
Apple is expected to be releasing three iPhone models this year. Two are set to be regular iterative updates and may be dubbed the "iPhone" and the "iPhone Plus"(following the naming scheme of the iPad). The third device may be called the "iPhone 8" or the "iPhone Edition" and will feature a 3D sensing front camera, wireless charging and more.
Get notification about our latest updates, leaks, hacks & exciting offers in realtime!