Indian users are enjoying their lucky time, from September 2016 with JIO's Courtesy. Most users are experiencing 4G high-speed data, and free VoLTE calls for a free/nominal price of Summer surprise, and Dhana Dhan plans. It's been only ten months since JIO happened to Indian Telecom services and it gained a record number of 120 million subscribers. It also became largest 4G Telecom operator of India.
JIO Summer surprise offer:
Summer surprise offer came into existence, starting from April 1st, stating that Prime subscribers who have done a recharge of 309 or higher pack will get the free services of 1GB 4G data/day for 90 days. After this period, 1-month service of the recharged pack kicks in, and users can enjoy another 28 days of services as per their pack. 
So calculating all these, Users of Jio Summer surprise offer will get a total of 90 + 28 days of jio services. You can check the same from My jio app or website.
JIO Dhana Dhan offer:
After TRAI had banned the summer surprise offer, JIO introduced a new Dhana Dhan offer for non-subscribers of Summer surprise offer. Dan Dan offer provides you with 90-days of free voice calls and data service on recharge of Rs 309. Once the 90-days period is over, users can choose between  Rs. 303/ Rs. 499 for every 28 days to continue the Jio services.
If you are Dana Dan plan subscriber, then your services will start expiring from July 15, or later, you can know the exact date using JIO App or website.
Steps to check your Jio plan validity via MyJio app:
1. Open the My Jio app and log in with your account credentials or SIM verification.
2. As soon as you login, you will find the balance on the top.
3. To check your Jio plan and validity, open the left menu by swiping towards the right.
4. Tap on the My Plans option, and you will see the date when your service plan and Jio Prime membership ends.
Steps to check your Jio plan validity from the website:
1. Go to Jio.com website, and Sign in to your account using the password or by requesting an OTP on jio number.
2. After signing in, you can see your Reliance Jio balance on the top.
3. To check your validity, scroll down the slider, and click on the My Plans.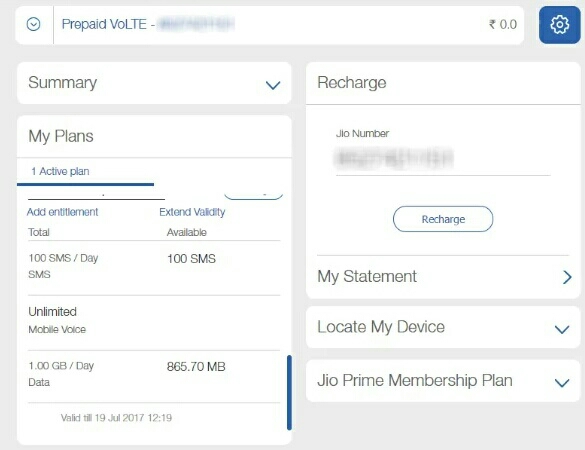 4. Now, You can see the expiration date of your service plan. You can also generate an invoice by using My Statement option.

What's next?
Recently, Jio feature phones have leaked in a couple of images, and following this, rumours about jio extending their free services are making rounds all over the internet. While nothing about the jio free services is confirmed, we should wait for Jio annual meet which is going to take place on 21 July to know the further details regarding the extension of Jio free services and Lyf 4G Feature phones.