Another day, another iPhone leak. The iPhone 8 is one of the most anticipated smartphones of this year. Today we have fresh information regarding Apple's next big shift, the pricing on the upcoming iPhone 8 and iPhone 8 Plus courtesy Weibo.
Till now, we have only ever seen the iPhone 8 as a solitary smartphone with no indication of a Plus variant. In this recent price leak, apart from the iPhone 8, a Plus variant is also listed complete with its own price structure.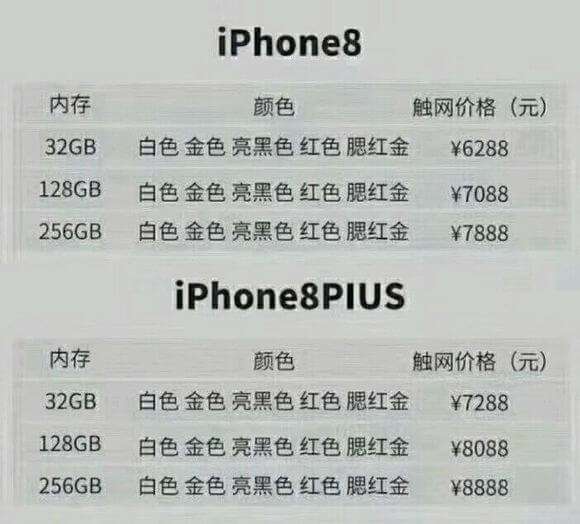 The iPhone 8 starts out at ¥6288 (~$945) for the 32GB model, followed by a ¥7088 (~$1070) price tag for the 128GB variant and finally caps off at ¥7888 (~$1185) for the 256GB model.
The iPhone 8 Plus starts out at a ¥1000 increment for the base 32GB model available for ¥7288 (~$1095) before climbing up to ¥8088 (~$1215) for the 128GB model and the full-fat 256GB model will cost you ¥8888 (~$1340).
This pretty much falls in line with what most analysts are predicting the iPhone to cost, $1000 or higher. Although the base model is priced $55 dollars short of this if these are indeed the actual prices of the handset on launch, it is for the 32GB variant which would be a serious data handicap for anyone who wants to use the device to its fullest capacity.
Read More: Apple's next generation A11 chipset gets pictured and leaked
The iPhone 8 would be the 10th Anniversary Edition smartphone from Apple who kicked off the smartphone craze a decade back with the release of the original iPhone. To make the device special, the upcoming model is likely to see the greatest break from the traditional iPhone design and UI tenets. Apparently featuring an edge-to-edge OLED display panel sans the iconic home button /Touch ID fingerprint scanner below the same.
Follow us on our social media to keep up to date with the latest in the world of smartphones.