Sony devices are popular for their premium built quality and hardware. But similar to other Custom skin manufacturers, Sony fails to deliver timely updates to its devices whether its of 500$ or 200$. As Sony doesn't even bother about providing updates to its Flagship smartphones, at the end of the day we root our device & look for the most updated ROM. If you are still waiting for updates as you are afraid to root your device, you can One click Root, to Root any Android device in single click.
Sony Xperia Z currently runs on Android Lollipop 5.1.1 which isn't bad at all, but some people love to experience latest OS as soon as they are out. Although the Cyanogenmod 13 build, might have few minor bugs but still who cares if you can enjoy Android Marshmallow 6.0.1 in your Xperia Z? Lets checkout the step by step procedure to Install CyanogenMod 13 (CM13) Android Marshmallow (M) in Sony Xperia Z. 
Well, actually, you don't have to wait for anything as the CM13 ROM mentioned above is already available. Yes, thanks to those of xda-developers (Olivier in particular) you can now Install Android Marshmallow 6.0.1 in Sony Xperia Z through Cyanogenmod 13. So, bottom line, by using this dedicated tutorial you can now learn how to install Cyanogenmod 13 (CM13) in your Sony Xperia Z.
If you are Sony's music app like me, than it would be a hard decision to shift to stock interface of Cyanogenmod. But we have a solution for this, you can also install Sony Walkman APK with Sony's walkman sound which works exactly similar to Stock Walkman. Before jumping to Install CM13 in Xperia Z, you must check the below conditions
Prerequisites before Installing CM13 ROM in Xperia Z
Unlocked Bootloader.
Rooted Sony Xperia Z with custom recovery like TWRP, CWM, Philiz etc.
Backup all your important data so that if in case anything goes wrong, you can switch back to stock ROM & restore the backup data.
Sony Xperia Z charged upto 50% to avoid shutdown during the flashing process.
Required ROM file & GApps package (At the end of post)
You must be on Android Lollipop 5.1.1
Note: Devs-Lab won't be held responsible for anything happening to your device during this process as you have decided to make this modifications. If you are new to Rooting, you must refer to Complete guide about Rooting. After this process, your warranty will be void & in most cases, you can't get it back.
CyanogenMod 13 (CM13) in Sony Xperia Z
Screenshot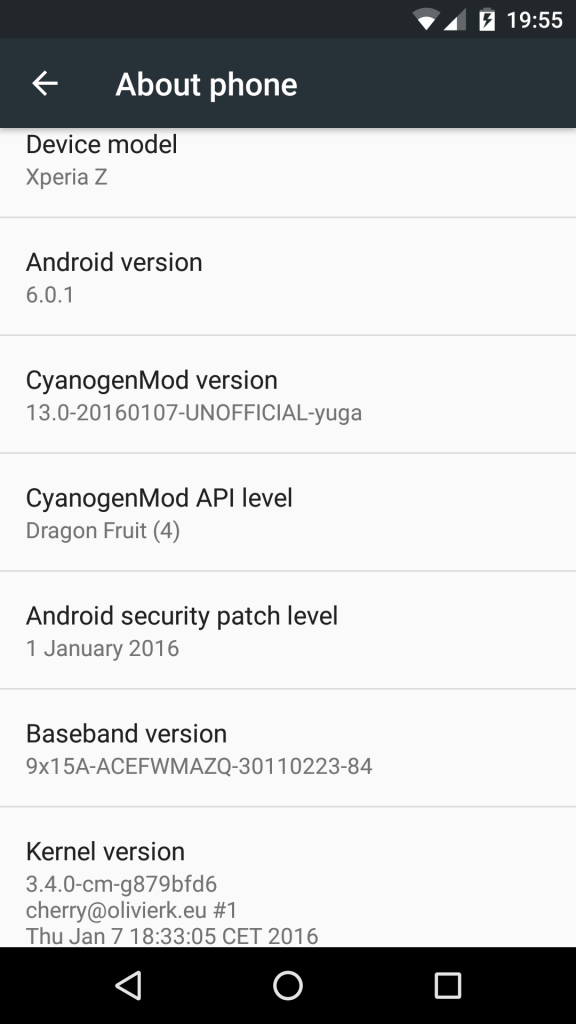 How to install CM13 in Sony Xperia Z
Step 1: Download the ROM file & GApps package from the links at the bottom of the post. Make sure you use a proper download manager & good internet connection to avoid data corruption while downloading files.
Step 2: Transfer the downloaded zip files in your Internal storage & boot into recovery. You can boot into recovery mode by two methods,
Download Rebooter App from Google Play Store & grant root access. Launch the app & select, Reboot to recovery.
Switch off your device, Press and hold Volup + Power button simultaneously. Leave the keys after 5 secs.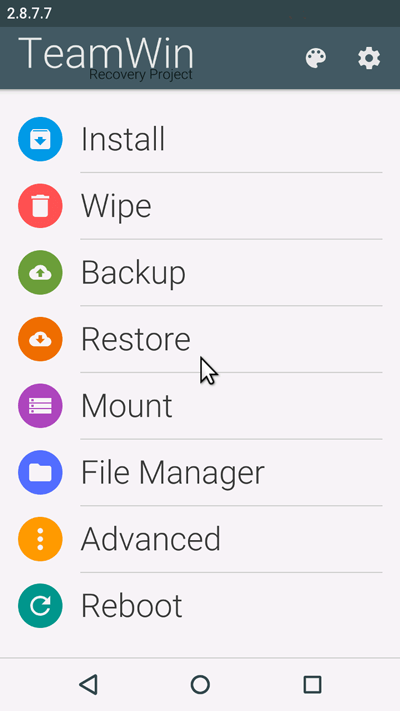 Step 3:  Once you have rooted into recovery mode, if you have not took a backup of your Stock ROM, Go to "Backup & Restore" and select System, data.
Step 4: Now its time to flash CyanogenMod 13 Marshmallow ROM. But before doing that, go to Wipe (in TWRP Recovery) & select cache, system, data dalvik cache. Swipe to confirm wiping.
Step 5: Go to main menu & click on Install & select the CM 13 ROM for Xperia Z zip from the explorer. Swipe to confirm flashing. This might take around 3-4 mins.
Step 6: Once you have completed flashing the ROM, flash the GApps package by going into Install and locate the GApps zip file. Swipe to confirm & you're done.
Step 7: First boot might take sometime so don't panic!
ROM details:
ROM OS Version: 6.0.x Marshmallow
ROM Kernel: Linux 3.4.x
Status: Beta
Download CM13 for Sony Xperia Z (Yuga)
CyanogenMod 13 ROM Sony Xperia Z
Google Apps Package: GApps 6.0.1
Camera not working. To use Google's Now on Tap feature, install micro package to avoid FCs. Please don't try dirty flashing as it might lead to tones of FCs and instability. Till then, enjoy CyanogenMod 13.0 in Sony Xperia Z. You can report the bugs to the developer. Let us know about any bugs that you came across.