Android N is not yet released officially but it is available for very small no. of devices. It's still a developer preview, so Google has released the developer preview for a bunch of Nexus devices. But Google has also provided Android N Developer preview for Sony Xperia Z3 as Sony worked closely with Google to provide a preview for their own Xperia phones. Currently, there are 2 variants of Xperia Z3 that can be flashed with Android N Developer Preview, D6603 and D6653. This might be a smart move by Sony, to show their after sales service to their customers. There are chances that Sony might release Android N preview for other latest flagship Xperia devices.

What's new in Android N Developer Preview?
Android N introduces several great new features for developers, with more to be added as Google continue to develop the Android N release.  Here are some highlights:
Multi-window – This new multitasking feature lets users view two apps or Activities at the same time, with the system resizing them as needed to fit the device or tablet screen.
Bundled notifications – You can group messages together, for example, by message topic.  Users can then take actions in one place.
Direct reply notifications – Enable users to respond quickly to notifications, without leaving the notification shade.
Efficiency –  Google has improved Doze to save even more power in Android N. There are also new behaviors in Project Svelte, aiming to reduce the memory needs of Android.
Change display size – Android N also allows you to change the display size on your device, also known as changing your display's DPI setting.
Also Read: How to install Kali Linux in any Android device.
If you are an Android app developer, you need to make some important changes to your development environment. Visit the Android N Developer Preview site to get all the information you need.
Prerequisite for installing Android N in Xperia Z3:
Windows PC – As the Xperia™ Companion tool only works in Windows.
Latest version of Xperia Companion tool – Make sure you have Xperia Companion version 1.1.24 or later. Download Latest version of Xperia Companion: Download.
Sony Xperia Z3 & a USB cable.
How to Install Android N in Sony Xperia Z3
Step 1: Connect your compatible Z3 device to a computer with a USB cable. Xperia Companion will open automatically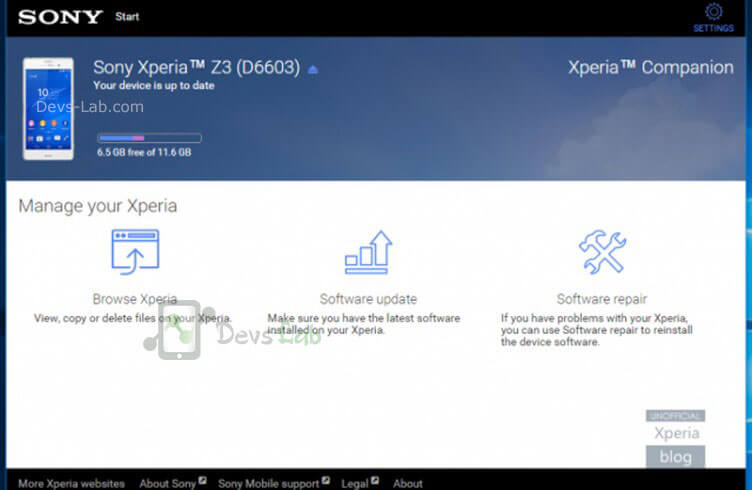 Step 2: Hold down the ALT key on your computer and click on Software repair option in Xperia Companion tool, then follow the guide.
Step 3: You'll be asked to disconnect and turn off your device, then to reconnect whilst holding down the volume down key to start the software flashing.
Step 4: You can return to factory settings at any time by connecting back to Xperia Companion and following the Software repair.
1. Android N developer Preview for Sony Xperia Z3
Android N developer Preview for Sony Xperia Z3
2. Android N developer Preview for Sony Xperia Z3
Android N developer Preview for Sony Xperia Z3
3. Android N developer Preview for Sony Xperia Z3
Android N developer Preview for Sony Xperia Z3
Also Read: 21 proven ways to boost your Android without rooting.
Before installing Android N developer preview keep in mind that, this firmware is not intended for daily use, so be prepared for some bugs and flaws that can make your experience much worse than with an official software. As such, we advise that you make adequate backups beforehand. Sony has officially mentioned on their page that, "Make sure to remember that Android N Developer Preview is intended for developers, not for usage as primary software."