Ever since the advent of Reliance Jio in the telecom sector of India, there has been an increase like never before in the Wireless Telecom sector of India. We are seeing that the Wireless sector in India is adding Millions of new subscribers on a monthly basis. For those of you who don't know about Reliance Jio, it is a telecom operator which started its service in India in Q2, 2016. Reliance Jio started its service on 4G only network in India and offered calling services through VoLTE. Also important thing worth noting was Reliance Jio's offer of free data and voice calling for its subscribers at zero cost which made its subscribers list bigger and bigger. Reliance Jio also recently reported that they had surpassed the 100 million subscriber mark in just 170 days from its inception.
Now we have numbers from the COAI's report which says that the Indian mobile subscriber base has touched 817.42 million at the end of February 2017 with operators adding 2.27 million new subscribers just in February 2017. COAI's earlier subscriber count report stated that India added 5.15 million new wireless subscribers in January 2017. Although we have seen a decline in the subscriber count from January, it is worth noting that COAI has excluded the numbers from Reliance Jio's subscribers in its report.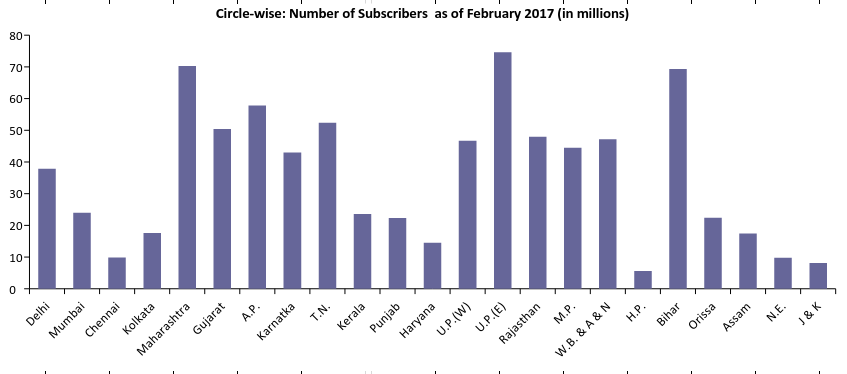 The report states that Bharti Airtel reached 270.65 million by the end of February, adding 1.25 million new users. Airtel is closely followed by Vodafone with 207.23 million subscribers and Idea Cellular with 193.27 million subscribers. With 33.11% Bharti Airtel continues to be the biggest telecom operator in India.
Talking about the subscriber count report of February 2017, Rajan S Mathews, Director General, COAI, said:
The telecommunication industry has again posted a healthy growth for the month of February 2017. The increase in the subscriptions indicates that consumer base is expanding and reaching new horizons in the country. We are an enabler of inclusive growth. The industry has also ensured that government's plans reach even the farthest corners of the country and everyone is equally benefitted.
The report from the Cellular Operators Association of India (COAI) doesn't include the reason about the exclusin of Reliance Jio's numbers from this report but if the numbers are included, we may see many more Million subscribers added to the report.