In the past few months, the internet was full of rumors and numerous leaks of the HTC U11. Now, the Taiwanese company has officially released the huge news during a launch event in Taipei.
Awaited by many prying eyes, this smartphone is a successor to the last year's HTC 10. The U11 sports a unique design with what HTC refers to as "liquid design language," characterized by smooth lines and mirror-like colored finishes that really catch light in a beautiful way. It consists of all the premium hardware specifications expected from a flagship device in 2017
Best Camera smartphone with a DxOMark rating of 90. Better than Google Pixel & Galaxy S8
HTC U11 Specifications:
5.5-inch Quad HD display (16:9) with 534ppi Pixel density and Gorilla Glass 5 protection
Snapdragon 835 octa-core processor / Adreno 540 GPU
4GB RAM and 64GB internal storage (UFS 2.1) / 6GB RAM & 128GB storage
Android 7.1 Nougat with Sense UI
USB Type-C, NFC, GPS, Dual SIM, LTE and more
Edge Sense Technology (pressure sensitive frame)
4 omni-directional microphones for 3D audio recording
3,000mAh battery with Qualcomm Quick Charge 3.0
IP67 water resistant
HTC USonic earbuds
HTC USB-C to 3.5mm adapter with a built-in DAC
Up to 2TB expandable storage
12MP rear camera with Sony IMX362 sensor and f/1.7 aperture
16MP UltraPixel front camera with f/2.0 aperture
Up to 4K video via rear camera / 1080p videos via front camera
Clear case
With the launch of HTC U 11, the taiwanese manufacturer has brought an exclusive feature termed as "squeeze". The device comes with pressure sensitive edges which can customized to perform various tasks. The squeeze function, which works on the edges of the device, operates in two ways. Pressure sensors on the phone are located below the volume buttons on the sides of the device. A short squeeze can be configured to open an app, while a long squeeze can launch Google's Assistant. The vice president of product planning for HTC America, says that the company hopes to introduce people to this new experience with the U11 and it will expand the Edge Sense features in the future once we're all used to gorilla gripping the sides of our phones to do things.
The U11 comes with not one, but three different intelligent assistants. In addition to the Google Assistant that comes with Android, it also has HTC's Sense Companion and support for Amazon's Alexa assistant. The U11 is the first smartphone to have full hands-free support for Alexa just like "OK Google".
The phone comes in Sapphire Blue, Brilliant Black, Amazing Silver– all the colors will be available in the UK when the phone launches in June and the red variation will come later this year.
Here's a Camera review of HTC U 11 by DxOMark
With an overall DxOMark Mobile score of 90, the HTC U11 is the highest-rated smartphone camera we have ever tested. As you'd expect from a top performer, its scores are impressive across the board. In particular, its very low noise and fast autofocus helped edge it ahead of our previous highest-scoring phone, the Google Pixel. The HTC U11 features remarkably consistent performance in a wide variety of shooting conditions, making it a great camera for most situations. In addition to excellent technical scores, its images tend to have a pleasing look, with good color rendering.
Price and Availability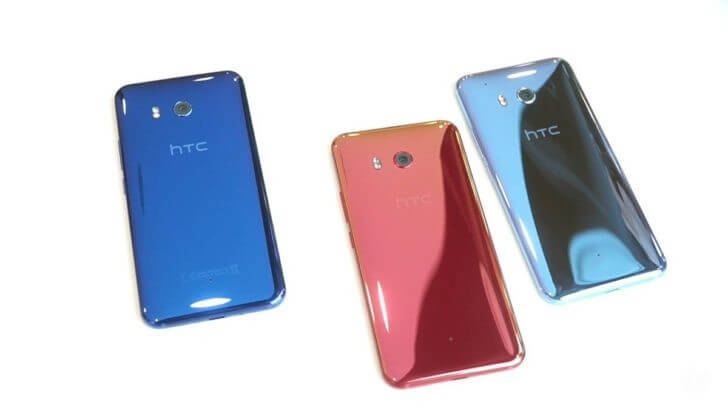 The HTC U11 compatible with AT&T, T-Mobile, and Verizon is available for pre-order starting today from Amazon or directly from HTC.com for $749.99. Sprint is nabbing the carrier exclusive in the US, with the U11 (blue & black) launching June 9th for $0 down and $29.00/month for 24 months. You can also pre-order the HTC U 11 from Amazon for $649. The phone comes in Sapphire Blue, Brilliant Black, Amazing Silver, and begins shipping in June.
While another smartphone manufacturers are trying out the Bezel Less design, the HTC U 11 will try to change the game with its Squeezable technology. If you're wondering why the HTC U 11 didn't go with the Bezel less trend, here's what HTC told to BGR, in an interview:
LG's G6 and Samsung's Galaxy S8 both have screens with barely any border around them, but LG and Samsung also both have display divisions. Since they make their own screens, they also have the ability to tailor those screens to their specific needs. HTC, of course, does not have a display division. Instead, it looks to other companies to supply smartphone components such as displays.
What do you think about the HTC U 11, are camera specs enough to make you buy this new HTC's flagship device?