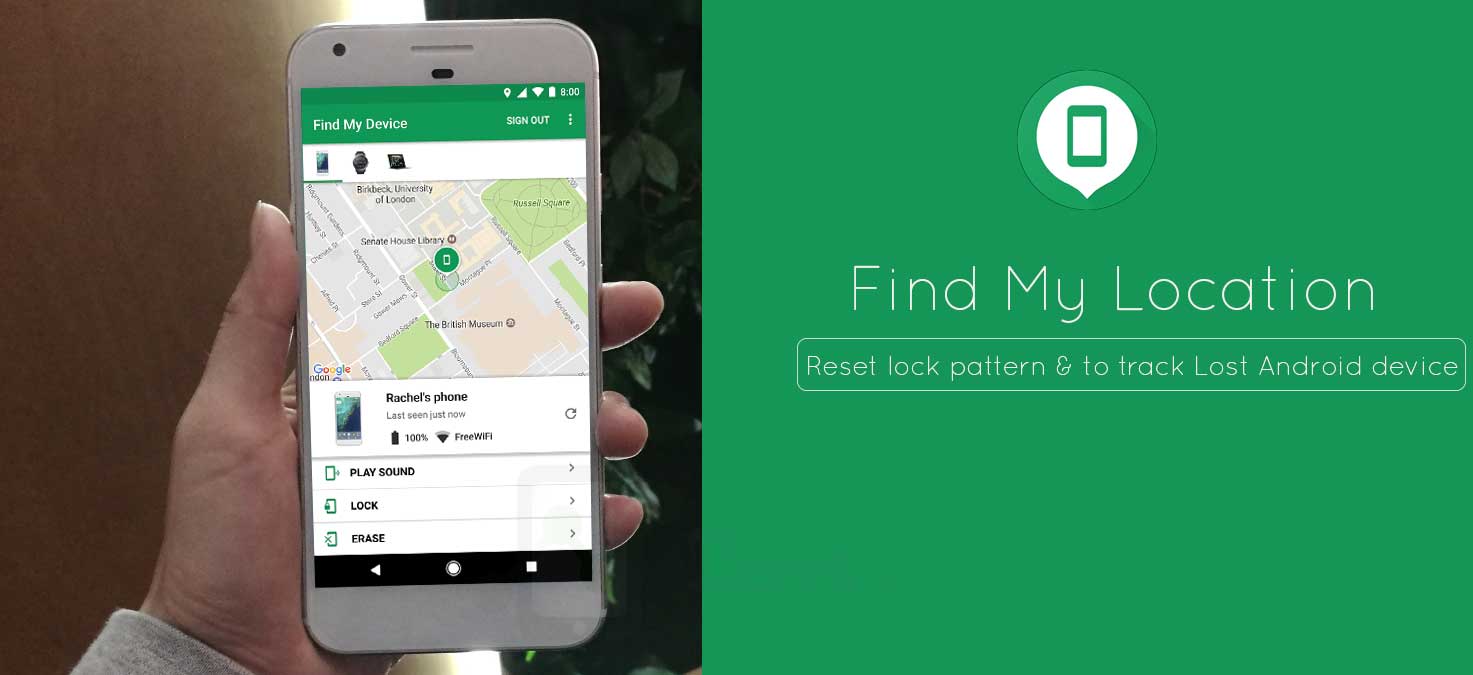 Lost your Phone or Bought a new phone and are worried about losing it? Do not worry, in this article I have explained in detail how you can track your phone and get it back. To track android phone, we are going to use Google's Find my Device. Tracking Android phone remotely can be done with ease using this feature. Along with tracking, you can also remotely ring, lock and erase the data from another device. Any Android user with at least Ice cream sandwich Android version can install this feature on their phone. Due to various privacy issues in Android, Google has released Google Play protect & Android device manager to safeguard Android users from data theft.
Find my device works by linking your Google account. It comes integrated with the Google app on every Android device. Users are just supposed to enable it so that they can Locate, Ring, Lock and Erase all their data if the device is misplaced or Stolen.
Steps to Setup Google's Find my Device.
Step 1: Find Google account from the Settings or Google app(depending on your device)
Step 2: In your device's Settings app, tap Google. Open a separate app called Google Settings.
Step 3: Go to Security under services section.
Step 4: Then "Find My Device" or "Android Device Manager."
Step 5: Turn on: Remotely locate this device and Remotely erase this device.
How to Track, Lock and Erase Data if you Lost your device:
Step 1: Visit the Google Android Manager website from a computer or any other device.
Step 2: Sign in using your same Google account associated with the Android device.
Step 3: After Signing in at the website, just select your device from the top left corner, if you have multiple devices.
Step 4: It will display three options: Ring, Lock and Erase.
Step 5: Follow the on-screen instructions with your desired option.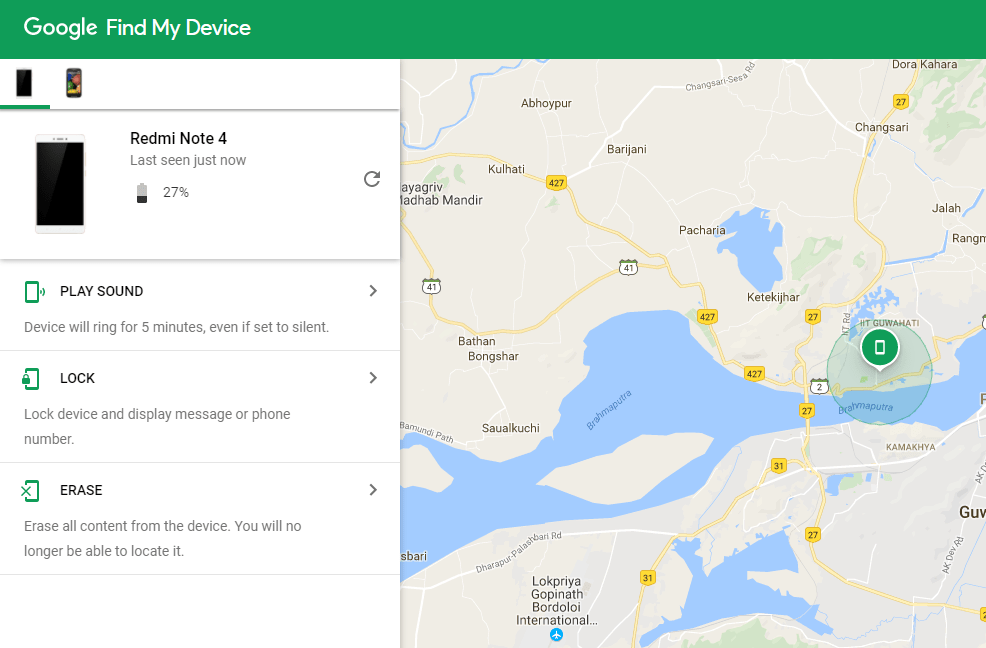 How to Ring Lost Phone
This is the most important part, once you find your device, then you can explore this feature. For this follow the steps mentioned below.
Step 1: Track your device with the above-mentioned steps
Step 2: Click on Ring / Play Sound
You will hear a loud sound that starts ringing from your phone for continuously 5 minutes. Even if your phone is on silent mode, it will still ring out loud.
Step 3: Hit the power button and stop the sound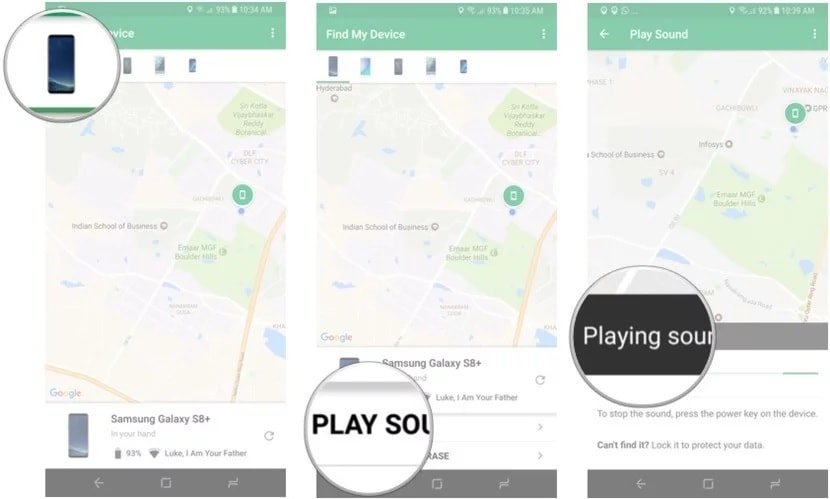 How to Lock Lost Android Phone
As discussed earlier, using find my device, you can remotely lock android phone using the following method. Also, you can highlight a message on your locked phone for the person who found your device. Along with this, you can use this feature to reset the password of your device.
Step 1: Track your phone using the above method
Step 2: Then, amongst the options ring, lock and earse, select the option lock
Step 3: Then, enter the message you would like to convey to the person who locates your device
This message can be useful when the person wants to contact you to return your device.
Step 4: Once you have entered the message, click on Lock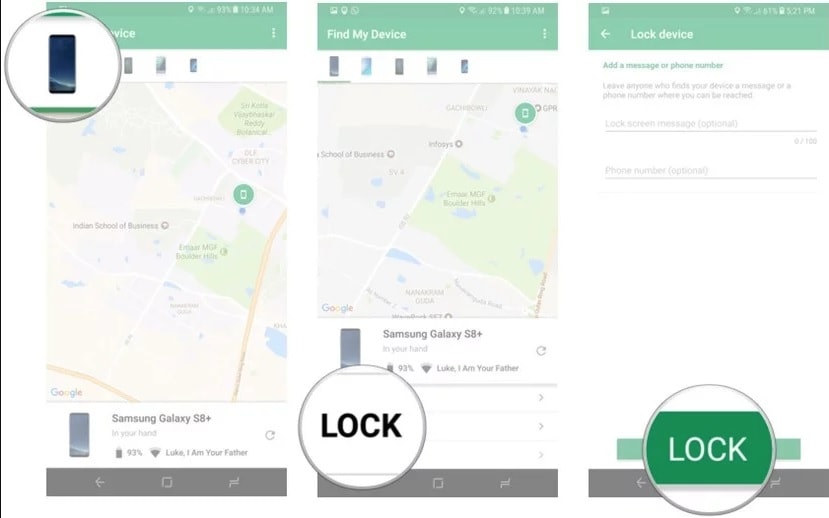 By this, the person who located your phone, will not be able to view and edit the data on your device. Also, you can unlock your device with the password you had set earlier once you get back your phone. If in case you do not get your phone back, then the person with the phone will not be able to access your device's information.
How to Erase Phone Data Remotely
By following the below-mentioned steps, you can erase the entire data on your lost Android phone.
Step 1: Track your device through the previously mentioned steps.
Step 2: Select the Erase option out of ring, lock and erase.
Step 3: Click on the erase button and confirm your data to be erased
This option must be selected when you are certain that you are not getting your device back. By selecting erase, your entire phone data including the SD card data will be erased from your device. For only certain devices, the SD card data may not be erased. This depends on the manufacturer and the Android version that your phone has. Your device's factory data process will be initiated even when your phone is switched off.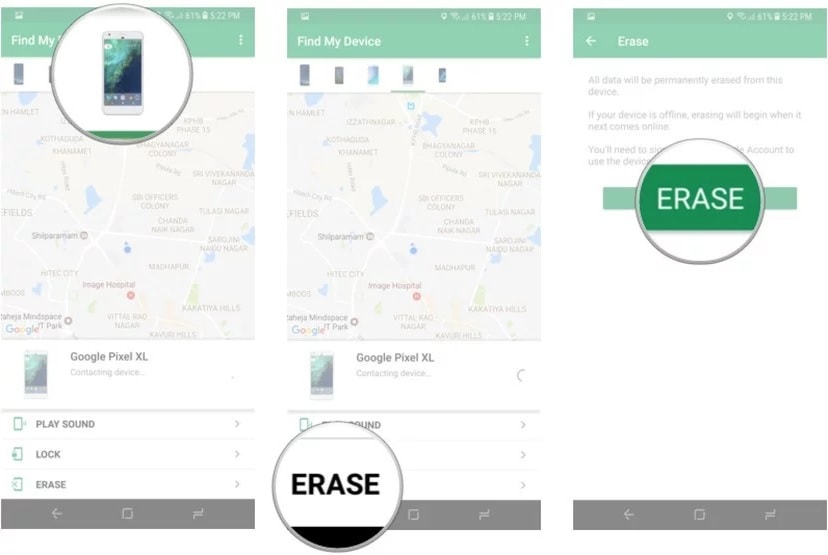 Frequently Asked Questions
1. How to track a phone that is Off?
You cannot track your device's latest location when it is switched off. However, you can track your phone's location until it was switched off with Find my Device's tracking Android Phone feature.
2. Can I Ring my Device when misplaced on Silent mode?
Yes! You just need your device's internet connection on. By following the above steps for Find my Device, you can ring your phone and find your Android device.
3. How does Find My Device Work
Like Google Maps, Find my Device also works on GPS of your device. When your phone's GPS and internet is on, it captures your device's location. This process works continuously and so, you can anytime track your device's location when your device's internet is on. It can be accessed from any browser like Google Chrome or it's official app.
4. How does Find My Phone App Work?
When you loose your device and would like to track it, you can download Find my Phone (device) app on any other device, sign-in with the same Gmail account as that of your lost phone and then track your phone through that device.
5. When do you get the Error "Find my Phone not Working"?
Find my Device (Phone) not working error comes mostly when the internet connection of your phone is off or your phone is switched off.
6. Can I find my Phone location by number using Find my Device?
No, Find my Device works on internet and GPS of the device. You can locate the phone only through your Gmail account and not through the number.
7. Can this method be applied to find my tablet?
Yes! The only pre-requisites for Find my Device to work are that it should be an Android device, you should have logged in through your gmail account, Find my device setting must be on and internet connection should be on for the device.
Conclusion
That's it, now you can track, ring, lock, and erase your lost Android device and its information by using 'Find My Device'.