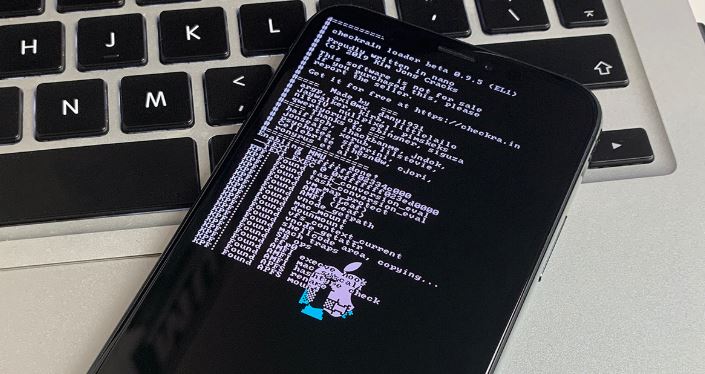 Apple devices are well-known in terms of device security. On the other hand, they boast a lot about how invulnerable their software is. As of now, the latest iOS version that Apple has dropped is iOS 13.4.x. And, almost every new device will be getting it as an OTA update. However, as we compare iPhones to Android, there are not enough customization options available. Even downloading a simple mp3 file from the internet requires you to set up the computer and use third-party software to make it done.
Thus, to get rid of all of such restrictions, you can simply Jailbreak your iPhone and have full control over it. Jailbreak basically gives you all the rights to install, download whatever you want on your iPhone. No, don't be so greedy about that, but at least a restriction-less experience is much more fascinating than the conventional experiences. So, we are here to bring you the latest Jailbreak iPhone methods right in this tutorial. So, read the article till the end if you are interested in Jailbreak iOS 13 on your iPhone device.
Related: How To Jailbreak Any IPhone On IOS 11.2 – 11.3.1 Using Electra Jailbreak
Methods To perform the iOS 13 Jailbreak
If you have any past experiences of Jailbreaking iPhones, you might already be aware of the Unc0ver and Checkra1n Jailbreak utilities that are most commonly used for this purpose. Even though Apple keeps their software super secure, there is a small vulnerability in the hardware that is actually present in the A11 chipsets and lower version. It is the main reason why this iOS 13 Jailbreak is possible.

But, there's a catch. If you own an iPhone that has the iOS version 13 but carries an A12 or the latest A13 chip under the hood, this article is not for you. Because the actual vulnerability is present in the iPhone CPUs up to A11 models. Thus, those people who are rocking an iPhone model from iPhone 5s to iPhone X, you can continue reading this article as it will work for all of you.
1. Checkra1n Jailbreak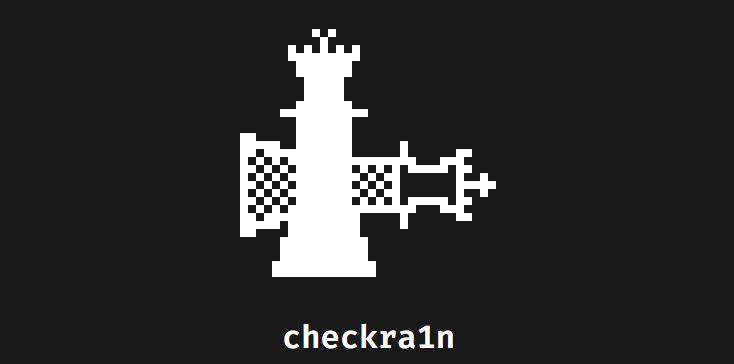 Checkra1n Jailbreak method takes advantage of the checkm8 exploit. This exploit is actually for the A11 chips and lower version only. Just for the fact that it is a hardware exploit, the Jailbreak is going to be permanent on your device. Because Apple can play around with the software by pushing updates, but not with the hardware on your phone. Therefore, even if you update your device to newer versions of iOS, the Jailbreak is still going to be there. So, let's see how this latest iPhone Jailbreak is done by using Checkra1n for the iOS 13 Jailbreak process.
How To Use Checkra1n To Jailbreak iOS 13
Step 1. To start off with this method, we will need a computer with macOS installed. Windows computers are not supported. On your computer, you will need to download the latest Checkra1n software from their official website.
Step 2. Once the download is complete, double-click on the file to mount the Checkra1n.dmg file. Now, simply drag it to the Applications folder. Due to Apple's so-called security, you will be receiving a precautionary message. Click on the Exit button.
Step 3. To cure it, go to System Preferences, and then click on Security & Privacy. In here, you will see a message saying, "checkra1n was blocked". Next to it, there will be an Open Anyway button, that's helpful for us, click on that.
Step 4. Now, you will have to connect your iPhone to the computer using the original USB cable. If you are doing this for the first time, it will ask you to add your devices to the Trusted list. Earlier it was done from the iTunes app. But, since the MacOS10.15 update, these settings are available in the Finder.
If your iPhone keeps connecting and disconnecting, then first fix that using the methods mentioned in this article "Fix: IPhone Keeps Connecting And Disconnecting From Mac"
Step 5. Before proceeding with the iOS 13 Jailbreak process, it is always preferable to back up your data. Thus, launch Finder and click on the "Back Up Now" button. However, in most cases, you won't require it. But, just to stay on the safer side, it's better to spend a couple of minutes making a backup instead of regretting it later if something goes wrong.
Related: How To Recover Lost Photos, Contacts Or Any Data From IPhone, ICloud & ITunes
Step 6. Now, connect your iOS 13 iPhone device to the computer and launch the checkra1n software. On the very first screen, it will show up that your device is connected. In case it does not recognise your device, click on Options. In here, check the box next to "Allow untested iOS" option. Now, you can easily boot your device into the recovery mode and connect with the computer.
Step 7. Once the checkra1n app shows that your device is connected. You can proceed with the process by clicking on the Start button at the bottom. Now, click the Next button. Simply, follow the on-screen instructions until you enter the DFU mode.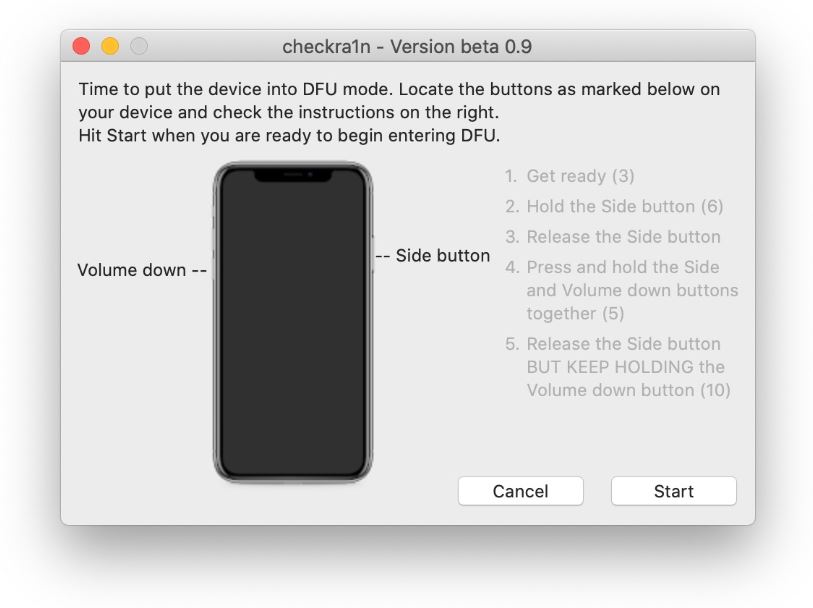 Step 8. Almost there! Now, the Checkra1n Jailbreak process will start automatically. This process might take a few minutes to get completed. So, stay calm and make sure not to unplug your device while the process is going on. Once the process is done, your device will boot up, and you can see the Checkra1n app installed on your iOS 13 device. Launch the Checkra1n app and install Cydia from in there, and enjoy your Jailbroken iOS 13 iPhone.
Also Read: How to play Pokemon GO in iOS using joystick
2. Unc0ver Jailbreak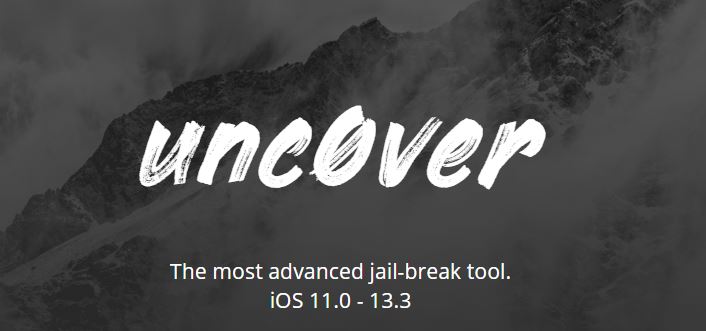 Unlike the Checkra1n method, the Unc0ver Jailbreak method is entirely different. As it does not require a PC to complete the process, it seems to be quite easy at the start. But, we do prefer to use the PC methods as they are more secure and less- vulnerable to failures. However, if you are someone who just likes to try out a bunch of new tricks and methods to Jailbreak, this one is definitely worth a try.
The best part about this method is that it can even Jailbreak iPhone 11 Pro Max devices as well. But, only if it runs on the iOS version 13.3 or lower. So, if you have already upgraded your device to iOS 13.4, this method won't work for you. So, let's get to the process of Jailbreaking iOS 13 using Unc0ver.
How To Use Unc0ver To Jailbreak iOS 13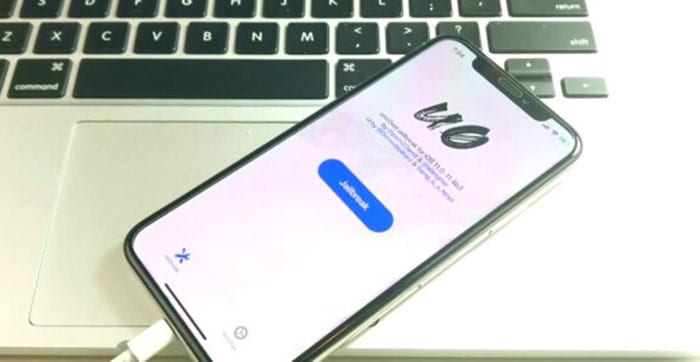 Step 1. We will not be using any PC for this method. So, to begin the process, you will need to access the Unc0ver official website on your iPhone. Click on the Download button and the Unc0ver icon should immediately appear on the home screen of your iPhone. Let the download complete and install the app.
Step 2. Before opening the app, go to Settings first. Now, enter the General Setting and tap on Device Management. In here, enter the Enterprise app and tap on Certificates. Tap on the "Trust" button.
Step 3. In case there are any pending OTA updates available on your device, delete them. Because it might upgrade your device to the latest iOS 13.4 which is unsupported by Unc0ver. To delete any such data, go to Settings App. Now, tap on General, and enter in iPhone Storage settings. If present, tap on the Software Update, then Delete it.
Step 4. Simply, Launch the Unc0ver application and tap on the Jailbreak button. As soon as the process gets completed, the device will reboot.
Step 5. Then, again open the Unc0ver app and tap on the Jailbreak to finish the process.
This method works quite effectively for most devices. However, latest devices might encounter some problems where the Unc0ver app will just turn Black and won't open. We have a small fix if something similar happens with you.
Step 1. Delete the currently installed Unc0ver app.
Step 2. Revisit the Unc0ver Official website and tap on the Download button.
Step 3. Immediately go to the Home Screen and tap on the Unc0ver app icon to pause the downloading process.
Step 4. Now, open the Safari application and delete the entire history from it.
Step 5. Resume the download process and pause it again when it's 3/4th part is downloaded.
Step 6. Turn on the Airplane Mode, and Turn Off when the installation is completed.
Step 7. Trust the Unc0ver application.
Step 8. Once again, clear all the history from the Safari app.
Step 9. Turn on Airplane Mode again, and install Cydia from Unc0ver app.
Step 10. Now, you can safely Turn Off the Airplane mode once again and start enjoying your newly Jailbroken iOS 13 device.
Conclusion
So, this was all about the latest iPhone Jailbreak methods that you can try with your phones and get the restriction-less experience. Both of the methods are quite effective to Jailbreak iOS 13. However, in our opinion, the PC methods are much more viable and safer. If this tutorial helped you or you have any further queries, feel free to share with us in the comments section below.
FAQs
1. What Does Tethered Jailbreak Mean?
The Checkra1n method is related to this. Basically, the Jailbreak which lasts for a single boot time is known as Tethered Jailbreak. Which means if you Jailbreak iOS 13 devices using the checkra1n method, you must not reboot your device. If you do, the Jailbreak will be gone and you will have to follow the entire process once again to Jailbreak it again.
2. What Is The Latest Jailbreak For iOS?
The latest Jailbreak for iOS is in our hands and is possible because of the vulnerabilities present in the A11 chips and lower versions. Thus, devices running on iOS 13 versions which are powered by an A11 chip or lower can be easily jailbroken using the checkra1n jailbreak method. For the A12 and A13 chipsets iPhones running on iOS 13 versions, the Unc0ver method will work.
3. How To Update Jailbroken iPhone?
Jailbroken iPhones do not receive iOS OTA updates. So, the update process is only possible manually.
4. What Is An iOS 13 Jailbreak?
An iOS 13 Jailbreak is a method that allows you to tweak and play around with your iPhone without any restrictions, which Apple calls Security.
5. How Can I Jailbreak My iPhone?
There are various methods which you can use to Jailbreak an iOS device. In case you have a device that runs on the iOS 13 version. This iOS 13 Jailbreak guide contains all the information you need.
6. Risks Of Jailbreaking iPhone?
Yes, there are a few risks of Jailbreaking an iPhone, as you are compromising with Apple's security claims. If you Jailbreak your iPhone, the warranty will be void and Apple will no longer be responsible for the health of your iPhone.
7. Can You Jailbreak A Macbook Air?
The Jailbreak term goes well with the iOS versions. But, as the Macbook Air runs on an entirely different OS, the macOS. These Jailbreaking methods might not help you with it. Otherwise, there are few tricks and tweaks you can easily find online that will make your life with the Macbook Air a little simpler.