The rebooted version of Nokia 3310 became a massive hit after it's unveiling last February during the MWC 2017. Despite it nothing to have anything new on board, HMD's nostalgia-infused feature phone garnered some attention from both Nokia fans and tech enthusiasts, leaving some high-specced handsets begging the same hype and attention. It's cheap, sturdy, reliable but unfortunately also unusable in some countries where 2G networks are gradually being discontinued.
However, during an interview with Finder, Arto Nummela (then the CEO of HMD Global) was asked if they will consider making a 3G version of the handset as 2G network is no longer supported in Australia. Nummella said that they have been listening to what consumers want and is "very keen on meeting consumer's expectations going forward." But no further updates were made to public regarding the plan until today.
A true classic – reimagined. Say hello to the #Nokia3310 3G. Colorful, customizable and more connected than ever! #Nokiamobile pic.twitter.com/2QTViTyyyr

— Nokia Mobile (@Nokiamobile) September 28, 2017
HMD officially unveils Nokia 3310 (3G) with more color choices and upgraded Java™ powered operating system called "Feature OS". Unfortunately, the handset will only be made available for USA and Australian markets where 2G network support were discontinued. HMD is yet to announce additional markets soon.
Yes, the Nokia 3310 3G will be available in both Australia and USA.

— Nokia Mobile (@Nokiamobile) September 28, 2017
"Our reimagining of the Nokia 3310 has been a global and cultural phenomenon. In a world dominated by smartphones, the mix of nostalgia and a beautiful phone that just keeps going has captured people's imagination. Our fans around the world have been asking for this iconic phone to support 3G. Fans asked, we listened, and today welcome the Nokia 3310 3G." said Juho Sarvikas, Chief Product Officer, HMD Global on their press release.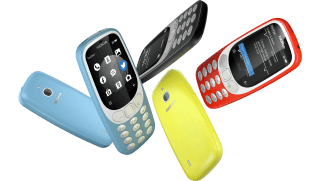 HMD promises 6.5 hours of talk time and 27 days of standby time with the 3G model, making it a more reliable than smartphones. The handset will be available in Yellow and Warm Red, with an addition of Azure and Charcoal hues in the color choices. All will come in a beautiful matte finish polycarbonate body and an improved silver keypads.
In February you asked for it. We got to work @nokiamobile and here it is. Iconic #nokia3310 now in 3G! https://t.co/2jJysyUwHh pic.twitter.com/CUdU4Zhzfp

— Juho Sarvikas (@sarvikas) September 28, 2017
Nokia 3310 (3G) will retail for a global average price of €69 (Rs. 3999) and will start rolling out in mid-October.