So there is this rumor circulating the web right now about Nokia's upcoming smartphones. Yes, that's plural. It is not only the Nokia 9 that recently made an appearance on the web, but also the Nokia X7 (7.1 Plus) which official teasers have been released by HMD. But there are also some media who reported that the teaser belongs to the Nokia 5.1 Plus as the local data, they claim, acknowledge it. However, the teaser, being in Chinese, makes it kind of hard for us to tell to where does it really belong. And even if we do, it may only tell a little hint about Nokia's upcoming device (because of course, they don't wanna spoil that). When we translate the writings on the photo though. Everything has changed. By the way, we used Microsoft's Translate app on this one.
It is disclosed on the teaser that Nokia Mobile (HMD) will soon be revealing a new "mysterious partner." It wasn't particularly stated to which department this new partner will be working on, but we got some hints. And interestingly, it is all over the teaser.
The teaser at the bottom promotes the hashtag #EveryPersonHasANokiaLight. It isn't really that unusual at first glance. But then when we started thinking about the previous Nokia rumors, this hashtag strike like a lightning. Excuse my terrible pun.
It has been rumored in the past that Light, a manufacturer of a multi-lens camera, will be partnering with Nokia to bring the Penta-lens camera setup to mobile phones. And this might be it. The teaser is kind of asking its fans to share their own Nokia story for an opportunity to "smoke the classic banana machine." Whatever that means. However, I don't think the Nokia 8110 4G is deserving of that trip. The teaser has also mentioned that winning fans will get an "opportunity to bring a new Nokia machine to Finland to see the light." With some "light" emoji at the end.
I know. I know. This might just be a mere coincidence. But if you've been following the Nokia (or HMD rather) for the past couple of months, you also most probably find this interesting.
This is when it even gets more compelling. This came after the alleged Nokia 9 (TA-1094) leaked.
Last June, Light revealed that they are working to bring the multi-lens array into our smartphones. And they wanted to do that by the end of this year. However, the company is mum whether they are partnering with the current device manufacturers or they are doing it their own. But we later found out that Light.co is working closely with FIH Mobile, a subsidiary of Foxconn, and the one that invested heavily on HMD Global to bring Nokia back.
It is also no secret that Foxconn has invested a huge amount of money on Light.co a few years ago. This is in hope to bring the computational photography to smartphones. However, Light's initial 2017 target didn't come into fruition, even then, they are continuing its effort to bring the project to light.
The lenses on the back of the alleged Nokia 9 have the same aperture. We can tell that because there's not a single lens that is either smaller or bigger than any others. This is a very a similar setup we saw from Light's prototype device a few months ago. Although that one has some kind of variations in terms of aperture. But at least it has about five lenses that look identical with each other.
It is not new for Nokia to have multiple partners though. The old Nokia brand has had frequently partnered with the biggest in the tech industry before to further leverage their own brand. For example, Coloud, JBL, Fatboy, Dolby, and probably the most popular and iconic partnership Nokia has ever made before is that of the German premium lens maker Zeiss (formerly Carl Zeiss). HMD has already renewed partnership with Zeiss for the new era of Nokia smartphones.
We also got a clear photo of the alleged Nokia 9, complete with its IMEI, and run it through an IMEI identifier website. The website was able to identify the brand and the device's model. It's said to belong to Nokia with model number TA-1094, the number we see printed on the back of the device. This means the phone we saw earlier with Penta-lens setup really does it exist. Other than that though, there's not anything more the website can reveal.
We also found out via MySmartPrice that this exact model, we are talking about the TA-1094, has already cleared an MIIT Certification last May. The device's applicant unit, Hemingdi Technology, is located somewhere in Shenzen, China. MySmartPrice also found out that Hemingdi Technology is also behind the recent FCC and TENAA filings. FCC also mentioned that Hemingdi Technology is one of the current device manufacturers of Nokia phones. So this seems to be a legitimate leak.
The following were the data provided by the website: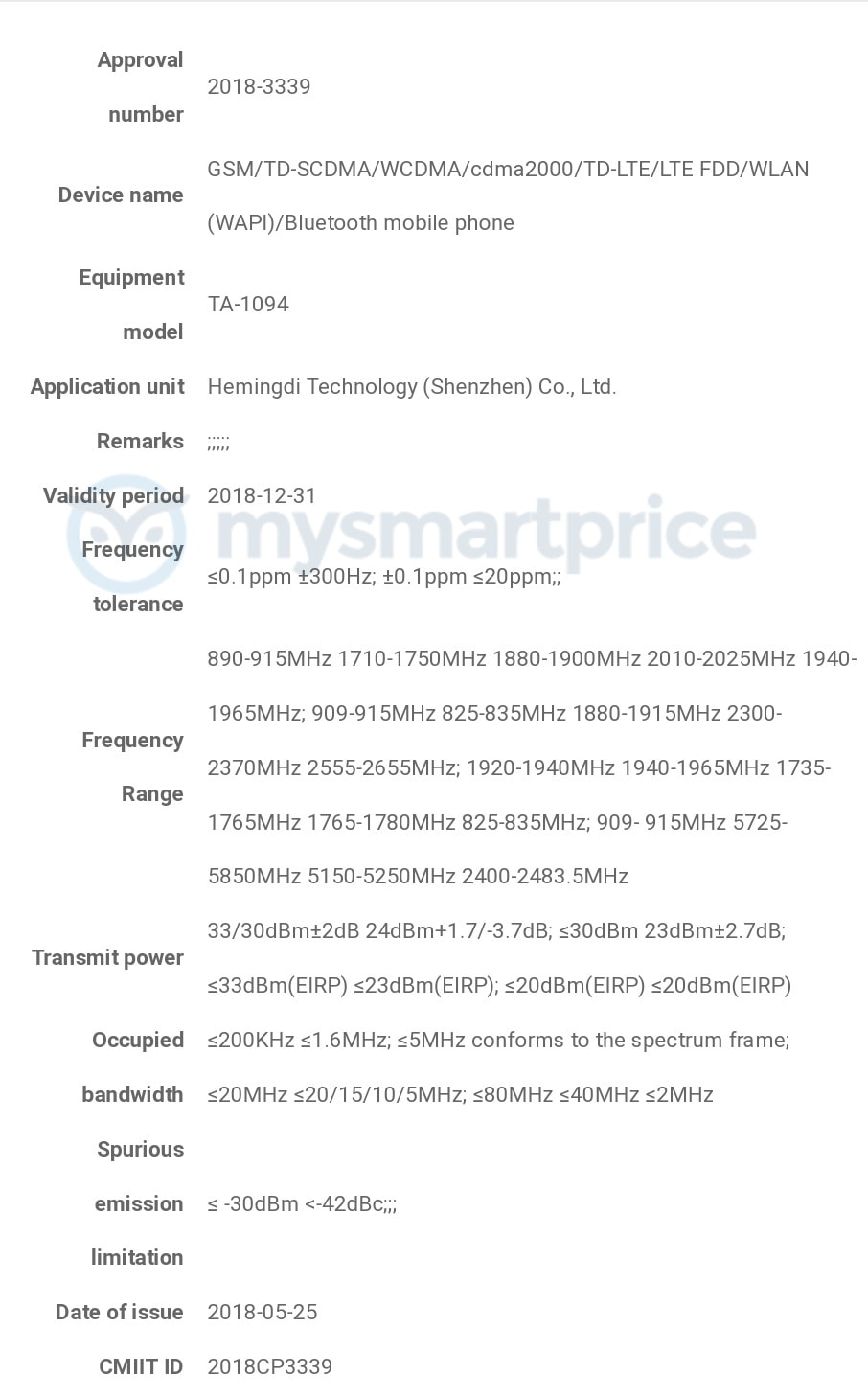 Going back to the Nokia X7 (7.1 Plus) teasers, the phone in the photo features a very minimal chin without the Nokia branding. This crosses out the Nokia 5.1 Plus from the list of the possible devices. We also made a closer look at alleged Nokia X7 glass that leaked last month and compared it to the phone on the teaser. It is somehow similar in terms of thinner bezels. The teaser also said that HMD is revealing a device with a 19:9 aspect ratio display. This seems to fit the description of the Nokia X7.
But again, these are just pure speculations for now. So take all this information with a grain of salt.