We had reported earlier in the year that to succeed last year's Pixel and Pixel XL Google had been working on three devices this year. The devices are codenamed Muskie, Walleye, and Taimen which in tradition with Google's naming scheme are all real-life fishes. Another detail that leaked out regarding these devices was that they would retain their premium positioning and would most likely feature the Qualcomm Snapdragon 835 SoC.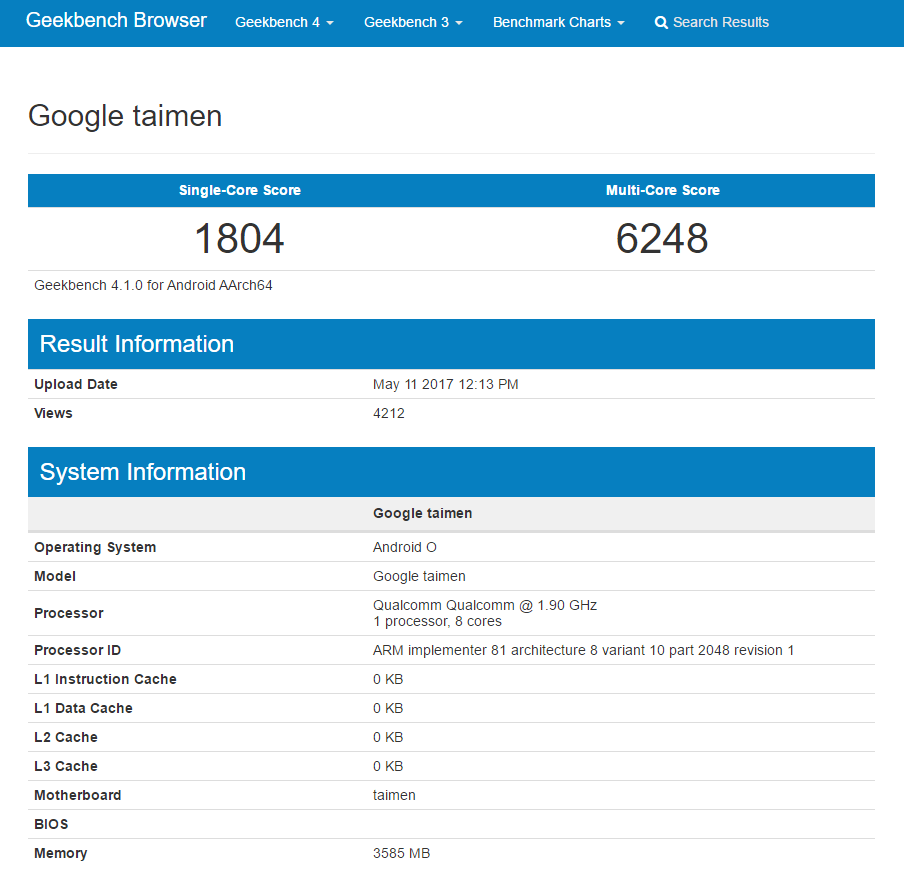 Yesterday, a Dutch site managed to spot the Taimen on the popular benchmark site Geekbench. The Taimen is reportedly the largest device of the three and it is currently uncertain whether the device will be a phablet in the vein of the Motorola Nexus 6 or whether it is a tablet. The Taimen simply shows up as Google Taimen on Geekbench and posts scores of 1864-points in the single-core tests and 6248-points in the multi-core tests. Unfortunately, the benchmarks do not reveal anything more about the device apart from it carrying an octa-core SoC clocked @1.9GHz coupled with 4 GB of RAM on Android O.
The Taimen is shown running the yet-unnamed Android O which has yet to get officially announced although a developer preview has been out for some time. Also, throwing a spanner in the works of the benchmarks is that the tests were run on Geekbench v.4.1 vis-á-vis most databases have their results on the older Geekbench v.4.0, thus we cannot ascertain the veracity of these scores one-is-to-one unless more devices are tested on the newer benchmark version. Although if we talk the scores posted at face-value it is fairly certain that unless the OS provides some drastic performance improvements the SoC in the device is the Qualcomm Snapdragon 835.
Follow us on our social media to keep up to date with the latest in the world of Android.