Google is a company which prides itself on being able to "organize the world's information and make it universally accessible and useful". Well, that wouldn't be possible if much of the emerging countries were running on snail's pace internet speed and lousy connectivity. So, Google wants to do some dieting and it is testing a "lite" Search app that can thrive in such scarce bandwidth. The app is right now being tested in Indonesia. It's only available on their Play Store. Although users can download an APK Mirror file if curiosity gets the better of them.
The app is clearly in the testing phase but it has all the basic features of the Google Search app. The main page of the app is a bit different. Users who have enrolled for the testing will be asked to choose a language from 4 languages including Hindi and Indonesian. This gives us the impression that the app will be released first in Asia.
The next home page has some icons that can quickly display related info. Categories include news, images, search, weather or even quickly translate something for users. Voice search and text based search is there too. A couple of settings in the app can make the app more aggressive in saving data. For example, users can setup the app to use only lite web pages and also to shun external browsers. These are just the things that appear on the surface. Beneath the surface, the app would use less RAM and data thus achieving the desired purpose.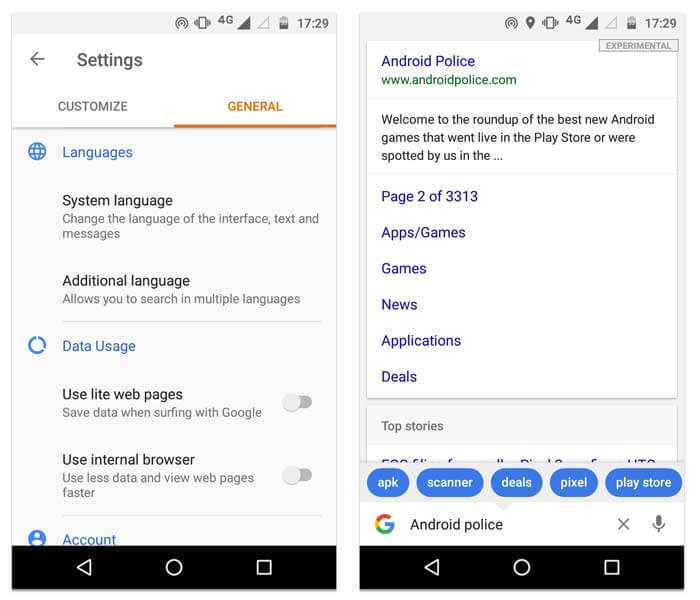 The effort is similar to Triangle, another Google effort going on in Philippines to provide connectivity in poor bandwith areas. Not too long ago, Google tested Youtube Go app as well as part of the same mission in India. It was a very welcome step. In fact, Google wants to slim down the whole Android OS itself naming it Android Go at this year's I/O developer conference.