Back in May at Google I/O, Google spoke about Play Protect, an extension to the existing Verify Apps. This feature scans all the installed apps in the background and makes sure that no malicious software is installed on your smart device.
This initiative is primarily to protect users from getting infected from malware through fake apps available in the Play Store. Google Play Protect is now available to all Android devices on Google Play Services 11 or later.
"All Android apps undergo rigorous security testing before appearing in the Google Play Store. We vet every app developer in Google Play and suspend those who violate our policies. So even before you download an app, you know it's been checked and approved. Then, Play Protect scans billions of apps daily to make sure that everything remains spot on," Google notes.
This is very secure as the service will not only scan apps that are downloaded from the Play Store, but also the ones that are installed from external sources. The scan is automatic and if Google finds anything wrong with any of the installed application, it will block the app from running on your Android device.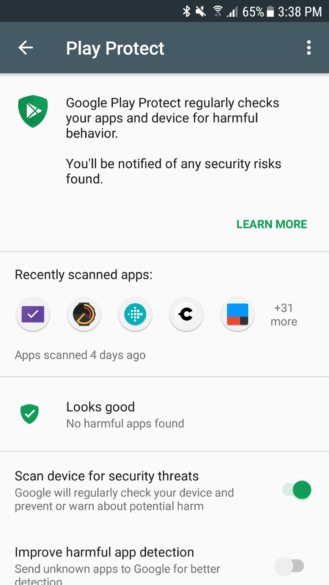 Under Settings -> Google -> Security -> Verify Apps,a Play Protect screen is displayed containing the recently scanned apps and more.
Also, the Play Protect feature helps you track your device and wipe all data from it in case it is lost.