If you recall, towards the end of last week, we had received leaked images of the upcoming Pixel 2 handset. These images were courtesy VentureBeat who had gotten them through a confidential industry source.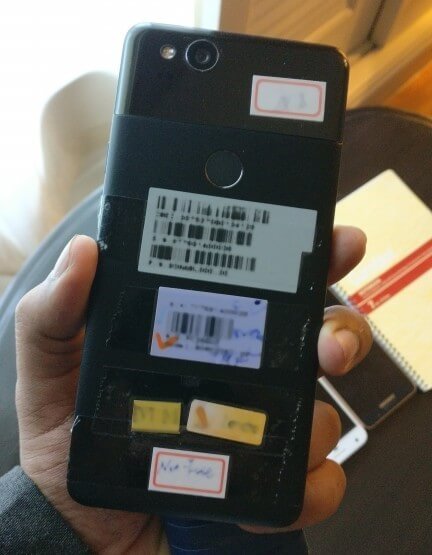 Today, an anonymous tipster gave more up to date live images of the Pixel 2 handset which shows the handset in far more detail. These new images only confirm what we had seen in the earlier leaks though. The Pixel 2 will be ditching the 3.5mm audio jack and has a single camera at the back. The smartphone will also be featuring a rather large bezel on the top and bottom which is perplexing since the fingerprint sensor is at the rear of the device. In a consolatory move, both handsets are likely to feature a stereo speaker setup.
Read More: Google Pixel 2 and Pixel XL 2 digital renders get leaked
Overall, we must say that these leaks have us disappointed in the Walleye although the specifications should still excite. It is expected that the premium handset would feature Qualcomm's Snapdragon 835 SoC coupled with 4GB of RAM and 128GB of internal memory. The display on the smaller Pixel 2 is allegedly a full-HD (1080 x1920) AMOLED panel based solution which is rather small in 2017's race of ever taller, slimmer handsets.
This time the smaller handset is being manufactured by HTC while the larger Pixel XL 2 would be by LG.
Follow us on our social media to keep up to date with the latest in the world of Android.