Up till now, 2017 has been a busy year for the smartphones industry. We are halfway through the year and have seen a lot already. But its not the end as we have some big announcements and launch events, that are yet to come our way. One such event that would have all our attention is- Google's official launch of Android v8.0. Google has been prepping up for the new iteration of Android for quite some time now, constantly releasing developer previews. And after the last preview that was made available in July, the next thing to expect would be the official live streaming of the same, where Google would be revealing Android O to the world. But the question is when would that happen?
As shown on the android's official website, Google is planning to "touch down" with the new version of Android OS, in all its glory, on 21st August. The date coincides with the total solar eclipse that would sweep across the whole of United States. Google continues to say that the viewers can experience the phenomenon either via "NASA 2017 Total Eclipse Live Stream" or through "Android O Reveal NYC". Now the latter part interests us. Could it mean that along with live streaming of the historic natural phenomenon, Google would also go ahead and introduce Android O and its super powers to the world? Now Google has obviously planned something big for that day, but we are not sure if its going to comprise the big Android O launch, or some form of public announcement for the same. But if tweets from Evan Blass and David Ruddock are to be believed, we might have Android O on 21st August.
Happy Eclipse. pic.twitter.com/6X2HsamS8N

— Evan Blass (@evleaks) August 18, 2017
Android O release scheduled for the week of 8/21, "most likely on the 21st itself."

— Evan Blass (@evleaks) August 12, 2017
According to one source whose information I cannot verify, Android O will receive a name on the day of the solar eclipse (August 21st).

— David Ruddock (@RDR0b11) August 10, 2017
Along with setting our clocks for 2:40PM ET, Google has released some info on what its next Android version might actually be called. If Google's filename for the teaser android video is to be believed (which was by-mistake posted on Google+), Android O might actually be called Android Oreo. And this would come as no surprise, considering Google's fondness towards delicious food treaties.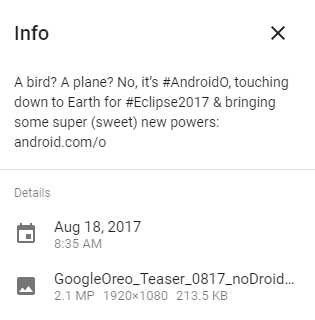 However the post was soon deleted and another one was posted, in which the filename  "GoogleOreo_Teaser_0817_noDroids (1).mp4" was replaced with "Octopus Teaser.mp4". Are the reports about an "Octopus" showing up, when the Android Version (in System Settings) is repeatedly tapped, actually true?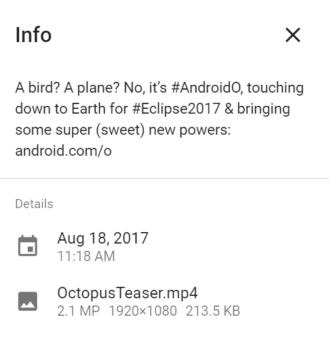 It is the first time that Google hasn't provided any official name for its upcoming Android software. But soon we might have the big revelation, as 8/21 is not that far away.