The Google Assistant has been an exclusive feature for the Google Pixel for quite a long time now. However, Google today announced that the Google Assistant is coming to all Android devices running Marshmallow or later.
Bringing the Google Assistant to devices running Marshmallow and Nougat currently means that, approximately 31.9% of Android phones will be getting the feature. The image below shows the Galaxy S7, LG V20 and the HTC 10 running the Google Assistant.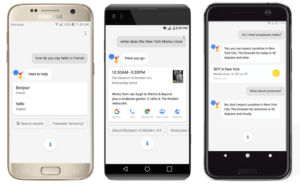 This is what Google had to say:
Everyone needs a helping hand sometimes. Enter the Google Assistant, which is conversational, personal and helps you get things done—from telling you about your day to taking a selfie. The Assistant is already available on Pixel, Google Home, Google Allo and Android Wear. Now we're bringing it to even more people. Starting this week, the Google Assistant is coming to smartphones running Android 7.0 Nougat and Android 6.0 Marshmallow.
The Google Assistant will roll out this week to English users in the U.S., followed by Australia, Canada and the U.K., followed by German speakers in Germany. Google says that it will add support to more languages over the coming years.
The LG G6 which launched at MWC today, was the first non-pixel phone to come with Google Assistant out of the box.
Earlier, Google had enabled the Google Assistant in an alpha release on the Google Play Store.