ZTE, a major player in the Chinese market and well known in the Android Enthusiast circles for the Blade series of smartphones recently had a yet undisclosed mid-range performer leak via Geekbench. The ZTE Z986 coms packing a 6-inch full HD display, a Qualcomm Snapdragon 625 chipset and would be running the latest flavour of Android, v7.1.1, Nougat.
The device was spotted on the Geekbench site, sitting pretty with a whole host of its information available to the public as can be seen in the screenshot below.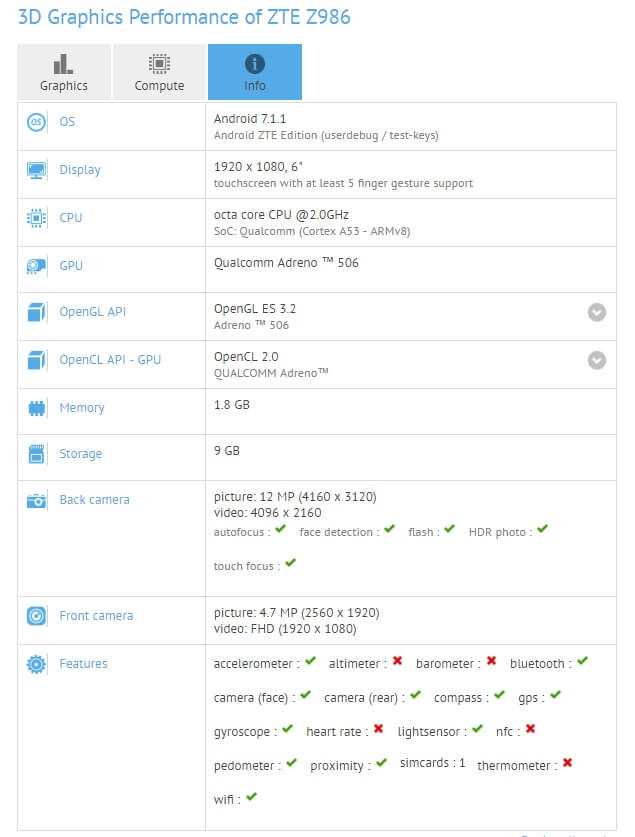 The device features an Adreno 605 GPU, which should make gaming a smooth and enjoyable experience. It features only 2 GB of RAM and 16 GB of internal storage though which may be on the lesser end of the spectrum. Also, unlike most Chinese manufacturers, the device does not seem to support a dual-SIM support which could indicate that the other slot is simply for microSD expansion cards. The device has a 12-megapixel shooter on the back with the capability to record 4K videos at 30fps and a 5-megapixel selfie camera up-front. There is no mention about battery capacity but seeing that the device lands in the phablet category, 3500mAh is pretty much the minimum expected. All this is pretty much par for the course for a mid-range Android smartphone these days.
What is surprising about the Z986 is that it comes loaded with Android 7.1.1, Nougat out of the box. This will make it one of the few devices on the market which will be coming with the latest flavour of Android so soon apart from the usual Nexus and Pixel suspects. There is a possibility that the device will be unveiled and released into the market in the next couple of weeks. This makes the upcoming phablet not only a tempting purchase for the hardware packed inside but also for those who want a device with the latest iteration of Android OS right out the box.