A new image of the Samsung Galaxy S8+ with a dual rear camera setup has surfaced online. It was previously speculated that Samsung was going to make the move to dual camera's, and now we have the proof to back it up.
The front panel of the device is a lot like the Samsung Galaxy S8. The main difference is noticeable in the rear, where we can see a vertical dual camera setup backed by an LED flash. However, the fingerprint scanner is nowhere to be found. This may been that the scanner may be integrated into the display.
Earlier it was widely speculated that the Samsung Galaxy S8 would come with a dual-camera module, directly competing with the iPhone 7 Plus. But in December a tipster from China revealed that Samsung decided to drop the plan.
Also, Sammy is expected to launch the Galaxy Note 8 this August. As per the past trend, we know gat the Note 8 will follow the S8's design language. Therefore, a dual rear camera setup is definitely in cards for the Galaxy Note 8.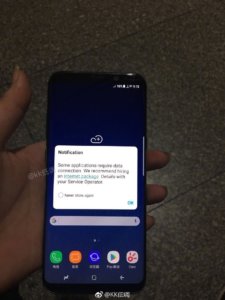 Also, Samsung earlier revealed the Exynos 9 series chipsets, carrying support for dual camera lenses. This is more than enough evidence that the next generation Samsung devices will receive an upgrade to dual cameras.
This is a compulsion for Samsung as other rivals smartphones such as the iPhone 7 Plus, and the LG G6 already sport a dual lens module and rumours have suggested that other manufacturers like Xiaomi and OnePlus are definitely moving in the same direction. What will be important is Samsung's take on dual cameras and how they are going to utilise it.