New information regarding the Galaxy J2 Pro (2018) has appeared on Samsung's website. The company has voluntarily or involuntarily shared the manual pics on its portal today. The manual gives us a very clear idea of the physical design of the budget handset. The manual provides two diagrams, one that shows front components and the other shows off the back design of the handset.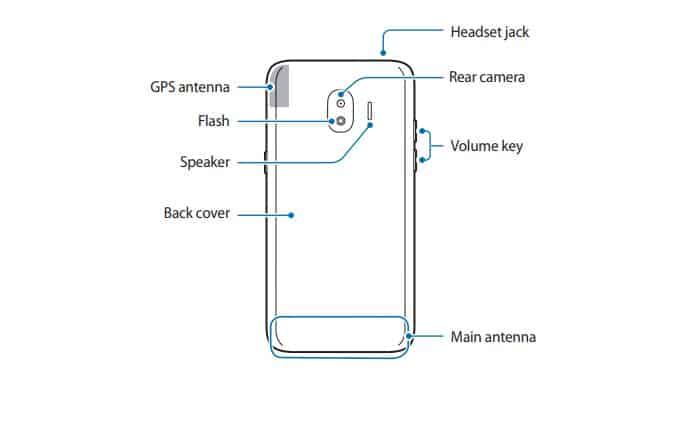 Now, this is not the first time we're looking at the J2 Pro 2018. We've earlier had a number of leaked photos that concur to these new diagrams. Coming back to the diagrams, you won't see a drastic departure from last year's design in the latest J2 Pro. The phone sports a conventional 16:9 aspect ratio display. This also means that the home key and physical capacitive buttons are located beneath the display. On the top chin, you can spot the single selfie camera, earpiece, proximity sensor, and LED flash.
Flipping to the back, one noticeable change is the speaker grill that resides beside the single lens. One more thing that has not been mentioned in the manual but described by some experts is that the J2 Pro will come with the latest Samsung launcher. That means users will have access to same apps that are on the Galaxy S8 as well as similar features. It is expected to run Android Nougat.
In terms of specs, earlier leaks tip the handset to feature a Snapdragon 425 chip, 2 GB RAM and 16 GB storage. Earlier reports also speak of a mediocre 8 MP camera for the back and a basic 5 MP shooter will be at the front.
We expect the handset to break cover in early 2018, possibly in January.