Have you ever seen the Cyanogen OS 12 Apps or the CyanogenMod 11S Apps and thought: "Hey, they look quite nice, but why are they only for OnePlus One and Alcatel phones?". Now you don't have to think about this anymore. Just download my zip file and flash it in your recovery. You can choose between a full, medium and small package, read more below. This will remove all unnecessary pre installed Apps in CyanogenMod or other AOSP Roms and install all the Cyanogen OS Apps on your phone. You can also read which Apps will be installed and which one will be deleted. And the official Cyanogen OS 12 OnePlus boot animation is also here.
I will try to keep the apps up-to-date, so check back later here for new Cyanogen OS Apps or updated Cyanogen OS Apps. This zip should work on any AOSP based Rom like CM, omni and more, please read more at "How to install" and "Q&A"!
Flashable Cyanogen OS 12 Apps & Boot Animations
Features:
Choose between a full and aroma package All Cyanogen OS 12 Apps:
Boxer Email App
Camera Next
CM File Manager
CM Wallpapers
GalleryNext
Hexo Theme from Cyanogen OS 12 (activate it in the CM Theme Engine on your phone)
LockClock
MaxxAudioFX
NextBit
Truecaller (incoming in Cyanogen OS 12.1, but I have it already here)
Screencast
CM Theme Showcase
Sound Recorder
Terminal
Theme Store
Trebuchet Launcher
Google Connectivity Services
Ambient Core (Cyanogen OS 12 Account Manager – important, dont delete it!)
Android For Work
Eleven Music App
Face Lock
Media Provider
Theme Chooser
and some more you will find in Changelog etc
Read before Flashing
Following Apps will be uninstalled from your device:
– Gallery2
– CMWallpapers (new one will be installed!)
– Camera2
– CMFileManager (new one will be installed!)
– Email
– Terminal (new one will be installed!)
– Sound Recorder (new one will be installed!)
– Trebuchet (new one will be installed!)
– Audio FX
– CM Account Manager
Aroma Version will always install the following apps:
– COS Account Manager
– Trebuchet
– Terminal
– Sound Recorder
– CMWallpapers
– CMFileManager
How to install
These Apps will only work without problems on CM (based) Roms, like CyanogenMod, BlissPop, Ressurrection, Nameless, etc [it should also work on AOKP, Pac Man, Omni, but these will cause Bugs , maybe more, but I haven't tested more so far]. It might not work on few Roms like Sense (HTC), TouchWiz (Samsung) and more correctly and could cause problems like force clauses and more. If you are flashing the App zip on a non AOSP based Rom, my zip won't remove any apps on your phone, which could cause problems, use on your own risk!
Download the Zip from below.
Goto Recovery & Select Install Zip through SDcard.
Select the downloaded file & Flash it.
NOTE:  YOU WILL HAVE TO FLASH THE ZIP AGAIN AFTER AN AOSP ROM UPDATE ON SOME ROMS!
Changelogs:
V 4.0 [Stable] – 2015-07-22
– Aroma Version is now availeable
– finally fixed Screencast (thanks to @mkhcb)
– updated Truecaller
V 3.2 [Stable] – 2015-07-10
– updated Truecaller
– fixed Themes Apps
V 3.1 [STABLE] – 2015-05-31
– updated script to remove CyanogenMod Account (because you now have Cyanogen OS Account)
– cleaned up the script
– updated Baton/Nextbit App
– added YU Yureka COS 12 Theme (availeable in small, medium and full package) (thanks to Titokhan for the apk!)
– updated Screencast App (from Nameless Rom)
– fixed Screencast for more devices (again, thanks to Nameless Rom!)
– Trebuchet launcher bug fixes
– updated Truecaller
V 3.0 [BETA] – 2015-05-21
IMPORTANT: You can now decide between a full, medium and mini package, explanation in OP Thread (soon!)
– some Screencast Tests
– added Ambient Core (Cyanogen OS Account Manager – Needed to get many apps working! Don't delete it!)
– added Android For Work
– some more CameraNext fixes
– updated CMWallpapers
– added FaceLock
– updated GallerNext
– updated Hexo Theme
– MaxxAudioFX Bug fixes
– added Media Provider
– added Theme Store
– added Wallpaper Cropper
– updated CMFileManager
– added Google Connectivity Services
– some script updates[/vc_column_text][/vc_tta_section]
– I am not responsible for lost data on Apps that will be deleted by my flashable zip, read above which apps will be deleted and be sure you won't miss anything like your email account or Camera features like Panorama mode, when it would not work on your device
–
Android Version Required:
Android ? – 5.X [please test and give some review if it worked on older Android Versions!
Confirmed working on: Android 5.0, 5.0.1, 5.0.2, 5.1, 5.1.1, maybe more, you have to tell me!
If you are having problems/bugs, please ALWAYS tell me your device and rom! Thanks!
I don't allow you to publish direct download links to my flashable zip on other sides or threads! Always use the link of this xda thread somewhere else, no direct download link! (If you still need to make it, please talk with me before!!)
It is also NOT allowed to copy and paste my whole written text for this project on your/other websites!
Small package: For users with low System storage (like the Galaxy S2 or older)
Medium package: For users with more System storage (like the Galaxy S3 or newer)
Full package: For users who want to taste all COS 12 Apps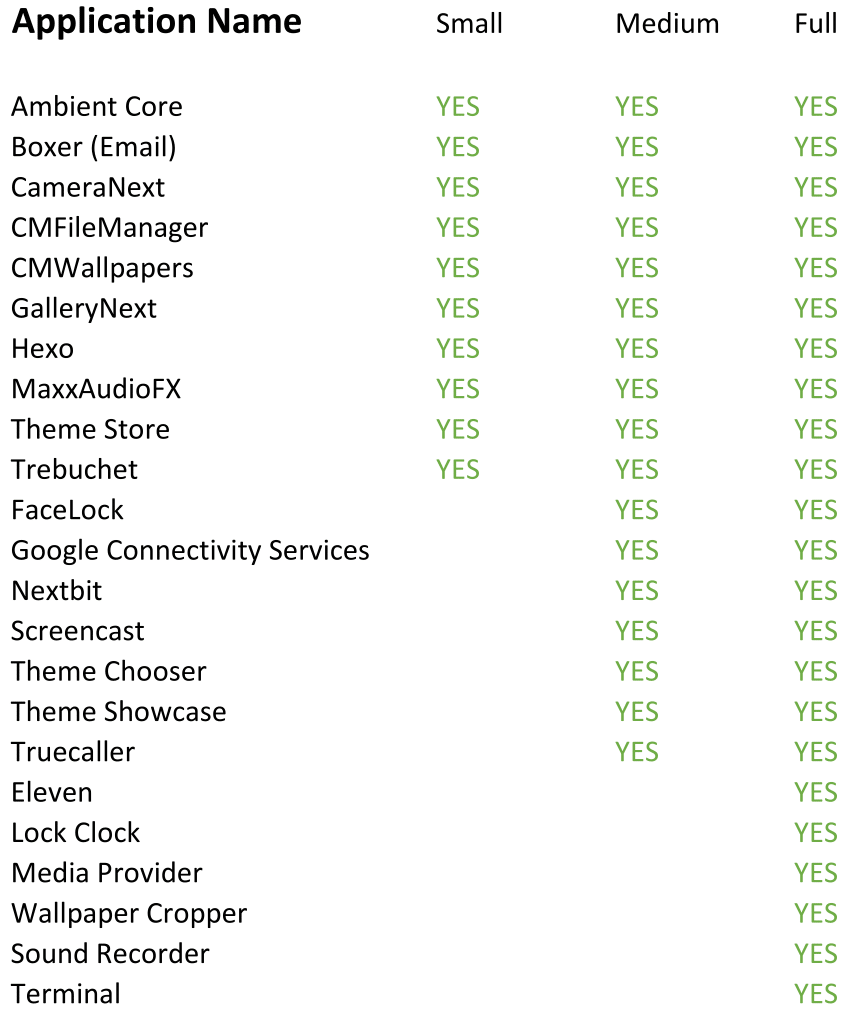 Downloads
FAQs
Q: Will this Rom work on AOSP Stock Roms like Nexus or Motorola one?
A: Maybe, but I won't give support for this. My zip can and will cause problems on Stock Roms!
Q: I am having problems on a non CM based Rom.
A: Non CM based roms will cause bugs! I cant keep an eye on every rom, so maybe I am unable to fix it!
Q: I am using CM as my secondary Rom, can I flash this zip?
A: NO! This won't work!
Q: Will it work on Android 4.4? or older?
A: It should work on Android 4.4, but there will be bugs maybe. On even older Android versions there will be more and more problems! Use it on your own, and don't be to shy to tell me if it worked!
Q: Where is the per app themer?
A: Sorry, it is not possible to port the per app themer, as this is a rom feature and not an app. You will only get this feature on official Cyanogen OS 12.
Q: I can't play my recorded screen video with screencast in my gallery-
A: This is normal, you have to download a mp4 player app from play store or copy the file to your PC and play it here (you will find you screencast video at /movies/screencast)]