Facebook has been betting big on Artificial intelligence and has launched its own virtual assistant for the Facebook Messenger called as 'M'. Facebook had been working on its AI assistant from a long time and had already showed glimpses of it when the Facebook Messenger got its updates where it could do some tasks which can be performed with the help of Artificial Intelligence. This move from Facebook is also due to the growing competition from its competitors like Google, Apple and Samsung who have launched their own Virtual Assistant as well. The latest addition to the list of AI assistant is Samsung's Bixby assistant which performs tasks similar to Google Assistant and Siri from Apple.
M uses artificial intelligence to suggest helpful actions to you while you are chatting. It will pop up into an open conversation, for example, to suggest your location when a friend asks where you are. It can also help you make plans with your friends by chipping in as coordinator between the conversations just like Google Assistant in Google Allo.
Facebook in its blog post stated about its M assistant as :
To experience M, simply chat with a friend or a group as you normally would. M may make a suggestion in a conversation relevant to one of the core actions listed above, and then the M logo and suggestion will appear.
Some of the tasks that can be performed by Facebook Messenger's M assistant are listed below: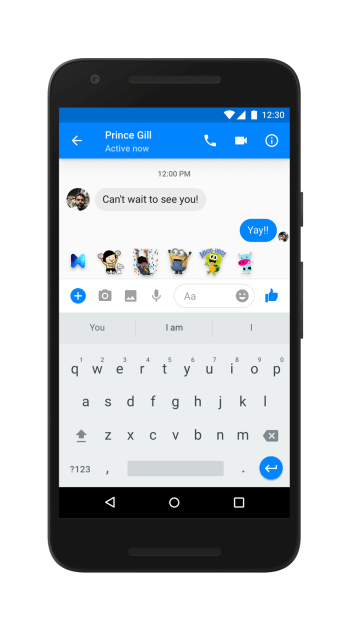 Sending stickers: M shares fun sticker suggestions for your daily life interactions like "Thank you" or "Bye-bye."
Paying or requesting money: M recognizes when people are discussing payments and gives them the option of easily sending or requesting money.
Sharing your location: M can suggest an option to share your location during a conversation.
Making plans: If people are talking about getting together, M helps coordinating a plan.
Starting a poll (in group conversations only): Have a hard time making decisions in a group? M lets you set a poll topic and vote in group conversations.
Getting a Ride: Talking about going somewhere? M suggests "Get A Ride" and shares an option of Lyft or Uber.
One thing to note is that Facebook Messenger's M assistant is not as powerful as Google Assistant, Siri or Bixby. Facebook Messenger's M digital assistant has been launched only in the US, for now, for all iOS and Android users and will eventually be made available to other countries.