Facebook has already implemented Snapchat's story feature in Instagram, WhatsApp and Facebook Messenger. So there is no surprise that it carried the feature into it's mobile app. The social media giant is known for innovation but this inclusion may seem contradictory.
Today, we're excited to introduce the new Facebook camera. We think it'll give everyone more ways to express themselves and share what they're up to. So from now on, you can just let your camera do the talking.

Posted by Facebook on Monday, March 27, 2017
The feature is called Facebook Stories and it is pretty much Snapchat Stories inside of Facebook. The story will be displayed on top of your news feed. And just like in any other, the story disappears after every 24 hours. To add a story, click on Your Story in the Stories bar.
Also a new feature called Direct has been added. This lets you share photos and videos with specific friends for a limited amount of time. And the people will be able to view your story and reply to them. All this sound's familiar isn't it?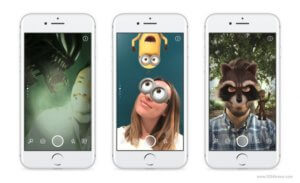 Additionally, a new set of camera features have been added. Tapping the camera icon on the left of the app for Android or iOS will bring an in-app camera experience, similar to the one found on Messenger. The camera is now packed with a lot of new effects like new filters, masks and frames. Reactive effects are also present, which interact with dynamic objects in real time. Mask effects for various movies including upcoming ones are present, which is a result of the company's brand partnerships. Style effects which apply artistic filters over your video are also part of the camera experience.
It remains to be seen whether this feature will create any buzz in the social media world.