Late in March, Andy Rubin had teased his company Essential's latest smartphone in a tweet. This fuelled a lot of speculation on what the device was, what hardware did it carry et al. Most important though was what was leaked, in the leaked photo the device was shown with minimal bezels. Now recently a Russian site mobiletelefon.rumanaged to capture its hardware specifications off of GFXBench.
The smartphone is listed on the site as the Essential FIH-PM1, the naming convention most likely implying, Essential (brand name) FIH (Foxconn International Holdings, the OEM)-PM1 (product model 1). The device is powered by a Qualcomm Snapdragon 835 SoC clocked @2.2GHz coupled with the Adreno 540 GPU. The device has 4 GB of RAM and 16 GB of internal storage. The display on the device is a 5.5-inch panel with a rather odd resolution of 1312 x2560 pixels which results in a non-standard aspect ratio of 80:41 compared to the common 16:9 and LG G6's DolbyVision 82:41 (2:1) ratio. The display is also supportive of multi-touch gestures of at-least five fingers.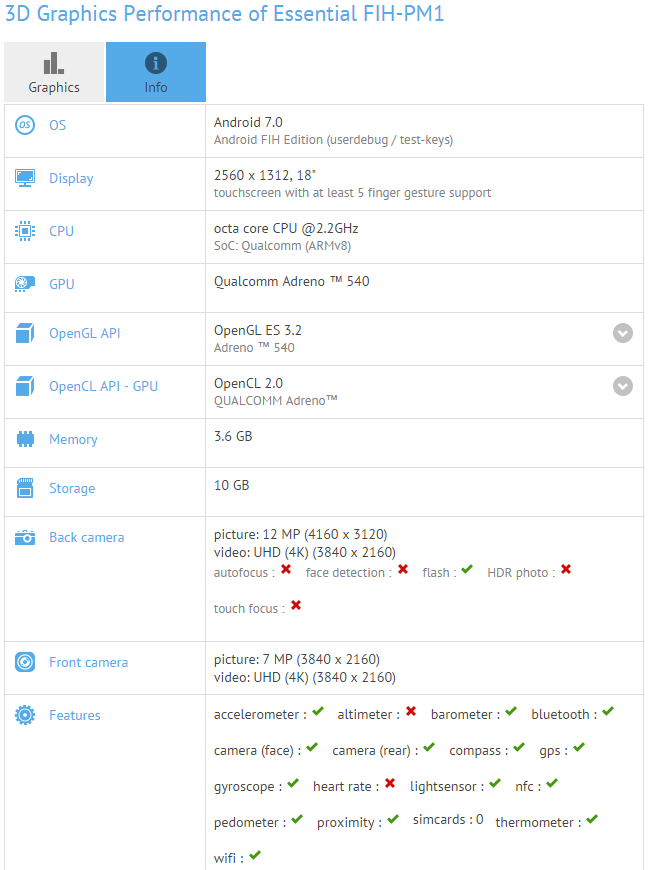 The Essential FIH-PM1 has a 12-megapixel camera sensor at the back capable of capturing 4K (2560 x1440) video. For selfie duties up-front there is a 7-megapixel sensor again capable of capturing of 4K video content. The device is running on Android, v.7.0, Nougat. The device also has multiple sensors like Accelerometer, Bluetooth (unspecified revision), GPS, compass, gyroscope, NFC and a pedometer. We hope that the device comes in more storage option though along with the capability of expansion via a microSD slot.
Apart from these confirmed details, it is speculated the Essential FIH-PM1 will have some modular capacity via a port / docking point. This is apart from a feature that will function like Apple's 3D Touch. What do you think about this new device from the co-founder of the Android OS, do let us know in the comments below.
Read More: LG offering up-to 300 "optimised" apps for the LG G6 on its own App Store
Follow us on our social media to keep up-to date with the latest in the world of Android.