An Essential smartphone bearing the model number A11 has shown up on the Wi-Fi Alliance's website. The handset has just gotten through its Wi-Fi certification process. The speculation in the smartphone community is whether this is a new smartphone from the company or is it the Essential PH-1 being formally introduced. The certification reveals that the handset will come with Android v.7.1.1, Nougat onboard.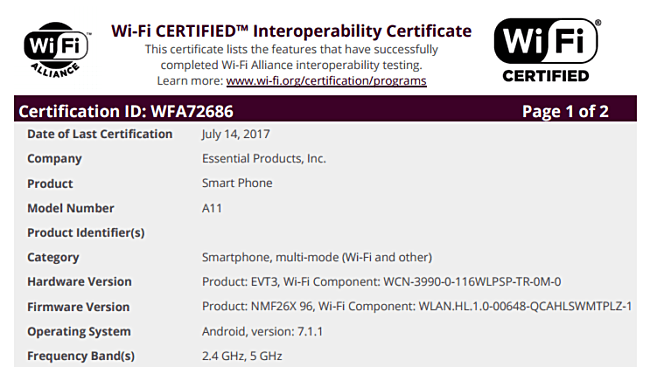 From the Wi-Fi Alliance site, we can concur that the A11 is indeed the PH-1 which had been unveiled late in May of this year. The information provided on the site also tells us that the Essential phone would feature dual-band Wi-Fi, so likely it will be supportive of the 802.11 ac standard. The Essential PH-1 had been cleared by the Federal Communications Commission (FCC) of the US last month. During the reveal, it was stated by Andy Rubin that the Essential PH-1 should start shipping by the end of June but it is the middle of July and the smartphone is curiously out of the picture.
Now with this certification also cleared it is likely that the company will start shipping out the PH-1 to early-bird buyers. According to the Niccolo de Masi, COO at Essential, the phone's release is "imminent" in the US without giving any specifics on the date. As was stated earlier, the Essential Phone is exclusive to Sprint's network throughout the US. Although not formally stated as the reason for a delay, recently Essential has seen its VP of marketing, Brian Wallace and Head of Communications, Andy Fouché exit the company.
Read More: The Essential Phone might come with an IP certification
Apart from this, there has been a report in the Financial Times that claims that the company would be launching the PH-1/A11 in Europe and Japan as well. The report states that the company is in talks with carriers from the UK to decide on viability and launch dates.
The official launch price for the Essential PH-1/A11 was revealed to be $699 which indicated that the company was aiming for the premium segment of the market. And looking at that price tag it is very likely that it will carry a hefty price tag worldwide.
Follow us on our social media to keep up to date with the latest in the world of Android.