CloudWalker is a tech start-up company creating digital ecosystems for large format screens directly through Smart TV or through conversion of existing TVs into Smart TVs. The company claims that the its Cloud TV range can be described as being 'The Smartest Smart TV' ever. CloudWalker has also developed its own User Interface powered by a CDE (Content Discovery Engine) which curates digital content available on the internet on Free, Premium or Freemium basis and also helps discover Apps that can be viewed on TV.
The Smart TVs come with a unique UI which the company calls as "Screen-Shift" which offers an easy way to toggle between Live TV and Digital TV, CloudWalker says that it "ultimately aims to enable every home to enjoy digital content on their TV". The CloudWalker Smart TVs are available in Curved & Flat models with 4K UHD, Full HD & HD resolution. The Cloud TV range of Smart TVs will be exclusively available for purchase on Flipkart from 3rd March, 2017 onwards.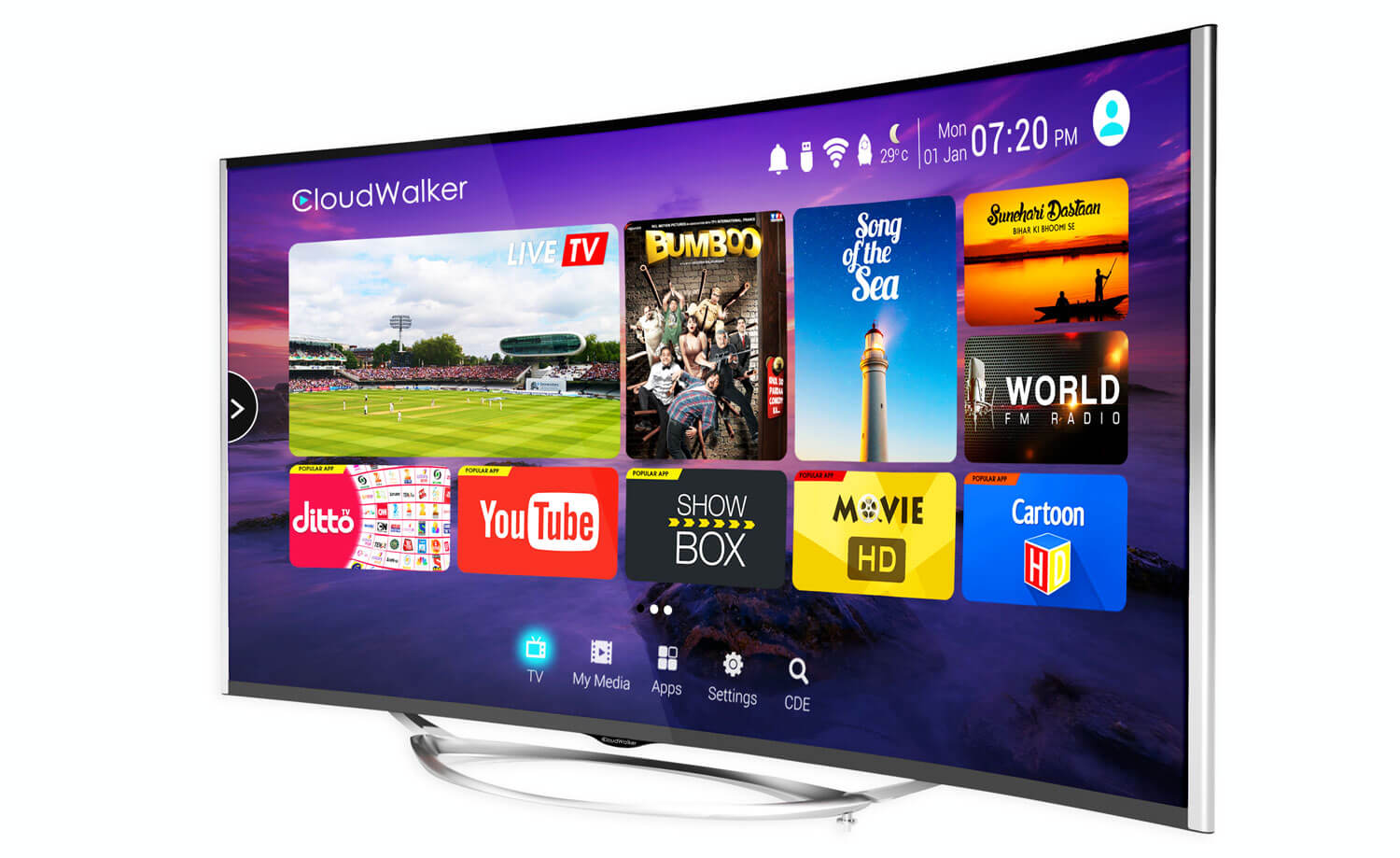 The Smart TVs from CloudWalker have a unique feature like Content Discovery Engine offering a dual experience of watching Live TV & streaming digital content on the same screen (side-by-side) without having to switch between ports. This TVs also have the functionality of downloading any apps from the Play Store directly on the TV as it comes with Android or an option to sideload the apps by downloading from the browser of choice.
CloudWalker Cloud TV range of Smart TVs are available in a screen size of 24 to 65 inches This TVs feature very slim bezels and the display is an XLuminous Display with Dolby Digital Sound technology. The other functionalities include Bluetooth, Dual Wi-Fi and Airplay. Its additional CShare App smartly controls & connects Android or IOS mobile phone or tablet to the TV which can be used to play the contents from the phone like Music or Videos directly on TV. They can also mirror the phone to the TV or the TV to the phone and use the phone as a remote, an air mouse, a wireless keyboard or for voice search.
1. CloudWalker Cloud TV 109cm
2. CloudWalker CloudTV 80cm
3. CloudWalker CloudTV 109cm
4. CloudWalker CloudTV 4K 165cm
5. CloudWalker CloudTV 4K Curved Smart TV
The 'Cloud TV' Smart TV range is on sale exclusively on Flipkart including the highest end of Smart TV which features an Ultra HD 4K 65 inch Smart TV with a curved display at the price of Rs. 135,989. CloudWalker range also features a range of Smart TVs from full HD TVs to 4K TVs at a price range starting from Rs. 11,988 and going upto Rs. 94,899 for the Cloud TV 165cm 4K Smart LED TV.
Speaking at the launch event of company's Smart TV range, CloudWalker's President, Mr. Jagdish Rajpurohit said
"Working on the insight that broadcast linear TV content restricts a viewer's choice by offering limited content and has pushed viewers away from TV and seek entertainment on their PC / Tabs or phones. While on the other hand the Internet today offers millions of hours of interesting and entertaining content of every type, genre and preference on Free or paid basis which is not being discovered or made available for the viewer on TV. Solving this issue of closing the gap between "what is shown Vs what is needed ", Cloud TV will give viewers the possibility to have total control over the content they consume in terms of deciding what they want and when they want directly on their TV for a better user experience while consuming their favourite content."
There are some exciting offers from CloudWalker company at launch which include 1 year additional warranty. No cost EMI up to 9 months with Bajaj Finance and credit cards. Up to Rs. 20000 off on exchange of old TVs on purchase of 'Cloud TV' range.