This week, semiconductor company Broadcom Ltd. proposes to acquire Qualcomm Inc. for a whopping $105 billion, the largest technology takeover deal in the history [since Dell's $67 billion purchase of EMC in 2015.]
Broadcom offered Qualcomm $70 per share in cash and stock, about 28% premium over the stock's closing price on November 2, before the acquisition deal has been made to public. However, the proposal was turned down by Qualcomm saying on their press release that:
"It is the Board's unanimous belief that Broadcom's proposal significantly undervalues Qualcomm relative to the Company's leadership position in mobile technology and our future growth prospects."
With Qualcomm's rejection of the unsolicited offer, analysts expects Broadcom to raise its $105 billion bid.
But why is Broadcom so eager to acquire Qualcomm? And what could be the possible faith awaiting for both companies if the deal is completed? We went back to DeviceAtlas' latest Mobile Web Intelligence Report to find some valuable answers.
Qualcomm Snapdragon are the most used chipset in the Android World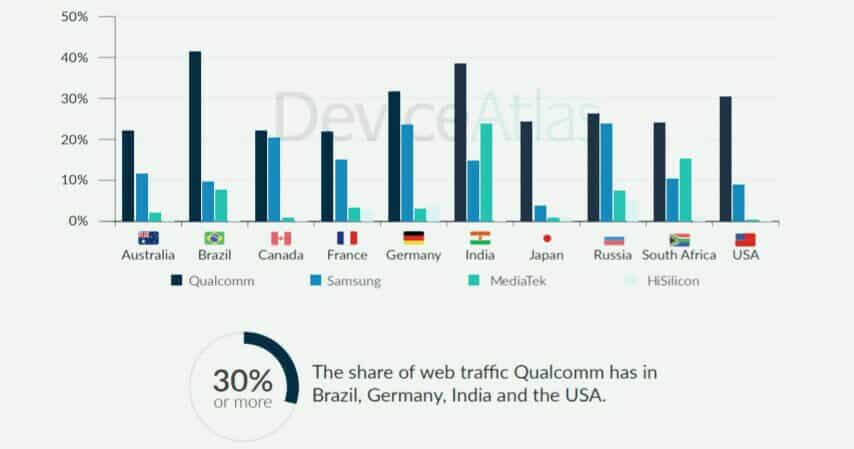 According to DeviceAtlas, Qualcomm Snapdragon chipsets currently dominates the Android world.
Qualcomm powers almost 40% of Android devices in India. MediaTek follows at about 25% and Samsung Exynos at over 15% of share. A relatively small number of Android devices in India currently uses HiSilicon.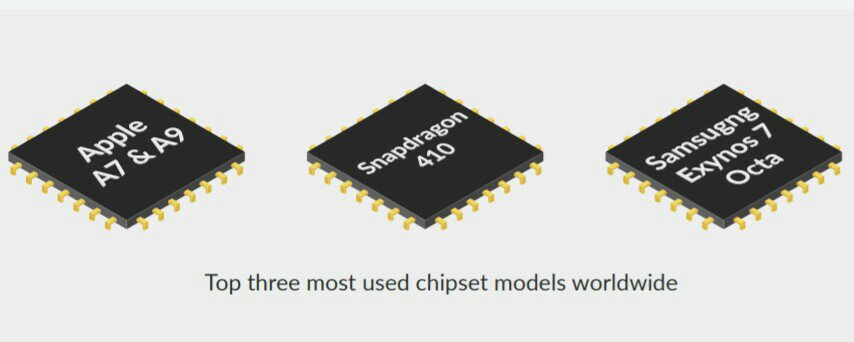 In fact, Qualcomm Snapdragon 410 tops as the most popular chipset model all over the world. This is then followed by Apple's A9 and A7 processor with Exynos 7 Octa coming at fourth. But since A9 and A7 chips are iOS exclusive, Samsung Exynos 7 Octa has taken over the second spot in the Android world.
Qualcomm Adreno is the most used GPU series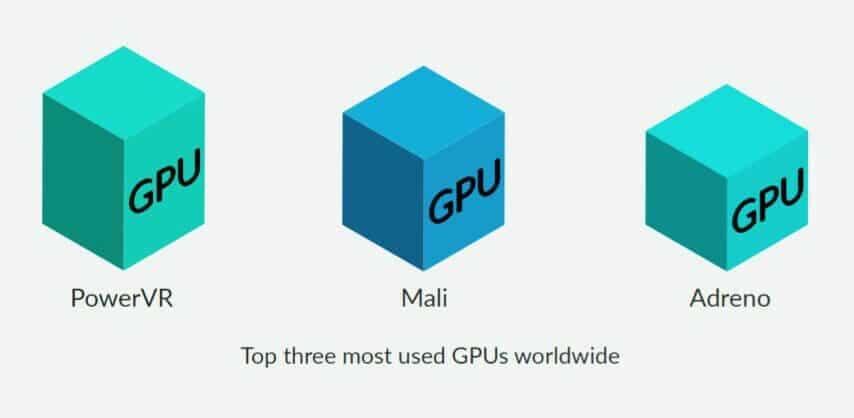 In terms of GPU (Graphics Processing Unit), Qualcomm Adreno claims the number one spot with only two known competitors, ARM Mali and PowerVR by Imagination Technologies.
However, ARM Mali claims over 40% of share in India. The list is then followed by Adreno at a very competitive spot and PowerVR by Imagination Technologies landing at the third place.
What attracts Broadcom to acquire Qualcomm?
DeviceAtlas research found out that Qualcomm currently plays a huge part in the mobile space, powering the majority of smartphones in the global market. Qualcomm Snapdragon chipsets continue to keep it's premium image over its competitors and thus, remains as the top choice of established brand names in the market. The company's leadership in huge marketplaces such as India and USA plays a role with its success. If this success story continues, Qualcomm can secure its place at the top in long-term standing.
However, despite of the company's supremacy in the market, Qualcomm's stock has fallen by 13.7% since the beginning of 2017, underperforming the semiconductor stock which has risen by 34%. As comparison, rivals Intel and Broadcom have risen by 24.6% and 44.8%, individually, year-to-date.
Broadcom's deal came in at the time Qualcomm's stock value is at its lowest point. Qualcomm is involved in a series of lawsuits from other countries, as well as its on going legal battle with Apple.
The company has since admitted at the time that its earnings were "negatively impacted as a result of actions taken by Apple and its contract manufactures."
Assuming the proposed acquisition was granted, Broadcom would become the third-largest chipmaker in the world, behind Intel and Samsung Electronics, and the combined business would "instantly become" the default provider of certain components required to build more than one billion smartphones sold every year.
"The combination of the two companies could generate strong synergies and create a dominant wireless business and overall powerful global semiconductor leader," said Mike Walkley, an analyst at Canaccord Genuity.
Analyst Stacy Rasgon also suggests that the change of management as the result of acquisition will "smooth things over" between Apple and Qualcomm as Broadcom is already an Apple parts supplier.
"If Broadcom can pull off a deal, it could help smooth things over with Qualcomm's biggest adversary. A change of management at Qualcomm might help resolve the dispute with Apple more quickly."