World's most popular Social media platform, Facebook is down since 10 minutes. Thousands of Facebook users appear unable to load the social network on desktop computers or mobile phones. Most users reported a "total blackout", meaning the site would not load, or that they were unable to log in to their accounts.
One Facebook fan posted a message online saying they'd been faced with a message that reads: "Facebook will be back soon. Thanks for your patience as we improve the site."

While other users are flooding twitter with numerous jokes and requests:
SEND HELP, FACEBOOK IS DOWN
Facebook and Instagram have not yet commented on the issue. Nearly 4,700 users reported facing issues with Facebook — with 44 percent experiencing a total blackout, 38 percent saying they are unable to login and 17 percent reporting they cannot access the Facebook app. More than 1,000 people reported issues with Instagram — with 59 percent unable to see their newsfeed, 21 percent unable to login and 18 percent unable to access its website.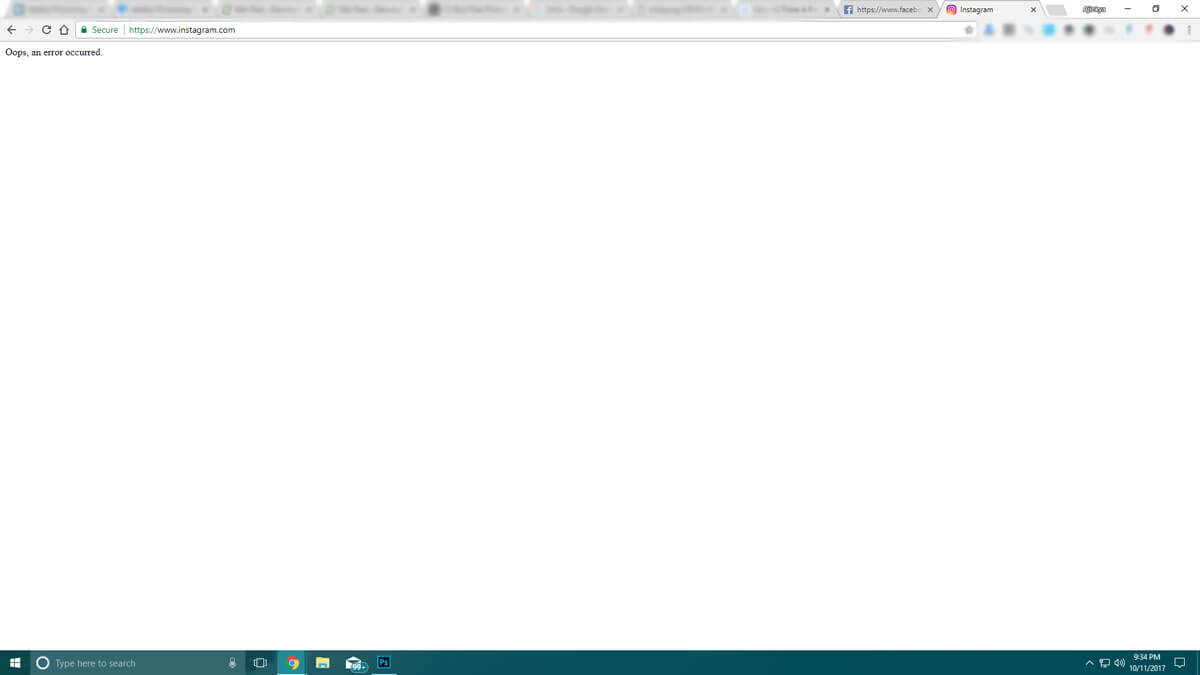 Right now, thousands of people are trying to remember their Twitter passwords…. #facebookdown pic.twitter.com/ZX0C6KoxF8

— Will St Leger (@WillStLeger) October 11, 2017
When facebook's down and everyone's like #facebookdown pic.twitter.com/NVzu5A1pbZ

— RetroEnt (@TweetRetroEnt) October 11, 2017
every social media manager right now #facebookdown #instagramdown #socialmediamarketing pic.twitter.com/5a3GXhL0HF

— Inês Pinheiro (@inesnpinheiro) October 11, 2017
When you're a #SocialMediaManager and Facebook stops working. #facebookdown pic.twitter.com/mMDLp9LDHq

— Danielle DeSimone (@danideee19) October 11, 2017
Uh-oh. #Facebook is down. WHAT DO WE DO? pic.twitter.com/MdXeTrqMW1

— Shayla Raquel (@shaylaleeraquel) October 11, 2017
Facebook goes down for a few minutes. Global productivity skyrockets. The planet is saved!!!

— Philip Pilalas (@Ppilalas) October 11, 2017
People turning to twitter like… #facebookdown pic.twitter.com/3WQUREajR5

— Maliza (@malizab) October 11, 2017
Facebook down pic.twitter.com/HbXLLXjDqk

— Mercedes?❣ (@m_romob) October 11, 2017
is Facebook Dead pic.twitter.com/Pq3yLgUqgp

— Rishab Haridas (@rishabharidas) October 11, 2017
Want more of this? Check the trending Hashtag on Twitter: #Facebookdown. It's time to find your twitter password!