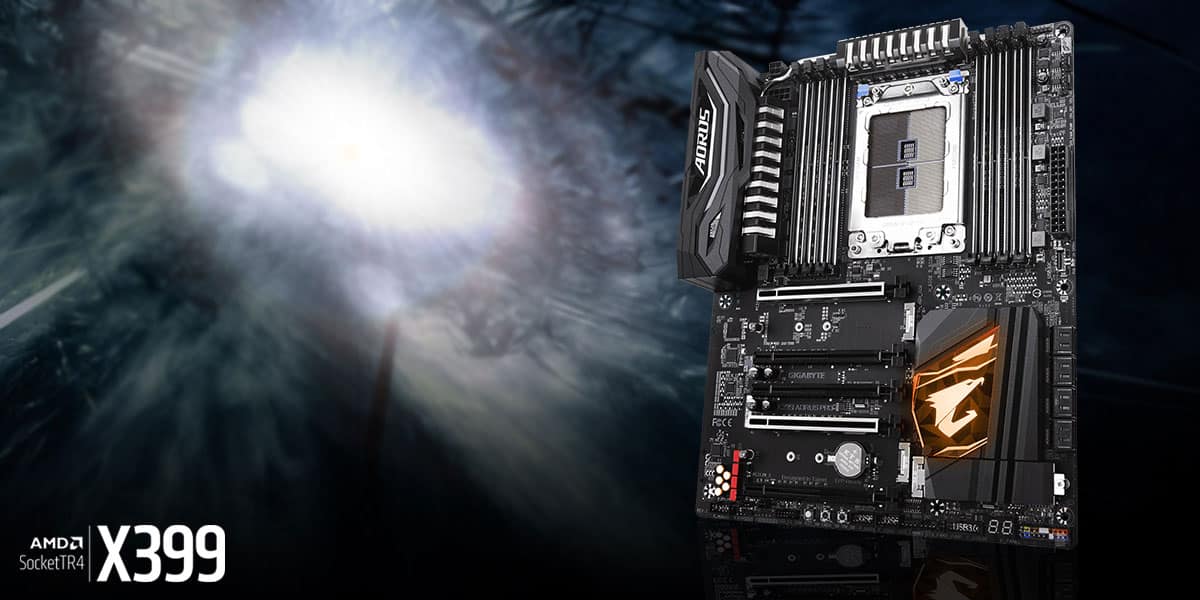 AMD is on a roll with their High-end Desktop (HEDT) Threadripper processors. These chips are designed to handle heavy multi-threaded environments and professional workflows. Threadripper boards tend to occupy a large real estate due to the sheer number of features, and this is the reason we see them mostly in ATX or E-ATX sized packages, with the only micro-ATX offering being the X399M Taichi. Given the insane core count and high TDP, it requires an equally good motherboard to pair with it.
Today we have curated a comprehensive guide to the best X399 motherboard to help you choose one for your next PC build. In the first section of this article, we will be giving extensive reviews for each product along with its ups and downs. Next, you will find a detailed buying guide for the best Threadripper motherboard, which will give you an idea of what to look for when making a purchase. Let's first start with an X399 motherboard comparison table below:
7 Best X399 Motherboard for Threadripper
PROS —
Monster VRM with plenty of cooling
Aggressive looks
Lots of overclocking headroom
Integrated water block header
Excellent networking
CONS —
None apart from a high price
Socket: TR4 | Chipset: X399 | Memory: Dual-Channel DDR4 3600 MHz, Up to 256GB| Audio: SupremeFX S1220 | Multi GPU Support: NVIDIA 3-Way SLI and AMD 3-Way CrossFireX Technology | Form Factor: E-ATX
The Zenith Extreme Alpha is what we think is the best Threadripper motherboard out there bar none. It surely is overkill for most day-to-day tasks, but if money is not an issue, this is probably the best it can get with an X399 motherboard. While any of these boards can overclock Threadripper, the Zenith has a notch better VRM than any other mobo on this list. This, in addition to three M.2 slots, ROG Aerion 10GbE LAN, up to 64 PCIe lanes and Wi-Fi that technically supports speeds reaching 4.6Gb/s make it crown the number one spot in our list.
This mobo can support up to 256GB DDR4 memory up to 3600MHz via the 8 DIMM slots provided. Where it shines is the cooling design: dual heat sinks connected via a heat pipe sit over the VRM, and the spacious layout with 8 fan headers ensures the temperatures are well under acceptable limits. Overclocking experience is painless whether you are looking to max out all 32 cores on your CPU, or need the full load of 4 PCIe cards at the same time. One peculiar feature that ASUS provides is the ROG DIMM.2 slot, which looks like a regular RAM slot but acts as an expander for two M.2 slots with thermal pads.
The ASUS stock BIOS is the easiest one you'll find on any mobo, and besides that, every design aspect is tailored for easy install and effective setup. As expected from a high-end ASUS motherboard, you get the beautiful Aura Sync RGB lighting with customisable ARGB headers for that personal touch to your gaming rig. For anyone looking to make use of the full bandwidth of the Threadripper or needs fine-tuning options with the software, the ROG Zenith Extreme Alpha is more than worth it.
PROS —
Amazing VRM quality
Stable BIOS
Plenty of storage options
Dual Gigabit LAN with additional 10G LAN
CONS —
A bit lacking in onboard RGB
No internal USB-C header
Socket: TR4 | Chipset: X399 | Memory: Dual-Channel DDR4 3600+ MHz, Up to 128GB| Audio: Realtek ALC1220 | Multi GPU Support: NVIDIA 4-Way SLI and AMD 4-Way CrossFireX Technology | Form Factor: ATX
ASRock has adopted a different approach to its high-performance motherboards, focussing on hardware and practicality over aesthetics. Don't get us wrong, it still looks pleasing, and the cost saved on flashy bits make it pack some of the most powerful components at this price. It may bear the word 'Gaming' in the name, but it's a powerful workstation board which also sports a wide range of gaming features. The motherboard has an 8+3 phase VRM with two heat sinks connected via a heat pipe and two IR35201 PWM controllers for Vcore and SOC.
The color scheme on the PCB is mostly black with a natural metallic finish on various components. Onboard RGB is concentrated around the area near the chipset heatsink, but there are additional headers for customisable LEDs. Being a flagship motherboard, it's loaded in terms of connectivity. You can install up to three M.2 PCIe x4 SSDs along with one U.2 drive and eight SATA devices. The rear I/O is crammed with ports along with a BIOS flashback and CMOS clear button. To cater to the needs of a high-end workstation, the designer has favoured two Intel Gbit NICs with an additional Aquantia 10Gb/s NIC over an internal USB 3.1 Type-C header.
The ASRock Fatal1ty X399 Professional Gaming offers one of the complete feature-sets of any X399 motherboard. It has enough bells and whistles to justify the needs of any demanding gamer or a creative professional. We would have appreciated more fan headers even though the cooling solution is flawless. Apart from that, this is a solid Threadripper 2 motherboard that offers 10G LAN, high-end audio and a refined BIOS without sacrificing on PCIe or drives slots.
PROS —
Best VRM at this price
Amazing price-to-performance
Quad-channel memory
Lots of fan connectors and headers
CONS —
No rear panel shielding
No inbuilt Wi-Fi
Only two PCIe slots are shielded and support x16 speeds
Socket: TR4 | Chipset: X399 | Memory: Dual-Channel DDR4 3600+ MHz, Up to 128GB| Audio: Realtek ALC1220 | Multi GPU Support: NVIDIA 4-Way SLI and AMD 4-Way CrossFireX Technology | Form Factor: ATX
The X399 AORUS Pro is Gigabyte's attempt to bring some high-end features from the more premium AORUS Gaming and Extreme to a more pocket-friendly solution. The Pro is essentially similar to other high-end Gigabyte motherboards minus some quality-of-life features like Wi-Fi, extra slot Armor, M.2 heatsinks and some onboard RGB. What's interesting is that only the smaller M.2 slot is connected to the chipset heatsink and out of a total of five PCIe 3.0 slots, two slots support x16 speeds and come metal reinforced, and the other slots support x8, x8 and x4 speeds.
Upon glancing at the rear I/O panel, you will almost immediately notice a lack of integrated panel shield. What you will find are 6 USB 3.1 Gen1 ports, one of each Gen2 Type-A and Type-C ports as well as your GbE LAN and ESS Sabre powered ALC1220 audio interface. It's nice to see plenty of USB and RGB headers as well.
When it comes to the actual VRM performance, it's where you won't find any traces of its budget pricing. The 8-phase VRM can easily power even the 32-core 2990WX, and the well-furnished BIOS allows for easy voltage and peripheral control. Keep in mind that this is still an entry-level mobo and as for anything cheap, don't expect to push the CPU to its limits with this.
With the AORUS Pro, we are looking at one of the cheapest Threadripper motherboard out there, and it won't be fair to expect insane overclocking or a bunch of RGB panels at this price. If you are someone who is just getting into the Threadripper game for the first time or want almost everything that the HEDT processor promises at minimum cost, this is the best motherboard for Threadripper for you.
PROS —
Solid VRM with huge heatsinks
Low power consumption
Value for money
Easy and stable setup
CONS —
Fewer chassis fan headers (Result in heat accumulation under heavy loads)
Only 433Mbps Wi-Fi
Not very intuitive BIOS
Socket: TR4 | Chipset: X399 | Memory: Dual-Channel DDR4 3600+ MHz, Up to 128GB| Audio: Realtek ALC1220 | Multi GPU Support: NVIDIA 4-Way SLI and AMD 4-Way CrossFireX Technology | Form Factor: ATX
The ASRock Taichi sits around the mid-level Threadripper motherboard segment and comes with all the right set of features to target high-end workstations. Similar to the Professional Gaming, this mobo adopts a simplistic approach to design in favour of more high-end features and performance, which is a good thing. For an ATX-sized board, it is maxed on real estate with 8 DIMM slots supporting up to 128GB DDR4-RAM, three M.2 slots, four PCIe x16 slots as well as eight SATA3 connectors.
ASRock's BIOS design is not as rich as say ASUS or Gigabyte, but it still offers some advanced overclocking control and tools for easy tuning and tweaking. A good water cooling solution is what we recommend if you plan to overclock a 32-core beast on this one, but otherwise, the VRM and chipset runs nice and cool. We also liked the fact that this board shows some of the lowest power consumption of any X399 motherboard.
The ASRock X399 Taichi boasts dual GbE NIC, which some people find a step down from a 10Gbit LAN. But besides that, you get Wi-Fi and Realtek ALC1220 modules as well as power/reset and CMOS clear buttons for easy troubleshooting. Apart from some minor quirks like lack of M.2 heatsinks or a mediocre UEFI, ASRock Taichi is the best TR4 motherboard for users looking for a professional workflow within a strict budget.
PROS —
Nice aesthetics
Great BIOS and fan control
Excellent VRM and cooling
SupremeFX S1220 Audio
Aura Sync RGB lighting
CONS —
No 10G LAN
Vertical M.2 slot might not appeal to everyone
Socket: TR4 | Chipset: X399 | Memory: Dual-Channel DDR4 3600 MHz, Up to 128GB| Audio: SupremeFX S1220A | Multi GPU Support: NVIDIA Quad-GPU SLI and AMD Quad-GPU CrossFireX Technology | Form Factor: E-ATX
We have another ASUS motherboard, but this time it's from their admired ROG series. The ROG Strix X399-E is what you should be looking for if you want a VRM as powerful as the Zenith and the rich UEFI interface of ASUS motherboards. Basically, you get a similar high-end experience minus some advanced features like LN2 mode and 10Gbit LAN. If you know anything about ROG Strix mobos, you would be expecting it to have Aura Sync RGB, reinforced PCIe slots, gorgeous aesthetics, SupremeFX audio and tons of connectivity options.
The Strix features tons of 4-pin fan headers throughout, and if that isn't enough, there is a POST Code LED as well as power/reset buttons which will save you hassles when tweaking. You do get a lot of OC potential, and with 8-phase VRM and PRO Clock technology, you'll be able to easily hit 4.0GHz+ with your CPU. Three out of the four PCIe x16 slots come with shielding, and this is where you would be installing your GPUs. You have dual M.2 x4 slots, but only the bottom one is covered by the chipset heatsink.
All-in-all this mobo is bursting with features, and it's hard to find a con that sticks out to us. One may argue about the lack of 10G LAN or triple M.2, but ASUS has reserved them for the more expensive Zenith Alpha. We have talked about how the Threadripper is specifically designed for professional workstations, but it is equally equipped for heavy-gaming as well. If that is what you need, coupled with aggressive looks and colorful RGB, the Strix X399-E might be just perfect for you.
PROS —
Top-end aesthetics
Sturdy build quality
Stable performance out of the box
Integrated rear I/O shield
CONS —
Poor value for money
No built-in 10GbE
Socket: TR4 | Chipset: X399 | Memory: Dual-Channel DDR4 3600+ MHz, Up to 128GB| Audio: Realtek ALC1220 | Multi GPU Support: NVIDIA 4-Way SLI and AMD 4-Way CrossFireX Technology | Form Factor: ATX
The Gigabyte X399 Designare EX is one of the most beautiful boards out there for the TR4 socket. If you are planning for a white-themed build, this might as well be one of the first things to pick up. Add multiple RGB headers to the shiny silver board, and you get an eye-candy for your PC. Oh, and did we mention this motherboard is heavy and has a metal backplate to reinforce it. Besides that, another advantage this mobo has is that the SoC VRM shares cooling with the main VRM heatsink, which allows for crazy overclocking headroom.
The Designare has three M.2 slots, eight SATA slots as well as a massive five PCIe slots with an x16/x8/x4/16/x8 configuration. You will find most of the headers around the bottom edge, along with POST and Debug LED and power/reset buttons. As most of the components are borrowed from the top-tier AORUS Gaming 7, the overclocking performance is impressive, and even if you leave it at stock setups, it will perform better than some competitors. Gigabyte is charging a premium for top-tier performance and aesthetics, and you would be disappointed if you are looking for value in this one. But if you do care about the aesthetics at an extra cost, then the X399 Designare EX wins hands down.
PROS —
Performs as good as the larger boards
Great OC potential for an m-ATX board
Triple M.2/PCIe slots
Good BIOS support
CONS —
The compact size means fewer slots and ports.
Only 433Mbps Wi-Fi
Limited to moderate overclocking
Socket: TR4 | Chipset: X399 | Memory: Dual-Channel DDR4 3600+ MHz, Up to 64GB| Audio: Realtek ALC1220 | Multi GPU Support: NVIDIA Quad SLI and AMD Quad CrossFireX Technology | Form Factor: Micro-ATX
ASRock is the only company as of now to produce a micro-ATX motherboard for Threadripper. The X399M Taichi is your only bet if you want to pack 32 cores in an m-ATX casing, but what's crazy is that it does so without sacrificing too much on features. This motherboard is stable out of the box even with Threadripper 2 CPUs and with an 8+3 phase power delivery and five fan headers, you can expect some low-to-moderate overlocking which is more than enough for its size.
It features three full-length PCIe 3.0 x16 slots, three Ultra Speed M.2 ports, four DDR4 slots (up to 64GB) as well as eight SATA sockets. This mobo is packed in terms of networking and I/O too and has built-in Wi-Fi and Bluetooth and dual Gbit LAN along with ten USB 3.1 ports on the rear I/O panel. The BIOS has Easy and Advanced modes for tuning fan profiles and RGB, and you'll also find power, reset and clear CMOS buttons on board.
We think that ASRock has done an excellent job at designing this compact X399 motherboard, and they have managed to cram the power of Threadripper chips to a tiny package with no major compromises. It's expected that you will lose expandability and some design aesthetics due to the limited real estate. Nonetheless, this motherboard is still one of its kind and rightly occupies a spot in our list.
Buying Guide for the Best X399 Motherboard
Deciding on the best X399 motherboard is not easy; in fact, a lot of the options are so similar that the real-world differences are minimal. There are still several key points we would like you to keep in mind while buying a Threadripper motherboard for yourself. The guide that we are going to dive into applies to any motherboard with any chipset category, so it would surely help if you are not an expert PC builder already.
1. VRM and Cooling: Probably the most important aspect of any high-end build, having a foolproof VRM with adequate cooling is what dictates the end performance of your machine. A good liquid cooling is needed for intense overclocking needs, and you should be looking for as many fan headers you can get. All X399 motherboards on this list have amazing VRMs generally being a true 8-phase solution, which is more than enough.
2. PCIe and M.2 support: The TR4 socket CPUs offer a total of 64 PCIe lanes, and those are distributed among M.2 and PCIe lanes. Four of the 64 PCIe 3.0 lanes go to the chipset, and motherboard manufacturers can choose to implement the remaining 60 lanes the way they want. All X399 boards support multi-graphics configurations, and depending on how many cards or storage devices, you are going to install; you might prefer one of them. We recommend putting your GPUs on x16 slots (followed by x8) for optimum performance. Having reinforced slots or thermal guards over M.2 SSDs is always a plus.
3. BIOS: Most X399 motherboards have USB flashback or tools like onboard power/reset button and postcodes. Some also have dual BIOS for auto-recovery. The UEFI interface and other features mostly depend on the manufacturers, so is any software tuning or RGB control. Generally, we tend to find most feature-rich interfaces in ASUS and Gigabyte boards, and the more premium boards also have some automated OC features built into the software.
4. Other features: Almost all X399 boards have RGB and ARGB headers, and onboard RGB is something that differs between brands and bumps up as you go expensive. These mobos also have a large number of USB ports and solid networking cards, with many of them having 10GbE standards pre-installed. If Wi-Fi is something you need, we have covered that already for each board.
Conclusion
So, we have finally come to the end of our journey to find the best X399 motherboard for your Threadripper build. While the Ryzen chips are targeted towards gamers and enthusiasts, TR is aimed at a workstation, heavy rendering tasks, content creators and prosumers. Unlike mainstream chips, these multi-threaded beasts demand powerful and stable motherboards to utilise the full potential of all cores and increased PCIe lanes. Hence, it becomes very crucial to select a high-quality X399 motherboard.
Good news is that there are limited options in the market for TR4 motherboards, and it's easy to find a powerful mobo even if you don't want to go overboard with your budget. We hope you liked this article on the best X399 motherboards for AMD Threadripper processors. Let us know which one you're picking to adorn your next PC build. Cheers!