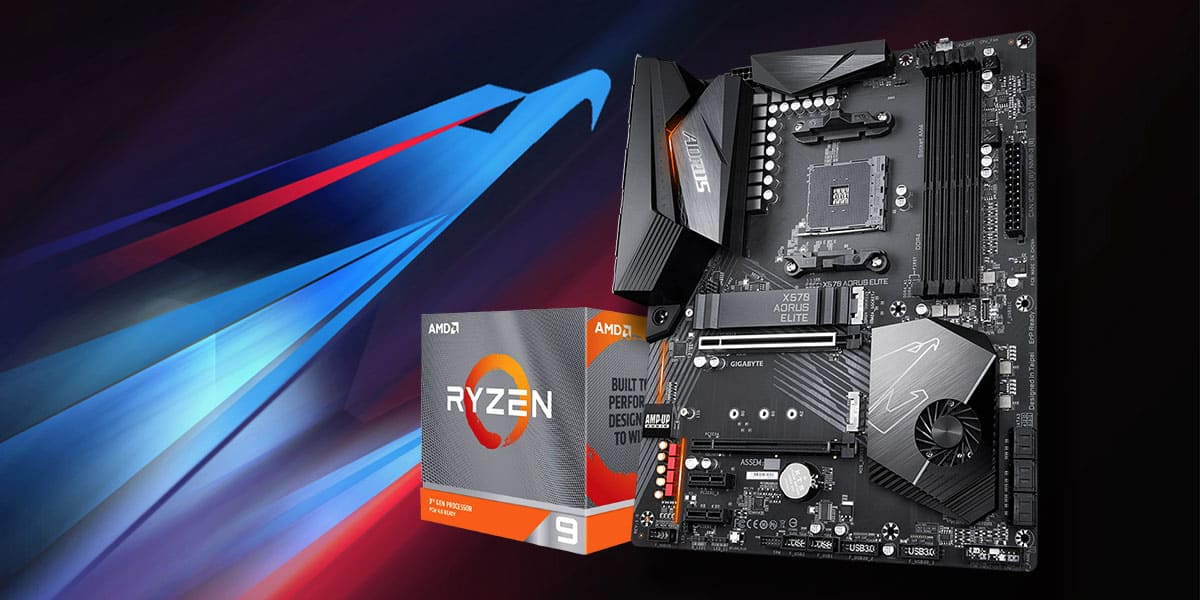 Ryzen 9 5950X has set new benchmarks for mainstream desktop performance. This 16-core/32-thread processor essentially brings an HEDT experience to the consumer-level PC platform.
If you have decided to get this beast for your PC build, the next step lies in picking the best motherboard for Ryzen 9 5950X. Ryzen 5000 is compatible with all 400 and 500 series processors with a BIOS upgrade. That means it would be a great idea to throw it on your old motherboard, right? Maybe.
For a powerhouse like the 5950X, you need the right motherboard to get the most out of it. In this article, we have curated a list of 7 best Ryzen 9 5950X motherboards after carefully weighing down on the pros and cons of each one.
We will have options for all budget ranges and a variety of PC builds, in an attempt to hopefully put an end to your motherboard search. Without any further ado, let's get into the reviews!
Also, we have reviewed the latest motherboards for Ryzen 5 5600x, Ryzen 7 5800X, & Ryzen 9 5900X.
Our Top Picks
7 Best Ryzen 9 5950X motherboards
PROS —
Solid performance for the price.
Loaded with USB 3.2 Gen2 ports.
Great for overclocking.
Stable BIOS.
CONS —
Power efficiency could be better.
Only two M.2 slots.
Socket: AM4 | Chipset: X570-E | Memory: Dual-Channel DDR4 4400 MHz, up to 128GB| Multi GPU Support: AMD 3-Way CrossFireX + NVIDIA 2-Way SLI | Audio: SupremeFX S1220 Audio codec | Form Factor: ATX
With what we consider a relatively modest asking price for a high-end X570 motherboards, the ROG Strix X570-E Gaming significantly outperforms the competition as far as premium consumer-level features and benchmark scores as concerned. Asus has designed this one keeping the needs of a power-user in mind, which is the reason you'll find more USB ports and VRM performance at the cost of say, a third M.2 slot.
The board comes with a 16-phase VRM with sizable chipset and MOS heatsinks, along with a water pump header. This setup will easily handle an overclocked Ryzen 9 5950X without breaking a sweat. The rear I/O panel is crammed with ports – eight USB 3.2 Gen2 ports with one USB-C, 2.5G LAN, MU-MIMO WiFi 6, rich audio as well as a BIOS Flashback button. Connectivity is definitely a plus point for the X570-E Gaming.
The full-load and idle power consumption is on the higher side among the competition, but the performance boost you get is well worth it. Granted there are more powerful boards on this list, but the overall VRM performance and feature-set for the price is by far the best on the ASUS ROG Strix X570-E Gaming, making it the overall Best Motherboard for Ryzen 9 5950X.
PROS —
Gorgeous white design.
Strong VRM performance..
In-built Thunderbolt 3.
Dual LAN.
CONS —
Only four SATA ports.
No USB Type-C internal header.
Socket: AM4 | Chipset: B550 | Memory: Dual-Channel DDR4 5100 MHz, up to 128GB| Multi GPU Support: AMD Quad-GPU CrossFire and 2-Way AMD CrossFire | Audio: Realtek ALC1220-VB Audio codec | Form Factor: ATX
Our next recommendation is geared towards content creators. The Gigabyte B550 Vision D is the best Ryzen 9 5950X motherboard for video editors and professionals due to a number of reasons. It looks classy, which a lot of creators will admire, add to that the availability of Thunderbolt 3 and dual LAN and you might be starting to see why this motherboard deserves a spot in our list.
The Vision D features triple PCIe x16 slots, dual M.2 SSD connectors with dedicated thermal pads, four SATA ports, however, there is no PCIe x1 slot. The fewer SATA ports or lack of a PCIe x1 slot isn't necessarily a downside given the inclusion of Thunderbolt 3.
The power delivery isn't compromised either. With a powerful 12+2 phase VRM, outright PCIe 4.0 integration and RAM speeds hitting speeds of 5100MHz when overclocked, the Vision D is about as good as it's going to get in a mid-range B550 motherboard. The only reason you might choose to skip it is if you don't like a white motherboard.
PROS —
Exceptional VRM performance.
Stays cool even when OCed.
Eight fan headers.
Premium Build-quality.
CONS —
Expensive.
No 10GbE LAN.
Socket: AM4 | Chipset: X570 | Memory: Dual-Channel DDR4 4800 MHz, up to 128GB| Multi GPU Support: AMD 3-Way CrossFireX + NVIDIA 2-Way SLI | Audio: SupremeFX S1220 Audio codec | Form Factor: ATX
We're spoilt for choice when it comes to high-end AM4 motherboards. Luckily, few of them still manage to stand out, and the ASUS Crosshair VIII Formula is one of them. If you're willing to shell out a bit more cash, you can get the mighty Crosshair VIII Formula with a 14+2 IR3555 phase VRM and an integrated Crosschill EK III water block. The Crosshair Formula is essentially an upgraded cousin of the slightly cheaper Crosshair Hero, which doesn't include the water block.
The Crosshair Formula certainly looks clean, with shielding on the PCIe slots and rear I/O panel and premium components all around. The motherboard comes with comprehensive BIOS options which let you easily control the fans, RGB and overclocking profiles. You get Aquantia 5GbE LAN and WiFi 6, along with onboard Power/Reset buttons, Clear CMOS button and a debug panel.
ASUS never fails to deliver an all-round enthusiastic feature-set in their premium motherboards. For someone with modest overclocking needs and a tighter budget, the Hero is perhaps a better pick. But extreme overclockers will definitely see the difference with the new power delivery and added thermal enhancements.
PROS —
Stable VRM.
Great motherboard layout.
Three M.2 ports with heatsinks.
High-end audio quality.
CONS —
A few bugs in the BIOS.
Could have more fan headers.
Socket: AM4 | Chipset: X570 | Memory: Dual-Channel DDR4 4000 MHz, up to 128GB| Multi GPU Support: NVIDIA Quad-GPU SLI and AMD Quad-GPU CrossFireX | Audio: Realtek ALC1220-VB codec | Form Factor: ATX
Perhaps you want to save some money for other parts, but still need all the bells & whistles of a high-end motherboard. In that case, the Gigabyte X570 Aorus Master is the best Ryzen 9 5950X motherboard for you. You are getting a gorgeous design with a sturdy construction, 50A power stages, a proper Fins-Array Heatsink and robust networking features, all without costing you a fortune.
Following the suit of the Aorus brand, the X570 Aorus Master features triple reinforced PCIe x16 slots, triple Gen4 M.2 SSD slots with dedicated thermal guards, WiFi 6, 2.5G+1G LAN, front & rear USB 3.2 Gen2 Type-C headers as well as a subtle RGB Fusion implementation to complete the Aorus look.
The audio is powered by Realtek ALC1220-VB & ESS SABRE 9118 DAC, which is great news for gamers & streamers. Speaking of gaming, the motherboard will handle any AAA title you throw at it with minimal tinkering from your side, thanks to StoreMI, Smart Fan 5 and in-depth OC controls in the BIOS.
PROS —
Excellent price-to-performance.
Great build-quality.
Robust thermal design.
I/O and PCIe shielding.
CONS —
Single M.2 heatsink.
No WiFi.
Socket: AM4 | Chipset: X570 | Memory: Dual-Channel DDR4 4266 MHz, up to 128GB| Multi GPU Support: AMD Quad CrossFireX and 2-Way CrossFireX | Audio: Realtek ALC1200 Audio codec | Form Factor: ATX
The Gigabyte X570 Aorus Elite is an entry-level alternative to the Aorus Master, and is certainly the best motherboard for Ryzen 9 5950X for budget-gamers. Luckily, the "entry-level" tag is only pertinent to the price, and the performance remains top-notch. The basics remain the same – 12+2 DrMOS phase VRM, large heatsinks, dual PCIe 4.0 M.2 and front & rear USB-C headers.
Now you might be wondering where does it cut corners? For starters, the X570 Aorus Elite only features a single M.2 heatsink as opposed to three on the Master. The former only has its primary PCIe x16 slot metal reinforced, and drops onboard WiFi and Bluetooth. Now all of that doesn't mean it's an inferior board. Remember it's the only board on this list that comes under the humble price tag of $200.
For that much money, it's spot on and far ahead among similarly priced competitors. The build-quality is phenomenal with an integrated I/O shielding and premium materials across the board. Unless you absolutely need WiFi in your motherboard, the Aorus Elite seems like a worthy pick.
PROS —
Sleek looks.
Well-balanced feature-set.
Excellent memory overclocking.
Triple M.2 heatsinks.
Onboard hardware buttons.
CONS —
Expensive.
Four SATA ports.
Socket: AM4 | Chipset: X570 | Memory: Dual-Channel DDR4 5100+ MHz, up to 128GB| Multi GPU Support: 2-Way NVIDIA SLI and 3-Way AMD CrossFire Technology | Audio: Realtek ALC1220 Audio codec | Form Factor: ATX
The MEG X570 ACE is a well-balanced and well-priced X570 motherboard that will be ideal for both gamers and creators alike. X570 is an enthusiast chipset, and the motherboard should cover all that this versatile platform has to offer. In our case, the ACE does check all the right boxes and then some.
A combination of 12+2+1 IR Digital phases and chunky Frozr heatsinks leaves a lot of headroom to overclock Ryzen 9 5950X to its limits. MSI's feature-rich Dragon Center and the new Click BIOS 5 profiles mean you'll be spending a lot of time tweaking and tuning your way around it, and MSI ensures that the process is fun.
Other noteworthy features include triple PCIe graphics slots, triple M.2 slots with thermal pads, USB3.2 Gen2 Type-A+C ports as well as onboard BIOS Flashback, Clear CMOS and Power/Reset buttons. Overall, the MEG X570 ACE is a solid high-performance ATX mobo with a loaded feature-set and ample support for the Ryzen 5000 down the line.
PROS —
Active cooled 12+2 phase VRM.
Four additional M.2 drives via the Hyper M.2 x16 Gen4 Card provided.
Plenty of ports and slots.
Ryzen 5000 ready.
CONS —
Costs much higher than the non-X variant.
Socket: AM4 | Chipset: B550-XE | Memory: Dual-Channel DDR4 5100 MHz, up to 128GB| Multi GPU Support: NVIDIA 2-Way SLI + AMD 3-Way CrossFireX | Audio: SupremeFX S1220A Audio codec | Form Factor: ATX
If you want out-of-the-box support for Ryzen 9 5950X, then the ASUS ROG Strix B550-XE Gaming has that for you. If you're familiar with the B550-E Gaming, the XE variant is very similar but now comes with superior RAM technology, beefier heatsinks and a few other minor upgrades, apart from it being Ryzen 5000 ready.
The ROG Strix B550-XE sports an active cooled VRM with 14+2 power stages and a new L-shaped heatpipe. The VRMs on the B550-E were already fantastic and the new cooling design takes it up further by a notch. Apart from that, you get three PCIe x16 slots that support SLI and Crossfire multi-GPU setups, as well as WiFi 6, 2.5G LAN and high-end SupremeFX S1220A audio chip.
Being an ROG motherboard, it's safe to assume that you are getting all the software goodness from ASUS including AI Networking, Aura Sync RGB lighting, BIOS Flashback, EZ Mode and Fan Xpert 4 among others. The B550-XE certainly falls into the higher-end spectrum of B550 mobos, but it has everything you need in the best Ryzen 9 5950X motherboard.
FAQs
Which Motherboards support Ryzen 9 5950X processor?

All B550 and X570 motherboards support the Ryzen 9 5950X processor, however, older products will require a BIOS upgrade first. Although both the B550 and X570 chipsets offer decent VRMs and TDP, we suggest going with X570 to ensure that you get the most out of the 5950X processor.

Is 5950x an overkill?

The Ryzen 9 5950X beats every other consumer-level desktop CPU in the market right now, but it does come with a premium. For heavy multi-threaded scenarios like professional video editing where you're able to pair it up with a top-tier GPU, it makes sense. For pure gaming, it's undeniably an overkill.

What should I prefer 5900x or 5950x?

The 5950X comes with higher boost clocks but lower base clock as compared to the 5900X. Since games benefit more from higher clock speeds and not the core-count, the 5900X will be a better value for pure gaming. But if you want to combine productivity and gaming, the 5950X might justify the higher price tag.

Is 5950x better than 10900k?

The 5950X comes with 60% more cores than the 10900K, but has a lower base clock speed. However, it outperforms the 10900K in pretty much all single and multi-core benchmarks, which essentially make it a faster processor overall. It all boils down to your budget and if you can fully leverage the higher core count.

Is Ryzen 9 5950x good for gaming?
Conclusion
To summarize our roundup, the Asus ROG Strix X570-E Gaming offers the most value for your money and doesn't compromise on any essential feature. But if you want to go all out for the motherboard, the Asus ROG X570 Crosshair VIII Formula is the best high-performance motherboard.
Ryzen 9 5950X is the ultimate consumer-grade processor right now, and sure enough, demands an equally powerful and capable motherboard to capitalize fully on the money spent. For the same reason, we went with the best B550 and X570 motherboards with strong VRMs and great all-round features, but at a reasonable price.
So, this brings our article to a close. We hope it helped you in making the decision. If yes, then let us know which one are you picking up for your Ryzen 5000 build!