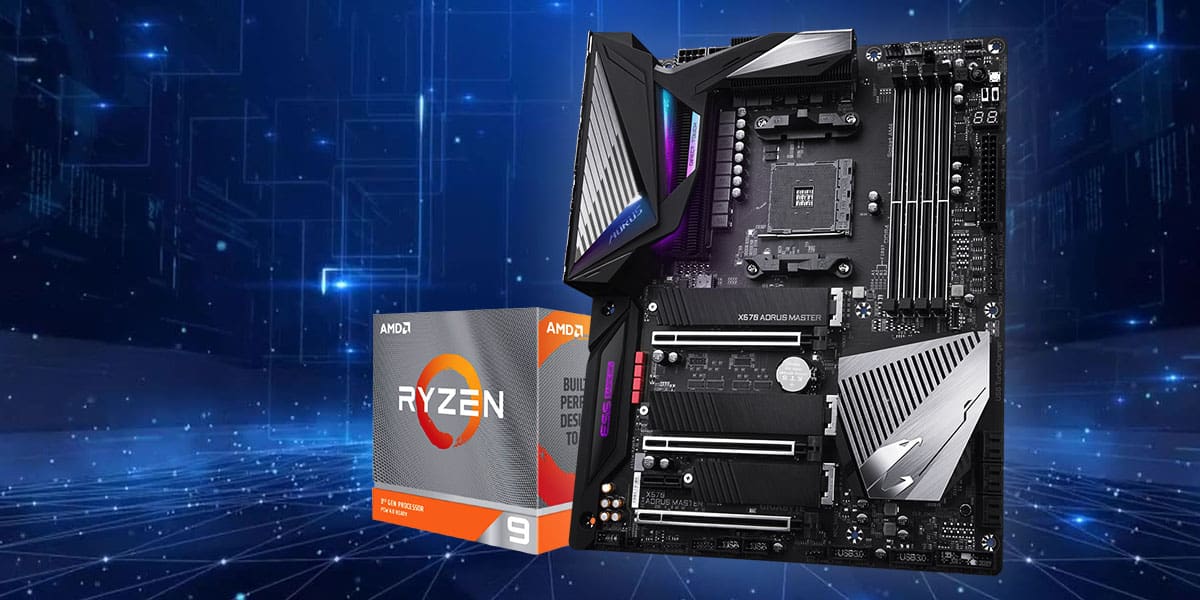 The new Zen 3 based Ryzen 5000 processors best the flagship Intel counterparts by a good margin, and the 12-core Ryzen 5900X boasts everything that these new chips are capable of.
The Ryzen 5000 comes with solid future-proofing, your motherboard should too. Although any 500 series and most 400 series chipsets can accept Zen 3, the newer B550 and X570 motherboards motherboard will offer improved VRMs, PCIe 4.0 support and out-of-the-box support for Ryzen 5000.
We'll help you find out the best motherboard for Ryzen 9 5900X that offers the most bang for your buck and packs all the connectivity and expandability you need for your next AMD build.
Also, we have reviewed the latest motherboards for Ryzen 5 5600x, Ryzen 7 5800X & Ryzen 9 5950X.
Our Top Picks
7 Best Ryzen 9 5000X motherboards
PROS —
Gorgeous aesthetics.
Excellent CPU and DRAM overclocking
Rich connectivity.
Custom OLED display.
CONS —
Expensive.
Lacks 10Gbit LAN
Socket: AM4 | Chipset: X570 | Memory: Dual-Channel DDR4 4800 MHz, Up to 128GB| Multi GPU Support: AMD 3-Way CrossFireX + NVIDIA 2-Way SLI | Audio: SupremeFX S1220 Audio codec | Form Factor: ATX
We're spoilt for choice when it comes to high-end AM4 motherboards. Luckily, few of them still manage to stand out, and the ASUS Crosshair VIII Formula is one of them. You are getting a lot for your money – from the premium build quality all around to the beastly internals that few other competitors can match.
The Crosshair Formula sports a monstrous 14+2 phase VRM with eight fan headers and comes with a dedicated cooling block designed by EKWB for all the overclocking headroom you can ask for. The passive cooling block also becomes the opportunity to showcase the gorgeous Aura Sync RGB lighting across the board.
You have everything as far as the feature-set goes: dual M.2 Gen 4 slots with large heatsinks, eight SATA connectors, 3 PCIe 4.0 GPU slots, superfast networking and of course, USB3.2 Gen2 Type A+C ports. To top it all, ASUS includes the studio-grade SupremeFX S1220 codec for an immersive audio experience. The Crosshair VIII Formula reigns supreme when it comes to the best motherboard for Ryzen 9 5900X.
PROS —
Best-in-class stability.
Superb build quality.
Triple M.2 heatsinks.
Premium audio DAC.
CONS —
Not the best DRAM overclocking.
Fewer fan headers.
Socket: AM4 | Chipset: X570 | Memory: Dual-Channel DDR4 4000 MHz, Up to 128GB| Multi GPU Support: NVIDIA Quad-GPU SLI and AMD Quad-GPU CrossFireX | Audio: Realtek ALC1220-VB codec | Form Factor: ATX
If you don't want to go all out with the ROG Crosshair Formula, the Gigabyte X570 AORUS Master can offer a very competitive feature-set and performance without costing you a fortune. You are getting the same well-built and sleek looking motherboard with a nice RGB embellishment over the rear I/O panel shroud.
Gigabyte doesn't seem to have made any compromises whatsoever. Triple metal reinforced PCIe 4.0 slots, triple Gen4 M.2 slots with dedicated thermal guards, six SATA connectors as well as front & rear USB 3.2 Gen2 Type-C headers – you won't find yourself asking for more ports. Not only that, you are getting premium audio powered by ESS SABRE HiFi 9118 DAC, WiFi 6 and Dual 2.5G+1G LAN.
The motherboard shines when it comes to CPU overclocking. Large Fins-Array Heatsinks and Smart Fan 5 does a marvellous job at cooling under heavy loads. The AORUS Master has some of the most stable overclocking performances we've seen on X570 motherboards, thanks to the robust thermal design. Whether you are a gamer or an overclocker enthusiast, the X570 AORUS Master is a solid high-end Ryzen 9 5900X motherboard for you.
PROS —
Build quality.
Great Aura Sync RGB implementation.
Plenty of storage and USB ports.
Dual M.2 heatsinks.
CONS —
Lacks internal USB 3.1 Type-C header.
Some users have reported Intel i225-V LAN driver problems.
Socket: AM4 | Chipset: B550 | Memory: Dual-Channel DDR4 4400 MHz, Up to 128GB| Multi GPU Support: AMD 2-Way CrossFireX | Audio: SupremeFX S1220A Audio codec | Form Factor: ATX
Being a great alternative to the X570 chipset, B550 motherboards can certainly save you some money while offering similar levels of performance and future-proofing. You won't lose much apart from the PCIe 4.0 link to the chipset and a few USB ports, which makes them a sensible option for many buyers.
Among the plethora of amazing B550 options on the market, The ASUS ROG Strix B550-F Gaming (WiFi) is the best Ryzen 9 motherboard when it comes to the overall price-to-performance. You are getting an impressive 14-phase power delivery, dual M.2 heatsinks, dual reinforced PCIe slots and the overclocking-friendly ASUS BIOS.
The board hosts plenty of fan and RGB headers which can be customized via the UEFI interface. What's great about the board is that the rear I/O comes with shielding and sports tons of USB ports, audio ports as well as inbuilt WiFI, 2.5G LAN and Bluetooth. It may require a BIOS update using an older CPU, but apart from that the Strix B550-F Gaming is a well-balanced and competitively priced motherboard.
PROS —
Great motherboard layout.
Triple PCIe 4.0 SSD slots.
Superior thermal performance.
Infinity Mirror panel.
CONS —
Expensive.
Could have more SATA ports.
Socket: AM4 | Chipset: X570 | Memory: Dual-Channel DDR4 5000+ MHz, Up to 128GB| Multi GPU Support: 2-Way NVIDIA SLI and 3-Way AMD CrossFire Technology | Audio: Realtek ALC1220 Audio codec | Form Factor: ATX
MSI has long been manufacturing products catering to the needs of gamers, and their MEG X570 ACE follows suit. With a massive 12+2+1 IR Digital VRM combined with equally beefy Frozr heatsinks, it's well capable of pushing the Ryzen 5900X to its limits. The revamped heatsink and extended heat pipe design make sure that the temperatures are kept in check even under the heaviest loads.
The ACE features 3 x PCIe x16 4.0 slots with Crossfire and SLI support, triple M.2 slots each one with its own thermal pad and four SATA ports for storage. The gorgeous PCB and heatsinks are clad with Mystic Light LED lighting all across the board. Not only that, the rear I/O panel shows four USB 3.2 Gen2 ports including one USB-C, an internal Gen2 USB3.2 header and onboard WiFi 6 and dual LAN.
If you are someone who likes tweaking your rig, you'll appreciate the inclusion of Clear CMOS, BIOS Flashback and Power/Reset Buttons as well as a POST code readout. The MEG X570 ACE has everything you need from the best Ryzen 9 motherboard, from superior VRMs to a ton of extra features, making it an easy choice to recommend. The MSI MEG X570 ACE is also considered as one of the best Ryzen 7 motherboard for extreme overclocking and enthusiast-class features.
PROS —
Active cooled VRM design.
ASUS Hyper M.2 x16 Gen 4 Card provided.
Great RGB implementation.
Out-of-the-box support for Ryzen 5000.
Socket: AM4 | Chipset: B550 | Memory: Dual-Channel DDR4 4866 MHz, Up to 128GB| Multi GPU Support: NVIDIA 2-Way SLI + AMD 3-Way CrossFireX | Audio: SupremeFX S1220A Audio codec | Form Factor: ATX
The ASUS ROG Strix B550-XE Gaming comes with a revamped design and minor hardware changes over the earlier, non-X variant. It comes with chunkier heatsinks, better RAM technology and out-of-the-box support for Ryzen 9 5900X, and rest being pretty much identical to the regular B550-E Gaming.
The B550-XE comes with an active cooled 16-phase VRM and dedicated M.2 heatsinks. Apart from that, the shielded rear I/O panel and PCIe slots are a nice touch and complement the overall sturdy build quality. Talking about the rear I/O, you'll find the standard selection of USB 3.2 and 3.1 ports alongside WiFi 6 and 2.5GbE LAN connector.
ASUS has specifically included the premium SupremeFX S1220A audio and AI noise cancelling microphones for a rich gaming audio. The B550-XE Gaming lives up to the ROG standards thanks to the feature-rich ROG software including AI 5-Way Optimization, EZ mode, customizable Aura Sync ARGB, Sonic Studio III and much more.
PROS —
Sleek looks.
Great value for money.
Plenty of USB ports.
Pre-installed rear I/O shielding.
CONS —
No inbuilt WiFi.
Could have more fan headers.
Only a single M.2 heatsink.
Socket: AM4 | Chipset: X570 | Memory: Dual-Channel DDR4 4266 MHz, Up to 128GB| Multi GPU Support: AMD Quad CrossFireX and 2-Way CrossFireX | Audio: Realtek ALC1200 Audio codec | Form Factor: ATX
If you're looking for a decent X570 motherboard at a more pocket-friendly price, the Gigabyte X570 AORUS Elite is for you. The inexpensive price tag doesn't mean you're losing out on any fun – 12+2 DrMOS power phases with a refined thermal solution allow for great overclocking on a budget.
It's surprising how much Gigabyte has managed to cram into this entry-level package. Some noteworthy features of the AORUS Elite include a reinforced PCIe slot, dual M.2 with a combined heatsink, I/O shielding, a front USB 3.1 Gen2 Type-C header and the support for RGB and aRGB Fusion 2.0 headers.
Gigabyte did make some corner cuts to keep the price low, which is acceptable. No WiFi or Bluetooth on this one, and you only get the archaic ALC1200 audio. If that's something you don't worry about, the X570 AORUS Elite is going to be a solid bang for the buck.
PROS —
Decent VRM for the size.
Aura Sync RGB.
PCIe shielding.
WiFi AX 6 and Bluetooth v5.
CONS —
No onboard Power/Reset buttons.
Socket: AM4 | Chipset: X570 | Memory: Dual-Channel DDR4 4800 MHz, Up to 64GB| Wi-Fi / Bluetooth: Intel 802.11 AX Wi-Fi + Bluetooth 5.0 | Audio: SupremeFX S1220 codec | Form Factor: Mini ITX
Without a doubt, the ASUS ROG Strix X570-I is our pick for the Ryzen 9 5900X best mini-ITX Motherboard. It's certainly not the cheapest mini-ITX board you'll find, but for a top-tier chip like the Ryzen 9 5900X, you don't just want to go for a "good enough" motherboard.
The Strix X570-I Gaming packs a powerful 10-phase VRM, reinforced PCIe 4.0 graphics slot, dual M.2, four SATA slots in it's tiny body while still managing to look very sleek. The board comes with active VRM cooling and M.2 heatsink which don't warrant any immediate custom cooling upgrades with the 5900X.
ASUS hasn't skimped on the networking as well. You get 2×2 AX WiFi, Gigabit LAN and high-end audio powered by SupremeFX codec. RGB is something uncommon in compact motherboards, but ASUS has managed to include Aura Sync headers and a gorgeous backlit ROG branding on the SSD heatsink.
FAQs
Which Motherboards support Ryzen 9 5900X processor?

Is 5900x an overkill?

The 12-core/24-thread Ryzen 9 5900X is certainly expensive, and the higher core count would only be justified in heavy video editing or workstation scenarios. The 5900X is not a significant upgrade over the 5800X for most gamers unless you have a bucketful of cash to spend.

What should I prefer 5800x or 5900x?

The price difference between Ryzen 5800X and 5900X is so nominal that the latter seems to offer a better value overall. However, if your only primary requirement is gaming, then the 8 cores on the 5800X would be more than enough.

Is 5900x better than 10900k?

The 5900X outperforms the 10900K in most benchmarking tests and has more cores allowing it to achieve much better multithreaded performance. The only time 10900K scores a win is with a slightly lower price and marginally higher clock speeds.

Is Ryzen 9 5900x good for gaming?

The Ryzen 9 5900X is certainly overkill for pure gaming, as most games won't show any observable difference with 12-cores. In a nutshell, all Ryzen 5000 CPUs are excellent for gaming, but the higher-end ones will outperform the others in multi-threaded scenarios like video editing.
Conclusion
The Ryzen 9 5900X packs some serious punch, and is no doubt going to dominate the PC market for quite a while. It doesn't matter if you're a gamer or a content creator, if you're picking up this mighty workhorse, make sure to complement that with the best motherboard for Ryzen 9 5900X.
We hope this article would help simplify that decision for you. Once you weigh down based upon the pros and cons of each product, chances are you'll find one that perfectly fits your requirements and budget. If you need to ask any further questions, you're always welcome in the comments section down below!