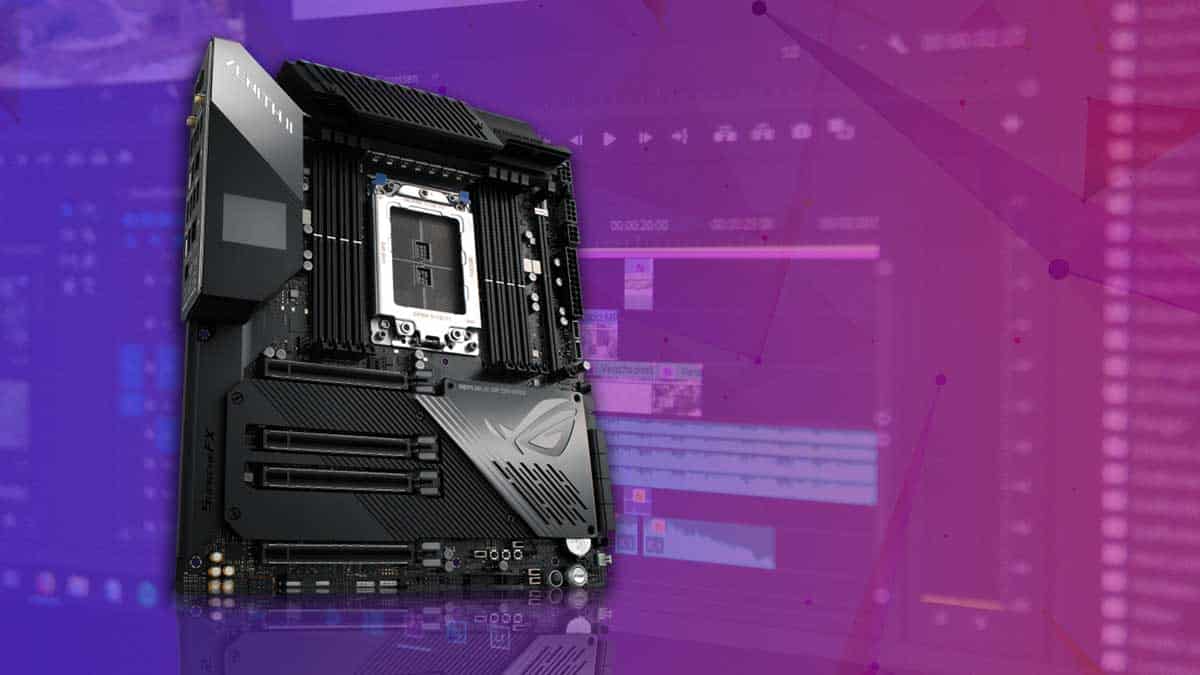 What do you exactly need for faster video processing? The short answer is everything ranging from more CPU cores, faster drive speeds, a decent graphics card as well as a variety of media connectivity and peripherals. Now think of this: the motherboard is what dictates the actual performance acting as a hub for communication between all your PC hardware.
Having a poor quality motherboard will bottleneck the performance no matter how high-end your CPU or GPU is. When looking for the best motherboard for video editing, it is extremely important to ensure that it not only has all the ports, slots and power to breeze through rendering tasks, but is also compatible with the CPU you're planning to get. However, which one do you pick when there are so many options available in the market for motherboards?
If you did your research and couldn't help but feel overwhelmed, then you've landed at the right place! Today, we will help you find out the best motherboard for video editing whether you're looking for an affordable option or a premium one. We'll also cover products for both Intel and AMD chips so that you can find one that pairs perfectly with your processor.
Our Top Picks
7 Best Motherboards for Video Editing
PROS —
Top-tier VRM and overclocking
PCIe 4.0 support
Integrated M.2 heatsinks
Aquantia 10G LAN
CONS —
Quite Expensive
Noisy chipset fan
Socket: sTRX4 | Chipset: TRX40 | Memory: Quad-Channel DDR4 4733 MHz, Up to 256 GB | Audio: SupremeFX S1220 Audio codec | Multi GPU Support: NVIDIA 3-Way SLI and AMD 3-Way CrossFireX | Form Factor: E-ATX
The Zenith II Extreme Alpha is TRX40's cream of the crop. For a 3rd gen Threadripper build, it doesn't get any better than this. Hardware-wise and the features are endless. It comes with an improved power solution with 16 Infineon power stages and active-cooling VRM heatsink. The connectivity is all that you may ever want, with a USB3.2 Gen2x2 Type-C port, four SATA slots, triple M.2 slots which can be expanded by a further two via the ROG DIMM.2 expander.
This board is loaded with four PCIe x16 slots that support the latest PCIe 4.0 standards. On top of that, multi-graphics support is readily available via SLI and Crossfire. You get best-in-class networking with onboard Aquantia 10GbE LAN coupled with 802.11ax Wi-Fi 6. What makes it extremely appealing to video creators is the inclusion of premium SupremeFX S1220 codec coupled with ESS SABRE DAC for the best audio quality possible.
The BIOS on this one is designed for the finest personalisation experience, with plenty of controls for overclocking or RGB headers. As expected from a premium ASUS motherboard, you get a gorgeous onboard Aura Sync RGB implementation along with customisable ARGB headers to add that personal touch to your build. The Zenith II Extreme Alpha is the best video editing motherboard if you want to push Threadripper to its limits and need all the latest and greatest features available.
PROS —
Stylish aesthetics
M.2 Xpander-Aero included
Dual Thunderbolt 3
Abundance of ports and headers
CONS —
Could have more USB3.1 Gen2 ports
Higher priced than most X299 competitors
Socket: LGA2066 | Chipset: X299 | Memory: Quad-Channel DDR4 4200 MHz, Up to 256 GB | Audio: Realtek ALC1220 Audio codec | Multi GPU Support: NVIDIA SLI and AMD CrossFireX | Form Factor: E-ATX
What motherboard list is complete without the mention of MSI? Among the new MSI boards, the MEG line is their most advanced motherboard series and the MEG X299 Creation comes in as a premium HEDT offering suited for designers and content creators. Due to its great versatility and top-notch performance, the X299 platform is not only suited to video creators but to streamers and heavy gamers as well. This chipset supports all Intel Skylake-X and KabyLake-X series processors featuring the LGA2066 socket.
The X299 Creation sports a unique styling with a black PCB and silver pattern on the heatsinks inspired by shattering glass. There is a good selection of Mystic Light RGB and headers which support both RGB and RAINBOW LED strips which makes it a great RGB motherboard for Editors to setup their editing space. Talking about the ports and slots, you will find three M.2 slots with heatsinks, eight SATA-III connectors and four metal reinforced PCIe x16 slots. There is also a U.2 port and a plethora of USB ports on the rear I/O. While we would have liked more than two Gen2 Type-A+C ports, the port selection is enough for most people.
What separates this mobo from others is the Thunderbolt PCIe card and M.2 Xpander-Aero, both of which are welcome additions for video creators. The Xpander-Aero in particular gives the option to add four PCIe M.2 slots with a dedicated GPU-grade cooling. The X299 Creation does sit around the higher-end of X299 mobos, but there is little to no compromise made with this mobo and it has everything you need for a solid HEDT build.
PROS —
Premium Aesthetics
Thunderbolt header
5GbE LAN and Wi-Fi 6
Nice selection of ports and slots
Socket: LGA1200 | Chipset: Z490 | Memory: Dual-Channel DDR4 4800 MHz, Up to 128 GB | Audio: SupremeFX S1220 Audio codec | Multi GPU Support: NVIDIA 2-Way SLI and AMD 3-Way CrossFireX | Form Factor: ATX
If you are looking for the best 10th Gen motherboard for video editing, the ASUS Maximus XII Hero is for you. Coming with a massive 14+2 power stage design, this mobo is designed for extreme power and control and has large heatsinks all around to keep it cool. This insane performance is complemented by premium features like 5G LAN, rich USB selection, AI overclocking profiles and excellent expandability, making it a no-brainer for content creators.
Talking about the available slots on this one, you get triple M.2 with heatsinks and three PCIe x16 slots, a 20Gbps Gen2 Type-C port, three USB3.2 Gen2 Type-A ports, six SATA3 ports as well as a Thunderbolt header. This mobo supports up to 128GB 4800MHz DDR4 memory with XMP and OptiMem III technology. You also get industry-leading audio quality with the ESS ES9023P powered SupremeFX S1220 codec featuring high-quality Japanese components.
There is amazing networking support with 802.11ax Wi-Fi and a combination of 5G+1G Ethernet. The Maximus Hero wins on the aesthetic side as well, with a sleek ROG themed design and plenty of Aura Sync RGB headers. If you are looking for a great looking board with good all-round support for Intel Core chips, the ROG Maximus XII Hero should be among your top priorities.
PROS —
Great VRM setup
Extremely stable overclocking
Triple M.2 Gen4 slots with heatsinks
ESS Sabre Hi-Fi DAC
CONS —
No Thunderbolt
Third M.2 slot disables 2 SATA ports
Socket: AM4 | Chipset: X570 | Memory: Dual-Channel DDR4 4400 MHz, Up to 128 GB | Audio: Realtek ALC1220-VB Audio Codec | Multi GPU Support: AMD Quad-GPU CrossFire and NVIDIA Quad-GPU SLI | Form Factor: ATX
There are a lot of options in the market for AM4 motherboards, but the one that stands out as the best AMD motherboard for video editing is the Gigabyte X570 AORUS Master. It features a high-end power and cooling solution coupled with enthusiast class control and features. If you want to make the most out of your Ryzen build, this mobo will surely help thanks to the powerful 14-phase VRM with a proper Fins-Array heatsink for cooling.
The AORUS Master has one of the best connectivity among AM4 boards, with three full-length PCIe 4.0 slots (16x/8x/4x) as well as three M.2 slots each with a dedicated heatsink. The rear I/O comes shielded and packs four USB3.2 Gen2 ports, two Gen1 Type-A ports and four USB2.0 ports, with support for Type-C front and back headers. The audio is powered by the ALC1220-VB codec with ESS SABRE Hi-Fi DAC for improved input quality and signal-to-noise ratio.
This mobo has got all the little bells and whistles to enhance professional experience including 2.5GbE LAN and Wi-Fi that can theoretically hit wireless speeds up to 2.4Gbps. Not only does it perform well, but also has the looks to go along with it.
PROS —
Premium VRM quality
Gorgeous looks and RGB implementation
M.2 Xpander-Aero Gen4 card
Extremely stable even when maxed out
Dual LAN including 10GbE LAN
CONS —
High price
Some competitors offer eight SATA ports
Socket: sTRX4 | Chipset: TRX40 | Memory: Quad-Channel DDR4 4666 MHz, Up to 256 GB | Audio: Realtek ALC1220 Audio codec | Multi GPU Support: NVIDIA 3-Way SLI and AMD 3-Way CrossFireX | Form Factor: E-ATX
The MSI Creator TRX40 is an excellent HEDT platform for 3rd gen Threadripper CPUs and is priced very competitively as compared to other TRX40 boards. This mobo is built exceptionally well and comes with a lot of extra features for the price. It boasts a new 16-phase VRM design and dedicated MOSFET cooling. Similar to the X299 Creation, it comes bundled with the M.2 Xpander-Aero giving it four more Gen4 M.2 slots in addition to the three already provided onboard.
As this is a 'Creator' centric board, you will find Aquantia 10G LAN, four full-length PCIe 4.0 slots in a x16/x8/x16/x8 configuration, a 20Gbps Type-C port and six SATA ports. Not only is the rear panel crammed with ports, it also features a nice looking RGB LED panel with customisable Mystic Sync lighting. The Creator TRX40 shows some of the best power efficiency for TRX40 boards and has a well-designed Frozr heatsink cooling coupled with 9 PWM fan headers. MSI is heavily marketing this as a professional board, and rightly so given the plethora of features and accessories provided.
PROS —
Plenty of OC potential
LED Debug also displays CPU temperatures
Lots of M.2 and USB I/O
Integrated 10G LAN + Dual 1GbE
CONS —
No internal USB-C header
A bit lacking in onboard RGB
CPU installation can be quite tricky with the screws provided
Socket: TR4 | Chipset: X399 | Memory: Quad-Channel DDR4 3600+ MHz, Up to 128 GB | Audio: Realtek ALC1220 Audio codec | Multi GPU Support: NVIDIA 4-Way SLI and AMD 4-Way CrossFireX | Form Factor: ATX
The X399 Professional Gaming is ASRock's flagship motherboard for Threadripper. Although it's primarily targeted at gamers, the sheer number of features make it well suited for a wide range of workstation tasks. The motherboard comes with an 8+3 phase VRM for Vcore and SOC which are supplemented with two heat sinks connected via a heat pipe. The mobo features a black themed PCB with metallic accents and a good onboard RGB implementation.
Being a high-end productivity motherboard, it's loaded in terms of expandability and connectivity. You have the option to install up to three M.2 PCIe x4 drives along with a U.2 drive and eight SATA devices. The rear I/O is as good as it can get with two USB 3.1 Gen2 10Gb/s Type-A+C, 12 USB 3.1 Gen1 ports (4 Front, 8 Rear). Apart from that you also have a BIOS flashback and CMOS clear button, however an internal USB 3.1 Type-C header is missing.
The ASRock Fatal1ty X399 Professional Gaming is fully-equipped in terms of multi-GPU support as well and supports up to 4-Way Crossfire/SLI. Besides that, you have 10G Ethernet, high-end audio and a refined BIOS experience all packed into an ATX form factor. The X399 Professional Gaming has all the bells and whistles required in a demanding creative workflow.
PROS —
Powerful 14+2 phase VRM
Great UEFI BIOS
ARGB Gen 2 headers
8-Channel SupremeFX Audio
CONS —
No power/reset buttons
One of the M.2 slots is obstructed by the GPU
Socket: LGA1200 | Chipset: Z490 | Memory: Dual-Channel DDR4 4800 MHz, Up to 128 GB | Audio: SupremeFX S1220A Audio codec | Multi GPU Support: NVIDIA 2-Way SLI and AMD 3-Way CrossFireX | Form Factor: ATX
The ASUS ROG Strix Z490-E Gaming is a mid-range Z490 motherboard and is the perfect bang-for-the-buck alternative to the premium Maximus XII Hero. It boasts a solid 14+2 phase VRM design along with several OC-friendly addons like passive cooling, BIOS flashback, POST LED, OptiMem II memory and more. Being part of the ROG line, the Z490-E Gaming looks gorgeous with its cyberpunk inspired design along with contrasting metallic accents on the PCB.
The motherboard can fit up to two M.2 PCIe x4 SSDs each with heatsinks connected to the chipset heatsink. The rear I/O panel comes with a pre-mounted shield and sports a total of 10 USB ports including 4 USB3.2 Gen2 ports (3A+1C), 2 Gen1 Type-A and 4 USB2.0 ports. The PCIe slots are laid out as two full-length x16 slots and one x4 slot. We recommend installing you GPUs in the x16 slots for optimum results.
A great news for gamers as well as content creators is the inclusion of SupremeFX S1220 audio which provides a much better sound quality than the standard ALC1220 codec. Not only this, they have also included Wi-Fi 6 and 2.5G Ethernet chip which is nice to have at this price. Last but not the least, you have the support for Thunderbolt and ARGB Gen2 headers.
How to Choose the Best Video Editing Motherboard
Buying the best motherboard for video editing has more to it than if you were buying one for a gaming PC. In this section, we are going to discuss what to look for when picking a motherboard for video editing and cases where you can cheap out versus places where you shouldn't. Firstly, the most important aspect is to get a board that is compatible with your CPU, but there are some additional points we'd like you to keep in mind.
1. RAM support
Video processing software like Premiere Pro tend to take up a lot of memory while running. It is recommended to get a motherboard that supports at least 4 DIMM slots to ensure upgradability in the future. Also important are the RAM speeds since the difference in price is not that much for a faster memory.
2. PCIe/M.2 slots
If you are a professional content creator, it's very common to have multiple NVMe SSDs and Graphics cards for better performance. Look for the most number of PCIe and M.2 slots in your mobo, as well as the distribution of lanes (16x for optimum GPU performance). All the products in our list support multi-GPUs via SLI and/or Crossfire and come with plenty of M.2 slots.
3. USB ports/headers
Since you will have several USB devices and peripherals lying around, you should be looking for the higher number as well as speeds when it comes to USB connectivity. Also important is Thunderbolt and other video output ports depending on your requirements.
4. Other features
Do you need 10G LAN, inbuilt Wi-Fi or added RGB aesthetics? These features do not directly impact the actual performance but are needed depending on personal taste. Since video editing is reliant on more power, the motherboards tend to be restricted to large form factors, namely ATX and E-ATX. Getting a compact mobo is not recommended unless you are extremely tight on budget as you will sacrifice on a lot of ports and slots.
Conclusion
We have now looked at the best motherboards for video editing covering options for both Intel and AMD builds. There are some great affordable options available in the market, however, if you are a professional creator, we recommend not compromising on the quality. A sluggish setup will not only waste a lot of your precious time, but will limit the potential of your video processing software resulting in poor quality output.
So, that's about it from our side! Which one are you getting for your next PC build?