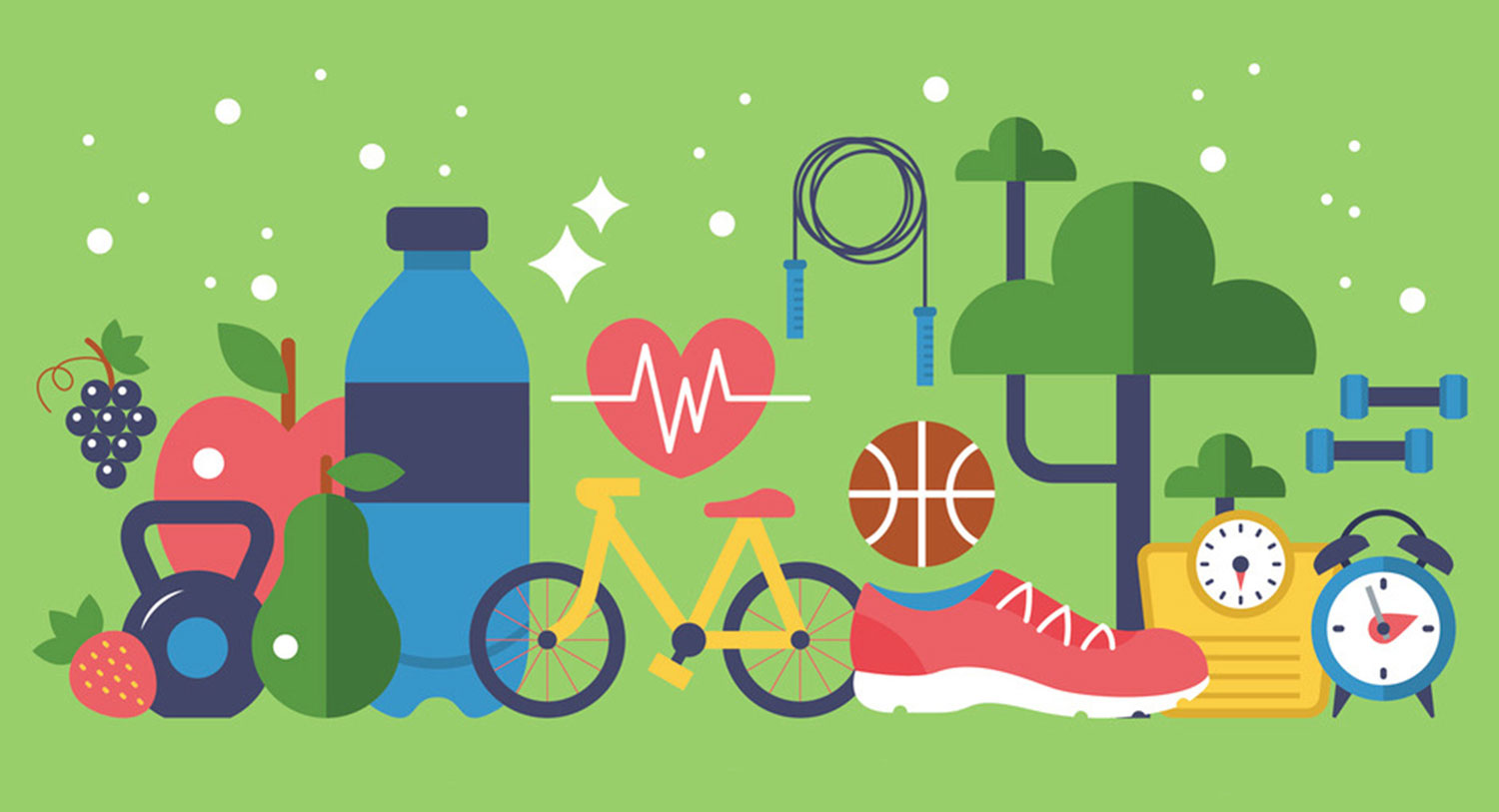 It's hard to break habits that has been part of a regular pattern in our lives. Whilst building good ones may sound easy, it's usually dismissed after the pledge because it requires so much effort to break the existing ones. It also requires inspiration to even get things started.
For people like me, who for the sake of changes, needs a little inspiration as we reach our goal, our smartphones paired with the right apps and accessories will make things a bit easier. We want things to be more transparent as we go along the way. And thanks to our smartphones, these data is just one click of an icon.
Best Habit Tracking Apps
The following Android apps will not only help us remind of our health, but also of our habits and how we deal with it in the long run. Some of these requires payment to access some of its features, but most entries in the list are for free.
Editor's Note: Fitness trackers only tracks the physical well being of a person, while habit trackers tracks both our physical, and mental well being. To get a more successful result, pair your habit tracker with a right fitness tracker app, fitness band and mental relaxation apps to see how your controlled habit is impacting your physical health. In this article though, we will only go through our picks for best habit tracker apps on Android right now.
1. Habitica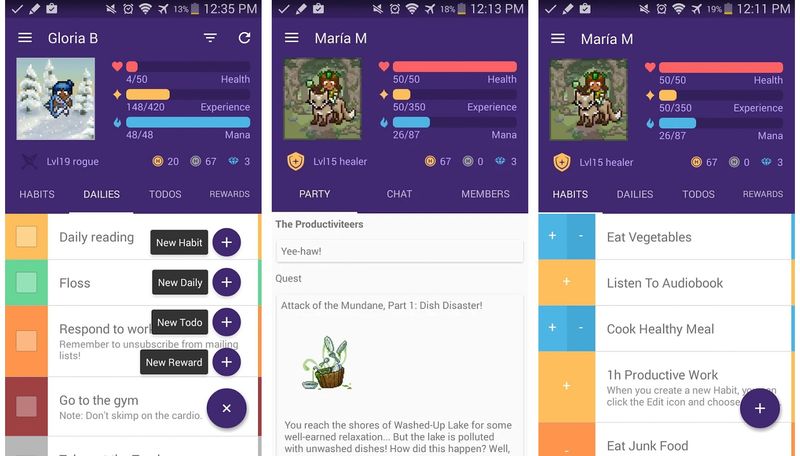 For some, keeping their Sims clean and healthy may sound like a far more attractive task than keeping themselves fit, and free from undesirable modern habits. Well, thanks to Habitica, it'll now be easier to handle both things at once.
Aside from its cool modern interface, Habitica also features something that can't be found in any other habit tracker apps, a videogame quest. Yes, Habitica incorporates reward-based role-playing game to its habit tracking feature.
For every habits maintained, and completed, users will get a badge to show off. These badges are like quest rewards that are lined-up at the end of a boss battle. Keeping your goal will earn you an XP which will turn to levels, which will go to your credit. The more badges you earn, the more things you can show off to the Habitica community.
Habitica also features support for creating, tracking, and maintaining habit of any kind. It's a role playing game, so your habits will totally impact your virtual character.
2. Habit Tracker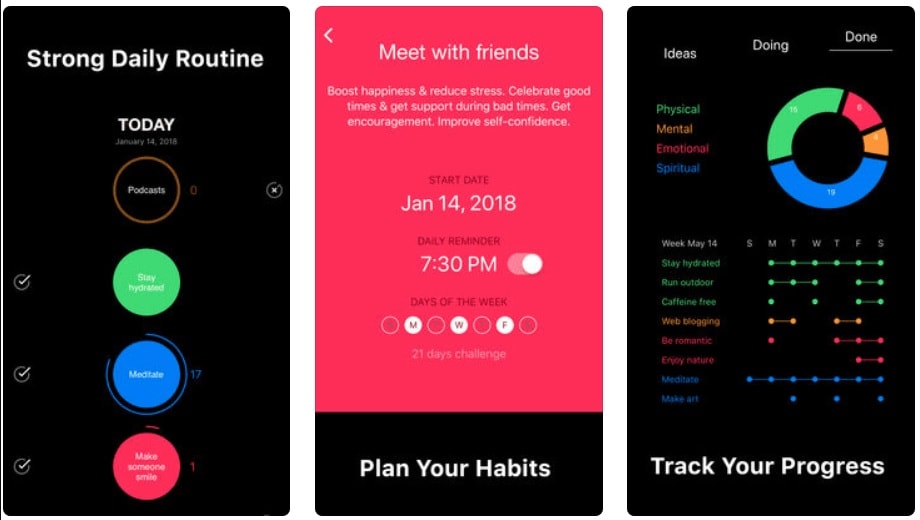 Previously known as HabitBull, Habit Tracker may not be as pretty looking as its iOS counterpart, it still offers almost the same experience. It let you track multiple habits, or set a repeating to do's or goals in its native calendar.
For people like me who loves having inspirations for all the things I do, Habit Tracker includes inspirational quotes per category (meditation, reading, stop drinking alcohol, stop smoking, and etc.). It also offers graphs to help you see and track your progress, or perhaps you need this as widget on home screen and lock screen.
3. Loop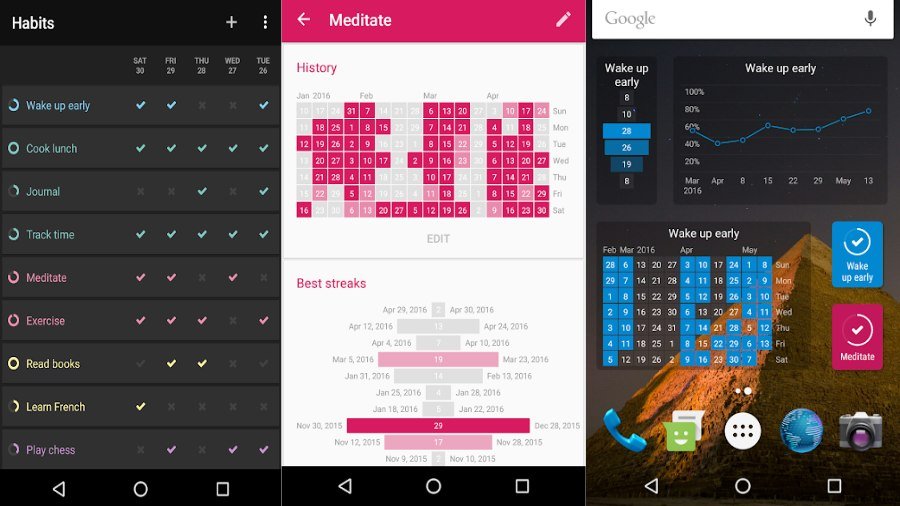 This app believes in simplicity, but won't compromise you on its features. It even looks more stunning if dark mode in enabled.
Loop features a sticky reminder which can't be turned off by swiping it off from the notification panel. Users can only disable it from the app itself, which is so basic if we think about it, but very helpful for people who can sometimes accidentally clear notifications from the panel. One of my favourite feature though is that you can import your data and view it on Microsoft Excel Sheet. It also supports data import from HabitBull (Habit Tracker), Rewire, and Tickamate.
4. Goal Meter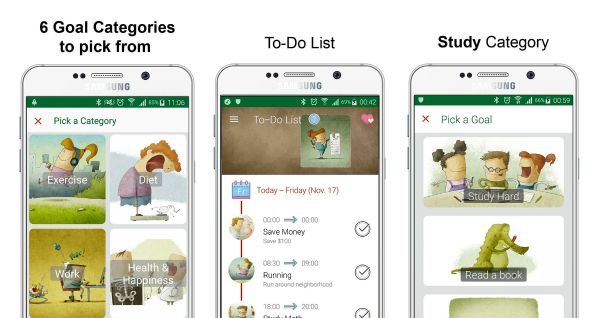 While some of our entries in this list features full-blown material design, Goal Meter incorporate this design element to what seems like an illustrated children's book. With its pastel colours, and sense of nostalgia, this app will surely capture the heart of kids, and kids-at-heart.
It's free, and features all ready-made templates such as quitting smoking, paying the debts, or losing weight. It also features an intuitive notifications and reminders to notify you when to take action or work with your goals.
5. Goal Tracker & Habit List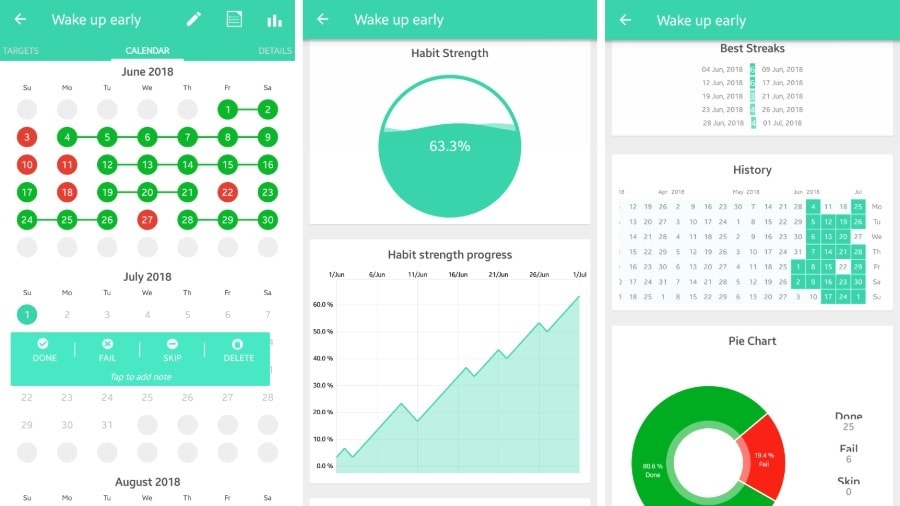 Do you like challenging yourself with win streaks in mobile games? How about applying that in real life? Goal Tracker & Habit List brings the idea of streak to a habit tracking feature convince users to not skip their applied habit.
Inspired by Jerry Seinfeild's "Productivity Secret", the app will mark calendar days with a huge cross or ticks to let users know their progress. The app also offers this data via widget, so you can put it on your home screen, and see your progress without having to open the app. It's available for free, and doesn't offers in-app purchases.
6. Coach.me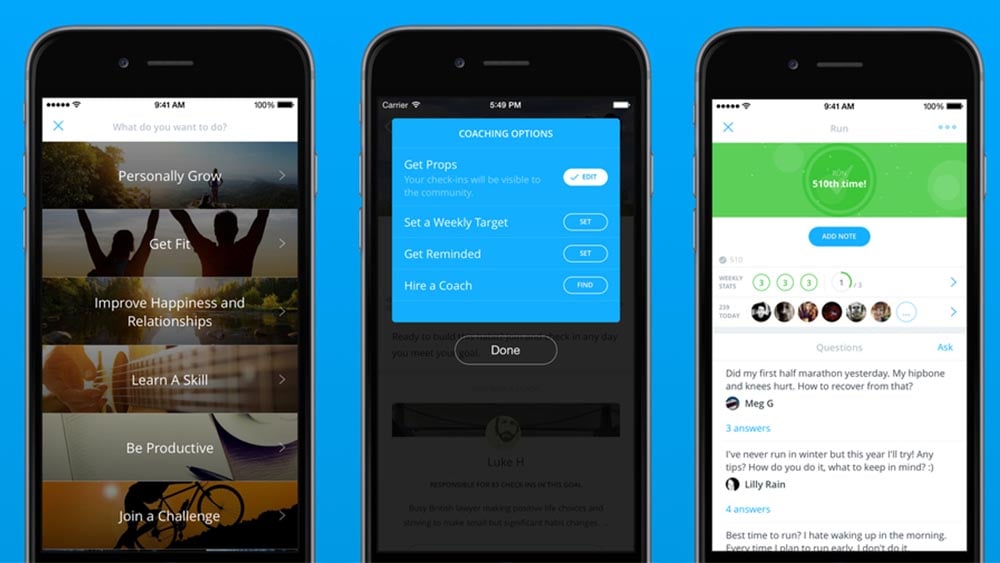 While Coach.me may not offer you the best looking interface of all the habit tracker apps in this list, it never lacks on useful features to help you track your existing habits. It's a life coaching app that offers paid features like hiring a coach for more personalized training to help you break the habits you've been wanting to break.
If you opt for free version, you can still add a goal, or follow your desired trainer to get free premium contents he shares in the community.
7. Beeminder


Beeminder, which was once iOS exclusive, has now landed on Android. And as what you expect, it'll not be as good-looking as its iOS counterpart, but still offers almost the same features.
Basically, anything you wanted to track will work here. This includes losing weight, blogging twice a month, practising guitar 7 hours per week, biking at 50 miles per week, and anything you can ever think off. It also contains many things that are related to money and motivations.
8. Grow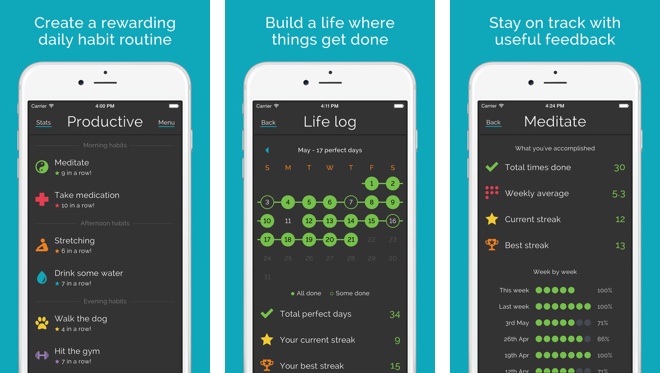 I have mentioned that some of these apps features simple UI, but none of them is even simpler than Grow. The UI is nothing more than a white materialistic dashboard with green accent. Task calendar may have a small unobtrusive photo of a tree (which I think grows as you grow) at the bottom, but that's pretty much it.
Grow allows you to add new habit set reminder, and features a task calendar so you know which day you skipped. That's pretty much it. Also, with the latest update, the developer added support for dark mode on Android 10 devices. And what's even better? The app is free.
9. Goalify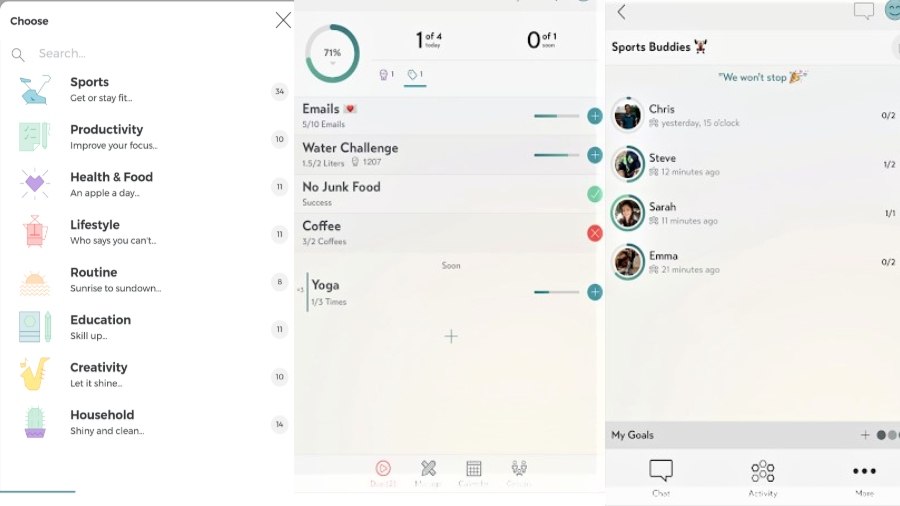 Goalify has one of the sleekest interface we've seen so far while conducting research about this article. It has a pure white background (with some gradients), lesser lines, and pastel-colored icons which kind of reminds us of Samsung Health app, only less vibrant. If you are using Samsung phone, then you can get Samsung S8 launcher and apps on your phone to enjoy a better UI.
With Goalify, you have the freedom to pause your goal when you have no time to work on it at the moment. With paid account, you can create groups, chats and share your data with your friends and family members to help motivate each other. It also allows for personalized report based on your habits activity.
10. Fabulous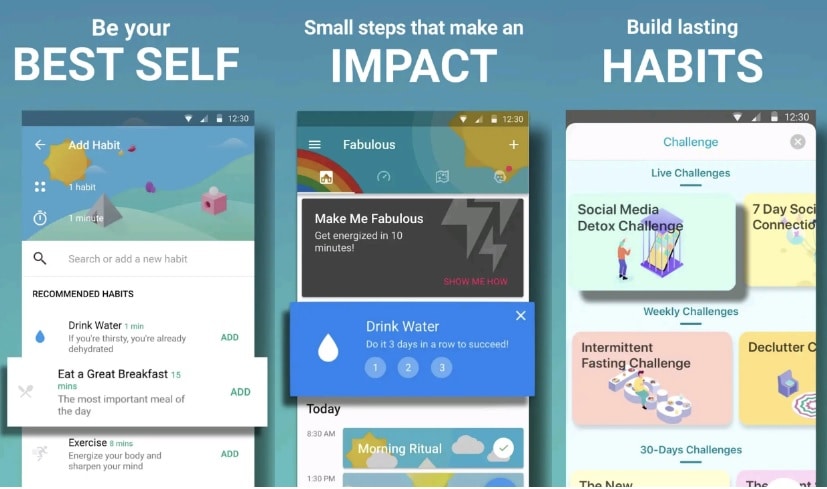 Of all the apps in this list, this probably is one of the most colourful. It offers vibrant interface, and beautiful imagery while keeping things materialistic. This habit tracker apps works around the concept of journey. Basically, it has five groups of goals, unlocking after the other. If you are one of those people who likes to celebrate over little wins, fabulous will remind you that every step of the way.
Fabulous also offers a bunch of pre-installed routines such as 7-minute workout. The only downside Fabulous has is its annoying intuitive suggestions, which reminds you to do things it suggest all the time, making you feel restricted. For Android, you can use live wallpapers and change it according to your mood. Download these high quality wallpapers for your phone.