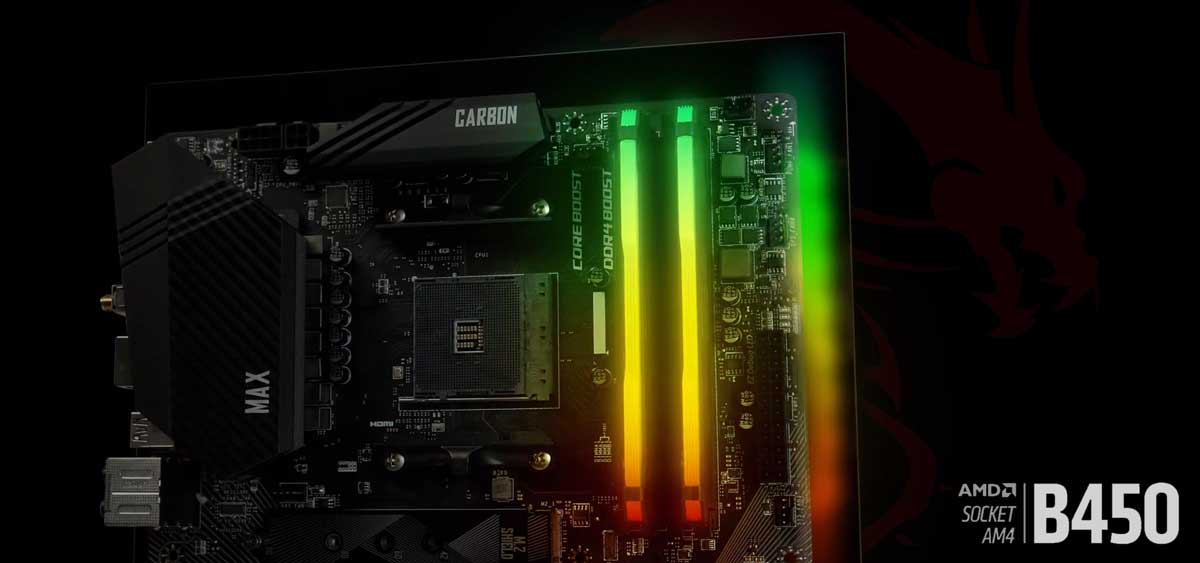 AMD has been releasing some of the best computer processors for the past couple years, bringing better performance to the table than its Intel counterparts at the same price. AMD announced its new 7 nanometre Zen 2 architecture back at CES 2019, offering greater performance and efficiency. The AM4 socket is built on this Zen 2 platform and today we will talk about one of the many chipsets that take advantage of the AM4 socket, which is the B450 chipset. This is a mid-range chipset targeted at budget-oriented gamers and other users. You can use this chipset to build a low-cost Ryzen PC suitable for gaming, content-creation or mainstream usage. The B450 supports overclocking on all supported Ryzen CPUs, one of the many reasons why this chipset is performing so well in the market.
The B450 chipset is one of the two chipsets in the 400 series for the AM4 socket, X470 being the other. Like most other chipsets, B450 also comes in various form factors like ATX, Mini-ITX and micro-ATX. In this article, we will talk about the best B450 motherboards on the market right now, reviewing each one of them listing their pros and cons. We will provide the best suited options in multiple categories, so make sure to read it till the end where we will also talk about the differences between B450 and X470 chipsets.
7 Best AMD B450 Motherboards
PROS —
Solid overclocking performance
Premium looks with 'Carbon' theme
Feature-rich UEFI BIOS
Excellent value
CONS —
None for the price
Socket: AM4 | Chipset: B450 | Memory: Dual-Channel DDR4 4133 MHz, Up to 128GB| Audio: Realtek ALC1220 | Multi GPU Support: 2-Way AMD CrossFireX Technology | Form Factor: ATX
The Gaming Pro Carbon Max Wi-Fi is arguably the best MSI B450 motherboard available right now. This board is an upgrade to the non-MAX Gaming Pro Carbon and offers better BIOS support and increase in RAM performance, which some people found to be underwhelming in that model. MSI offers a stealthy look with this one but with an added flair of the Mystic Light RGB.
This board comes with out-of-the-box Ryzen 3rd Gen support with overclocking unlocked. It has a pretty good set of VRMs on it with extensive heatsinks for proper cooling. There are 2 PCIe x16 slots and 3 PCIe x1 expansion slots for graphics. You get standard memory support with dual M.2 sockets and six SATA 6Gb/s connectors, two of which will be disabled if you use the M.2 socket. There is a sizeable amount of connectivity options including two USB 3.2 Gen2 ports (Type-A and Type-C), 2 USB 3.2 Gen1 Type-A ports on the back panel with additional ports supported via a USB header. This motherboard also supports 2-way AMD Crossfire technology for multi-graphics.
Overall, the MSI B450 Gaming Pro Carbon MAX Wi-Fi offers a great feature set, including some features that are usually found on the more expensive X470 chipset. This is the best B450 motherboard for overclocking. Besides that, the carbon fibre accents add to its visual appeal. This will be a really solid motherboard to pair with your Ryzen 2000 or 3000 series processors.
PROS —
Enhanced DRAM overclocking
Premium looks with Aura Sync RGB
Excellent price-to-performance
SupremeFX Audio Codec
CONS —
Lacks POST LED
No inbuilt Wi-Fi
Socket: AM4 | Chipset: B450 | Memory: Dual-Channel DDR4 3200 MHz, Up to 64GB| Audio: SupremeFX S1220A | Multi GPU Support: AMD 3-Way CrossFireX Technology | Form Factor: ATX
The ASUS ROG Strix B450-F motherboard is a perfect pick for someone looking for a high performance board with great looks and competitive pricing. This board is targeted towards mainstream gamers with its ROG branding and great overclocking potential. The Aura Sync RGB LEDs combined with the sleek aesthetics give it a really premium look.
This motherboard has all the standard connectivity options including 3 PCIe x16 slots, 3 PCIe x1 expansion slots, dual M.2 sockets and Six SATA 6Gb/s connectors. It supports 2 USB 3.1 Gen 2 Type-A ports, 4 USB 3.1 Gen 1 including 1 Type-C 5Gb/s port. The Strix will overclock Ryzen 2nd and 3rd gen with ease as it has a powerful 6 phase VRM with six fan headers. The 5-Way Optimization makes automatic tuning effortless and Fan Xpert 4 ensures that your system's temperature levels are kept in check. Onboard Wi-Fi is missing although we have Intel Gigabit LAN and rich audio output via the SupremeFX S1220 CODEC.
The Asus ROG Strix B450-F Gaming motherboard packs more than enough punch for Ryzen CPUs, while still maintaining an affordable price. The only issues with this board are slightly high idle power drain and no Wi-Fi, but all that it offers at this price make it one of the best B450 motherboards to recommend.
PROS —
Affordable price
Great overclocking performance
Powerful VRM with Six fan headers
Mystic Light RGB
CONS —
Only one M.2 slot
No Wi-Fi
Socket: AM4 | Chipset: B450 | Memory: Dual-Channel DDR4 4133 MHz, Up to 128GB| Audio: Realtek ALC892 | Multi GPU Support: 3-Way AMD CrossFireX and 2-Way NVIDIA SLI Technology | Form Factor: ATX
The B450 Tomahawk Max is another solid motherboard from MSI and is suitable for people who are looking for good looks, all the essential features and enough overclocking support at a low price. This motherboard offers very similar features to the Gaming Pro Carbon but with some cuts downs to keep the overall cost down.
This board comes with a powerful 4+2 phase power delivery and large heatsinks providing sufficient cooling when overclocked. You will get dual PCIe x16 slots with 3 PCIe x1 expansion slots. The storage solution is not very great as there is only a single M.2 socket along with six SATA-III sockets, out of which you can only use four when the M.2 slot is occupied. On the rear I/O, you will see two USB 3.1 Gen2 ports, one of each Type-A and Type-C. There are also two USB 3.1 Gen1 Type-A ports, and two USB 2.0 ports, with an option to increase the USB connectivity via USB headers. This board also has multi-graphics support via 2-way AMD Crossfire technology.
Despite the cuts that have been made to justify its low pricing, as the lack of onboard Wi-Fi or secondary M.2 slot, this board offers a lot more at this price than other competitors. If you can increase your budget, we would recommend sticking to the Gaming Pro Carbon Max, however, for anyone with a strict budget, this motherboard is a great option and will provide everything you need for your Ryzen build.
PROS —
Value for money
Up to 128GB DDR4 4400Mhz (OC) memory support
Out-of-the-box Ryzen 3rd Gen support
High quality audio
CONS —
Lacks manual overclocking options
Single M.2 slot
No inbuilt Wi-Fi
Socket: AM4 | Chipset: B450 | Memory: Dual-Channel DDR4 4400 MHz, Up to 128GB| Audio: Realtek ALC887-VD2 | Multi GPU Support: AMD CrossFireX Technology | Form Factor: ATX
The Prime range of motherboards by Asus is aimed at providing a mainstream set of features and aesthetics and the B450-Plus is an example of a reliable and consistent board coming at a very low price. This board might not look as flashy as the ROG line up from Asus, but the compromise on looks has allowed Asus to pack more performance in the otherwise well-built motherboard.
The Prime B450-Plus is not a beast by any means when it comes to overclocking performance, but it manages to keep everything cool with the help of Fan Xpert 4. The board has two PCIe x16 slots along with 3 PCIe x1 slots. Storage is pretty much what you will get at this price with a single M.2 slot and 6 SATA-III connectors. USB connectivity options include one 5 Gb/s Type-C port, two USB 3.1 Gen3 Type-A, two Gen2 Type-A ports. We would have appreciated more USB ports though. There are no PCB LEDs onboard however you are provided with an Aura Sync-enabled header. You are getting high quality audio with the Realtek ALC887-VD2 8-Channel High Definition Audio CODEC.
Asus definitely went with practicality over looks for this one. The BIOS comes updated for Ryzen 3rd gen, which is always good to have. This motherboard is suitable for users who don't care much about the aesthetics and are building a simple low-cost setup or are just getting into the AM4 world.
PROS —
Excellent overclocking with DDR4 Boost
Great price-to-performance
Plenty of fan headers
Up to 4133MHz (OC) memory supported
CONS —
High idle power drain
No USB-C port
Less RGB options
Socket: AM4 | Chipset: B450 | Memory: Dual-Channel DDR4 4133 MHz, Up to 128GB| Audio: Realtek ALC892 | Multi GPU Support: 2-way AMD CrossFireX Technology | Form Factor: ATX
The MSI B450 Gaming Plus Max is a budget motherboard targeted at mainstream gamers looking for performance over anything else. This board has a decent VRM and DDR4 Boost technology for excellent gaming experience. Several gamer-oriented features from MSI like TURBO M.2, AMD Turbo USB 3.2 Gen2 and StoreMI Technology make it a very compelling choice for a Ryzen mobo.
This motherboard offers one PCIe 3.0 x16 with Steel Armor protection, one PCIe 2.0 x16 and four PCIe 2.0 x1 expansion slots. The storage solution is pretty basic with a single M.2 socket and 6 SATA-III slots. 2 USB 3.1 Gen 2 Type-A ports and additional USB 3.1 Gen 2 ports via the internal connector. It is missing a USB-C port and onboard Wi-Fi. However, it does support 2-way AMD CrossFireX multi-graphics.
The MSI B450 Gaming Plus Max is a great motherboard for its price and which supports Ryzen 3rd Gen out of the box. It is virtually identical to the popular Tomahawk Max but without the RGB and USB-C connector in favour of having an extra USB 3.0 port. This motherboard is very well suited for budget gaming enthusiasts. And don't forget the memory speeds up to 4133MHz when overclocked!
PROS —
Performance comparable to X470
Premium looks
Excellent overclocking support
High quality Realtek ALC1220-VB audio
CONS —
M.2 slot is placed under the Graphics card
Wireless speeds limited to 433 Mbps
Socket: 1151 | Chipset: B450 | Memory: Dual-Channel DDR4 3600 MHz, Up to 64GB| Audio: Realtek ALC1220-VB | Multi GPU Support: AMD CrossFireX Technology | Form Factor: ATX
Next product on our list is the Gigabyte B450 AORUS Pro Wi-Fi. This board is aimed at budget users who want great performance but without sacrificing on the looks and features. This board comes with a Hybrid Digital PWM design which makes its performance on par with some X470 boards on the market.
Gigabyte has not made any compromises while bringing their premium 'Aorus' branding to the B450 models, and this board comes with ample RGB LEDs onboard, stylish heatsinks and shield over the I/O panel. The extensive heatsinks not only add to the looks but provide much needed cooling for overclocking. This board features dual M.2 slots, USB 3.1 Type-A and Type-C ports, six SATA 6Gb/s connectors. Talking about the PCIe interface, you get 3 PCIe x16 slots and one PCIe x1 slot. All the other necessary features like AC Wi-Fi, Bluetooth and AMD Crossfire support are present.
The Gigabyte B450 Aorus Pro offers great features and performance without giving up on looks. You are getting high-quality audio with the Realtek ALC1220-VB Codec. Although overclocking is really good on this one, it might take a bit more manual tinkering as compared to some automatic options on the Asus and MSI boards.
PROS —
Great price-to-performance
Premium 'camo' aesthetics
M.2 and VRM heatsinks
Prominent onboard RGB lighting
CONS —
Less stability while overclocking
No inbuilt Wi-Fi
Socket: AM4 | Chipset: B450 | Memory: Dual-Channel DDR4 3533 MHz, Up to 64GB| Audio: Realtek ALC892 | Multi GPU Support: AMD Quad CrossFireX Technology | Form Factor: Micro-ATX
We will end our list with the ASRock B450M Steel Legend motherboard. This micro-ATX board from ASRock is aimed to provide users with stability and features at an affordable price. This motherboard has an attractive design with plenty of RGB lighting across the board.
The unique camo-inspired design combined with an excellent layout of headers and ports across the motherboard gives it an aesthetically pleasing look. This board comes with 6-phase power delivery and plenty of fan headers, giving a surprisingly decent overclocking result for a micro-ATX board at this price. You will get two M.2 slots, four DIMM RAM slots, reinforced primary PCIe 3.0 slot, one of each PCIe 2.0 x16 and PCIe 2.0 x1 slot. USB options include USB 3.1 Gen2 Type-A and Type-C ports, 4 USB 3.1 Gen1 ports and two USB 2.0 headers.
The ASRock B450M Steel Legend is feature-packed with great build quality. This board looks very premium for its price and is great for a compact setup due to its smaller form factor. We recommend this board to anyone looking for a low-cost, aesthetically pleasing and great performing B450 motherboard
FAQs
Do all B450 motherboards support Ryzen 3000?

Yes, all B450 motherboards support Ryzen 3000. However, do note that while some boards may come ready out of the box like the MSI Gaming Pro Carbon Max Wi-Fi, many others may require you to do a BIOS upgrade.

We recommend you get a motherboard with the BIOS flashback feature, which allows you to update the BIOS without a processor, memory, or video card. USB BIOS Flashback comes in handy if you are, for example, going to use 3rd gen Ryzen and the motherboard doesn't have the updated BIOS to support the processor. Most MSI boards have the Flash BIOS Button, which makes them really the first choice for many users. Otherwise, make sure before buying if the board needs a BIOS update to work with your CPU.

Can you use a B450 for Ryzen 9 3900X/3950X?

Yes, B450 can handle Ryzen 9 3900X/3950X with stock speeds, just fine. A high-quality B450 board like the MSI Gaming Pro Carbon Max will be enough unless you plan to overclock it. The Ryzen 9 3950X installs in the AM4 socket which is what we have on the B450. The 3900X is an efficient CPU which is built on 7nm architecture. It doesn't need tons of VRMs like the i9-9900K. So any decent B450 motherboard will suffice.

You might consider buying a B550 or X570 board if you can extend your budget because it will have much better VRM for overclocking and it will last longer, so you won't have to replace the B450 board if you plan to upgrade your CPU in a couple of years. If your aim is to push it to its limits through overclocking and if you are spending this much on a CPU, why not spend more on a better motherboard as well.

What is the difference between X470 and B450?

The B450 and the X470 are AMD's mid-range chipsets for people building a budget oriented PC and aiming at decent gaming or general use. The X470 is a higher end board than the B450 and thus has more features. Although they have the same CPU compatibility. Some of the additional features include SLI support, more USB ports, a couple more PCIe 2.0 and SATA3 slots. Some might even have slightly better VRMs.

The difference in performance is negligible though, and the X470 boards don't offer any huge benefits over the B450 equivalents to justify the high pricing. For most people, B450 makes much more sense.

AMD has suggested that the 400 series chipsets will provide enough support for the latest Zen 3 processors, and you don't have to worry about future-proofing if you get these. If you really want the latest and best chipsets, you may want to take a look at the X570 motherboards, but they cost a lot more.
Conclusion
Hopefully, by now you have a clear idea on the B450 motherboard you should get for yourself. Whether you are building a PC for overclocking and squeezing the most performance out of it, or you are looking for something budget-friendly and will provide a stable Ryzen PC build, the motherboard should be as important as the CPU or Graphics Card. In general, while looking for any motherboard, the VRMs and cooling are most important and apart from that, BIOS Flashback, Wi-Fi, Intel LAN are also nice features to have. Just make sure the board is compatible with your processor and ask your retailer for the latest BIOS update if it needs one. The AMD B450 motherboard chipset is perfect for power users who want high performance and flexibility but don't need the maximum PCIe bandwidth required by multi-GPU configurations.
So, that was our take on the 7 Best B450 motherboards for Ryzen 2nd and 3rd gen processors. We hope our guide has helped you narrow down your choices and learn more about motherboards. Many of these motherboards have very similar feature sets and that makes it a very confusing decision to pick one. We have taken care to provide the best possible options in multiple categories. No matter what your preference is, you should find the one suited for you, and any of these would be a solid choice as long as you get the board at its regular retail price. If you have any other doubts or suggestions feel free to leave them in the comments section below.