A few days back, Asus unveiled the Asus Zenfone 4 Max with the Snapdragon 430 and a massive 5000mAh battery. Now, a Geekbench listing reveals that yet another Asus smartphone is under works.
The Zenfone 4, listed as ASUS_Z01KD is seen sporting the SDM 660 i.e Snapdragon 660 SoC, which is an octa-core SoC clocked at 2.21GHz.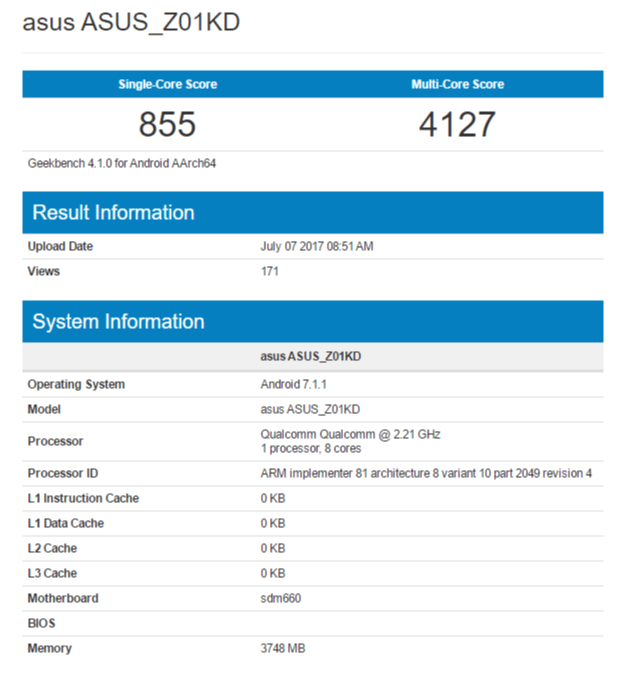 But what's weird is the performance listed. The listing shows that the Zenfone scores 855 points for the Single-Core and 4127 points for the Multi-core. This is really strange as the Sharp FS8016, that was launched a couple of weeks back sported the same SoC but scored an astonishing 1656 points for the Single Core and 5244 points for the Multi Core.
The Zenfone 4 comes with 4GB of RAM and runs on Android 7.1.1 Nougat.
In the list of upcoming smartphones this year, two versions of the ASUS_Z01KD is included. One of them is the Z01KD_1 and the other is the Z01KD_2. As explained by the leakster Roland Quandt, these two smartphones will be powered by different SoC's. One will be powered by the Snapdragon 660 and the other will include the Snapdragon 630 SoC.
We assume that the Zenfone 4 Max which was launched a few days back is the other variant mentioned.