ASUS had recently launched its ZenFone 4 range of smartphones, these were the refreshed line of handsets for this year. Unlike previous years, the Taiwanese semiconductor giant did not hold back on specifications or price and decided to hit all market segments. Starting with the ZenFone 4 Pro all the way down to the ZenFone 4 Max with multiple variants of each. This is not enough in the eye's of the company though and it already has plans to launch local variants of handsets where none of the current ZenFone 4 lineup fits. One such device is the recently revealed ZenFone 4 Selfie Lite from Malaysia.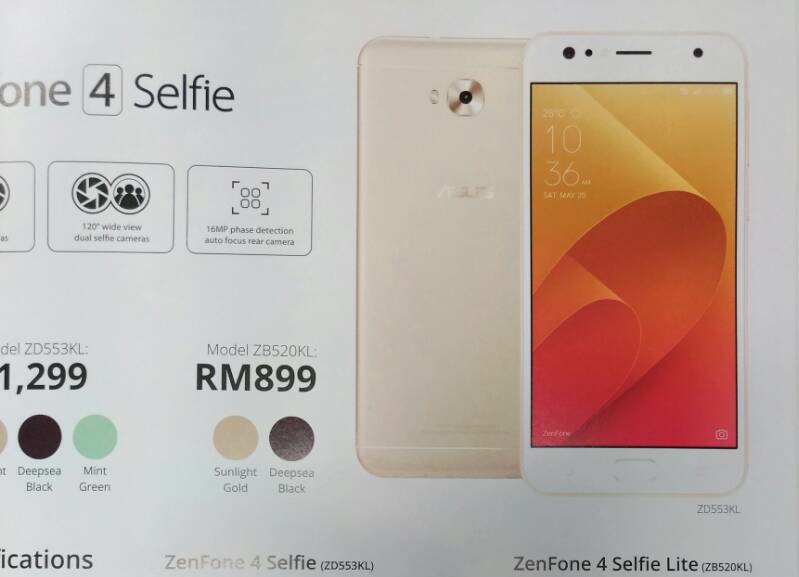 The ZenFone 4 Selfie Lite features a Snapdragon 425 SoC coupled with 3GB of RAM and 32GB of internal storage which can be augmented via a microSD card. For the display, ASUS have provisioned the handset with a 5.3-inch HD (720 x1280) IPS panel. Because this is a Selfie oriented smartphone, the device features a 16-megapixel shooter up front and the same as the primary sensor at the rear. Out of the box, the Selfie Lite runs Android v.7.x, Nougat under the ZenUI and if ASUS intends to keep its word might see an update Android Oreo under ZenUI 4.0.
Read More: ASUS states that Android Oreo will be headed to all ZenFone 3 and 4 series handsets
The ZenFone 4 Selfie Lite would be available in Sunglight Gold or Deepsea Black and will soon be on sale in Malaysia for 899 Ringgit (~$210). Currently, we are not sure if this is a Malaysia specific SKU or would the smartphone be appearing in other SEA region markets.
Follow us on our social media to keep up to date with the latest in the world of Android.