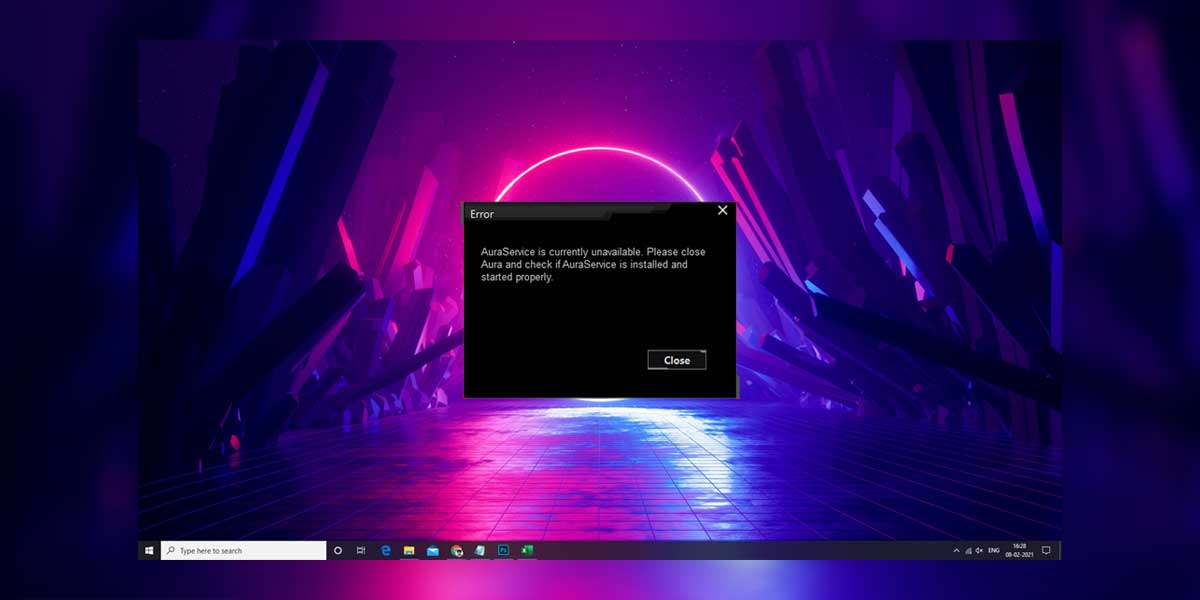 ASUS Aura Sync is one of the most polished RGB software for computers and gaming peripherals. The Aura RGB Lighting works seamlessly across a host of compatible gear including motherboards, keyboards, mice, AIO coolers, RAMs, GPUs and other accessories.
However, even with the vast customizability options and refined software features, the application doesn't come without its own set of bugs. As a result, some users may face occasional hiccups where they can't get Aura Sync to work.
People may get errors like "ASUS AURA service is currently unavailable" or "ASUS AURA has stopped working" due to several reasons. If you've been facing these issues and are looking for the solutions on the Internet, keep reading because we'll be showing all the common errors related to Aura Sync in your PC and methods to fix them.
Most Common Asus Aura Sync Issues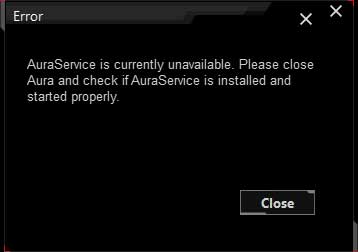 There are multiple reasons why the Aura software might stop working on your PC, which may lead to several different errors depending on the kind of problem.
These are the most common issues people seem to have been facing with Aura Sync. There might be other cases, but the solutions would mostly be very similar.
When the application displays the message "Aura service is currently unavailable", there can be several probable causes for that. Common ones include damaged app installation files, other conflicting lighting software, loose RGB connectors on the motherboard, or the Aura version that is not compatible with your system's hardware.
2. Asus Aura not detecting motherboard
The error "Asus Aura not detecting motherboard" is probably the most frustrating one among all. As a result of this error, none of the connected hardware can sync with the software rendering them essentially as regular non-RGB components.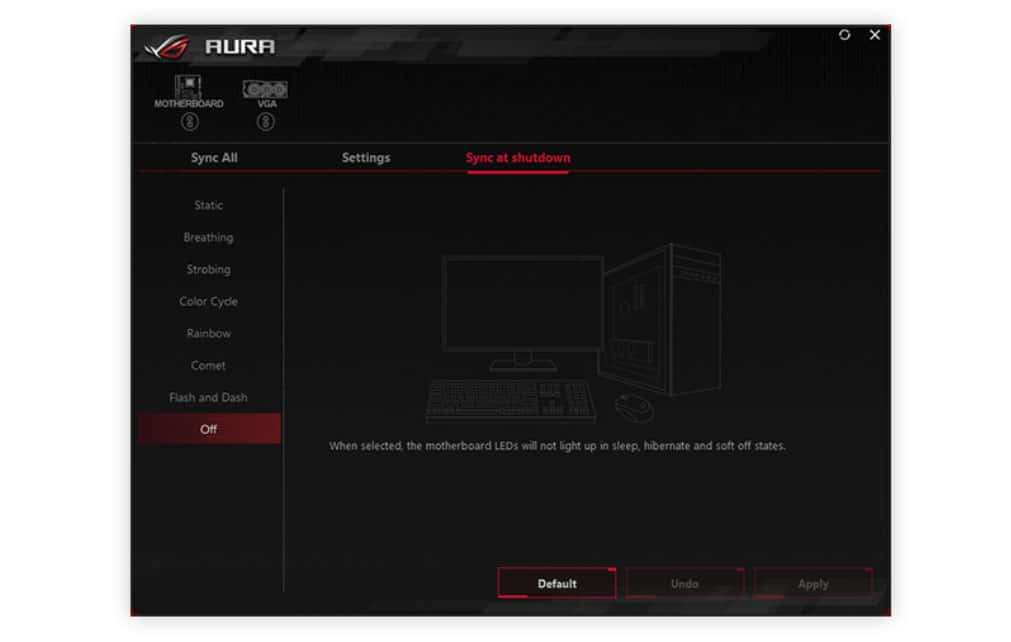 3. Asus Aura Won't Open
Sometimes you may keep clicking on the app icon, but your Asus Aura won't open. This may happen because of improper installation of the app or malware in your PC. You may try running the app as an administrator, but in any case, we have the appropriate solutions later in the article.
4. Aura Sync unable to sync with RGB lighting of different components
As with any RGB software, Aura Sync only works as desired when all the connected hardware is compatible with it. If one or more components don't work with Aura Sync, they might light weirdly or don't light up at all. ASUS has an extensive list of all the officially compatible gear in their website, so make sure to refer to that when using Aura Sync with your peripherals.
Also Read: Best RGB Motherboards
How to Fix Asus Aura Not Working
All we want is to light up our rig and jump into our favorite game, and issues like these can annoy any user. Don't worry! Here are some simple solutions you can use to fix "ASUS Aura not working".
Before moving on, make sure your motherboard is not physically damaged and is compatible with Aura Sync. No "fix" can fix a faulty motherboard.
1. Reconnect RGB Headers
If the RGB strips are connected incorrectly to the motherboard or the connection is loose, knocking yourself out with all the software methods won't help. The LED strips are not even connected and hence causing problems.
There are two common types of connectors: 3-pin ARGB headers and 4-pin RGB headers that need to be connected properly to work. You can try removing them and reconnecting the strips perfectly and without too much force or it may damage the pins.
2. Uninstall other RGB apps
Other RGB software like from Cooler Master, Corsair etc. can conflict with Aura Sync and cause problems. Since these components are compatible with all the major RGB software, there might be a condition where each component is trying to access a different software.
Step 1: Go to Settings > Apps > "name of RGB software" and tap Uninstall. You can also use the control panel to uninstall the apps, go to Control Panel > Uninstall a program > "name of RGB software" and click on Uninstall.
Step 2: Alternatively, Open the Run dialog box by pressing Windows Key + R. Type appwiz.cpl and press ENTER. This will open the application manager window, locate the additional RGB software, right-click on it and select Uninstall.
Step 3: Once you've removed all the other apps, reboot your PC and see if the issue is resolved.
3. Disable Fast Startup
Fast Startup, as the name suggests, is an inbuilt Windows feature meant to reduce boot times. It does so by storing the system configuration onto the hard drive so that the next time you boot up your computer, it can fetch system files and boot data quickly.
Although this is a useful feature and doesn't usually hamper Aura software's installation, it can sometimes keep the app from starting up during boot up, and you may require to start it separately. To prevent that from happening, all you need to do is disable the Fast Startup feature by following the steps below.
Step 1: Press Windows Key + R to open the Run dialog box. Type control panel and press ENTER.
Step 2: In the control panel, change the view to "Large icons" and select Power Options.
Step 3: In the left sidebar, click on Choose what the power buttons do.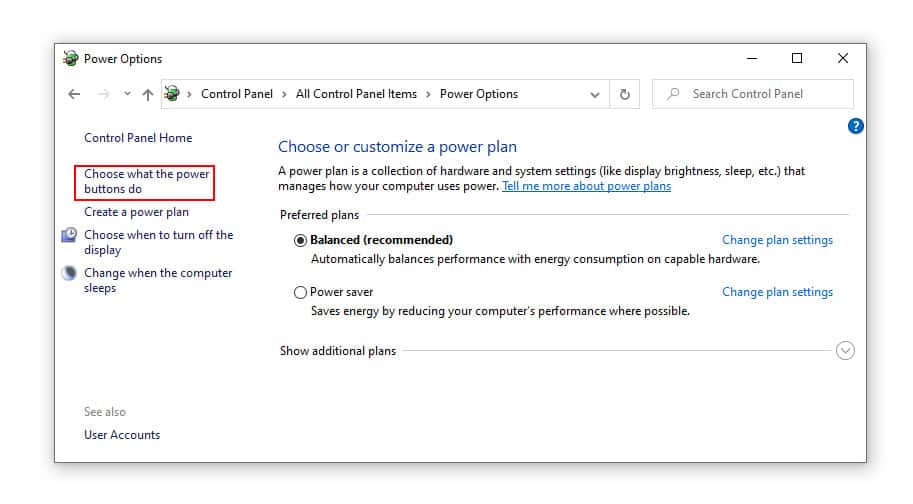 Step 4: Click the option that says Change settings that are currently unavailable. There will be an "administrative privilege" icon right next to this option.
Step 5: Scroll down to the bottom and disable the checkbox that says Turn on fast startup. Save and exit the control panel.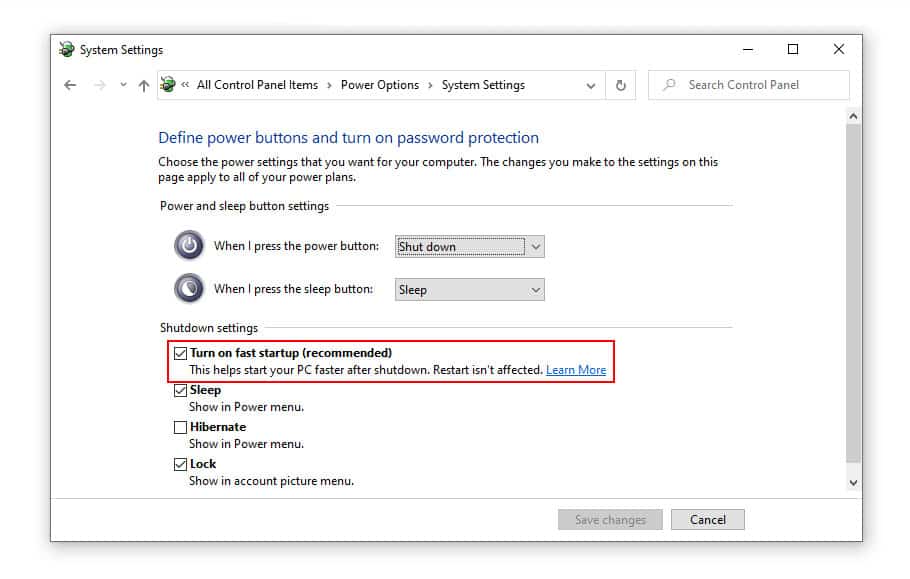 Step 6: Reboot your computer and try to launch the Aura app.
Step 7: Uninstall Aura Sync using Revo uninstaller and Reinstall Aura Sync
If you encounter the errors "Asus Aura has stopped working" and "unable to obtain the Aura-enabled device information", then running Revo uninstaller on the LightningServices folder seems to have worked for a lot of users.
If you simply uninstall the app on your own, there are chances of remnants and stubborn files staying on your PC. Revo uninstaller will conduct an advanced scanning of these files and force remove them so that there are no traces of the old programs or data.
Although Revo Uninstaller does have a paid "Pro" version, we don't need that for this discussion. A quick and clean reinstallation of Aura Sync can be performed by using the following method.
Step 1: Download and Install Revo Uninstaller from here.
Step 2: Open File Explorer and browse to C:/ProgramFiles(x86).
Step 3: Locate the LightingServices folder. Right-click on it and select Uninstall with Revo Uninstaller, or you can also open Revo uninstaller and find the Aura file to remove from your computer.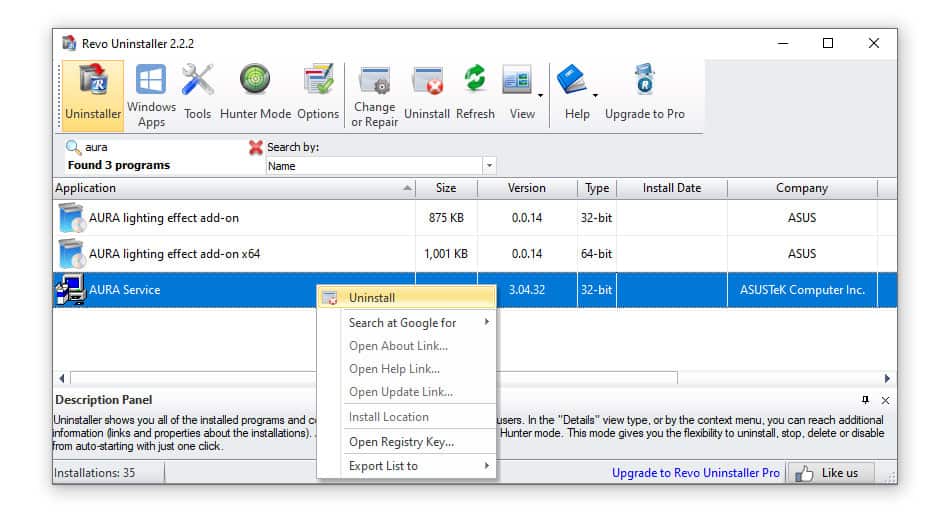 Step 4: Follow the instructions in Revo uninstaller to remove Aura from your computer.
Step 5: Once the process is finished, delete the LightingService folder.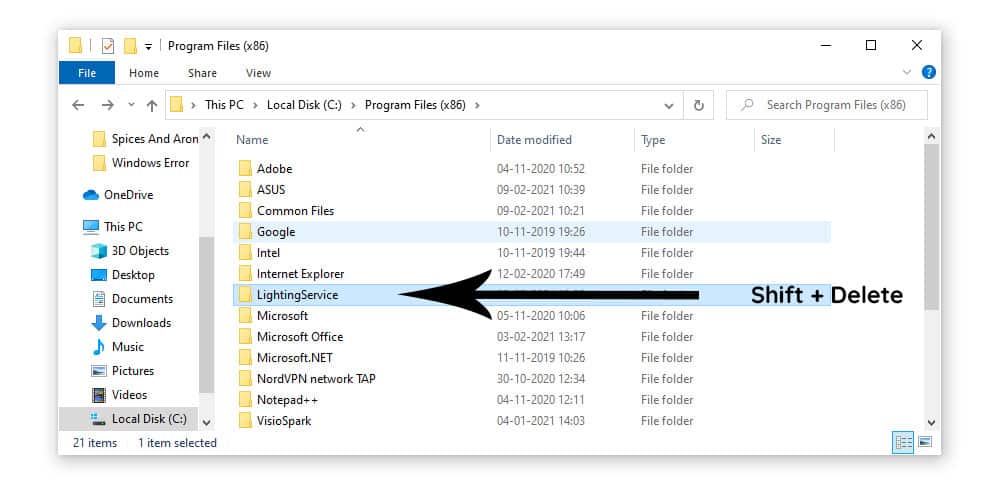 Step 6: Go to the Recycle Bin and empty all of its contents.
Step 7: Now download the latest version of Asus Aura from the manufacturer's website.
Step 8: Install Aura Sync by running the setup file you just downloaded.
Step 9: The error will hopefully be fixed by now, and the Aura app should work right away.
It may happen that after installing the latest version of Aura, you will see messages like "Aura service is not installed". In that case, simply install the Aura Service from the zip file in the LightingServices folder. If you notice that your motherboard is not showing up in the app, then the next step will solve that problem.
4. Unblock AsIO folders
Several users have reported that unblocking AsIO has seemed to resolve errors related to installing the Aura software and Aura service. Besides the AsIO folders, you can also unblock the Asus Aura setup zip file using the same method given below.
Step 1: Firstly, uninstall the existing Aura software.
Step 2: Now go to C:\Program Files (x86)\Io. You will find a list of all the AsIO folders.
Step 3: Start with the first folder. Right-click on it and select Properties.
Step 4: Enable the Unlock checkbox at the bottom of the properties window.
Step 5: Click on Apply and then OK to save the changes.
Step 6: Now repeat the same steps for all other AsIO folders.
Step 7: Once you've unblocked all of them, install Asus Aura once again. Launch it and check if the problem is solved.
Conclusion
Asus Aura is certainly a great software for gamers and RGB enthusiasts, well, until it stops working. If you are running a rather old version of the app, such issues might occur frequently and it's always better to use the newest compatible version on your PC.
Quick fixes like removing conflicting apps and disabling fast startup seem to work many of the times, but in any event, a proper reinstallation of the software should resolve all the issues related to "Aura sync not working".
So, how did it go for you? Did any of the above methods solve the problem, or you still can't get it fixed? If it's the latter, please drop us a comment, and we'll try to be quick with our reply. Thanks for reading!