The internet censorship control in China continues as Chinese government asked Apple to remove all major VPN applications on Chinese App Store.
ExpressVPN, a VPN provider based outside the China, first noted the removal of their app from the App Store.
"We're disappointed in this development, as it represents the most drastic measure the Chinese government has taken to block the use of VPNs to date, and we are troubled to see Apple aiding China's censorship efforts. ExpressVPN strongly condemns these measures, which threaten free speech and civil liberties," ExpressVPN wrote on their blog.
According to the note the company shared, the app was removed because it "includes content that is illegal in China." However, the app will continue to be available for countries outside China.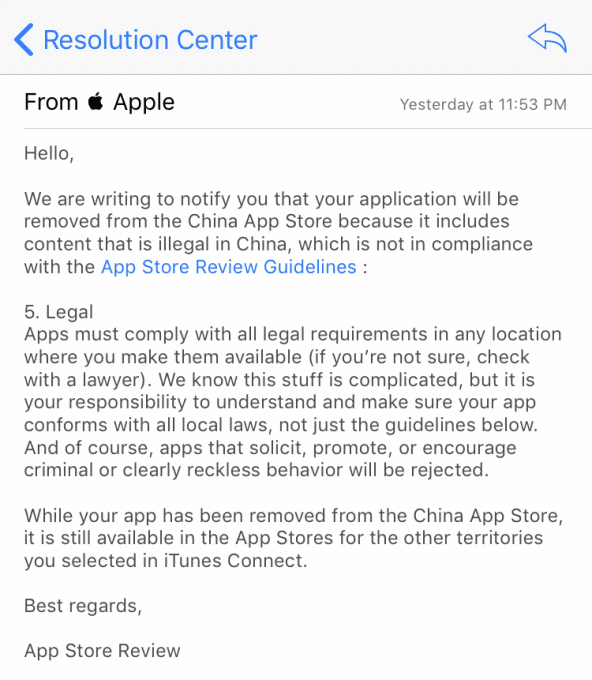 The only way to bypass the internet censorship in China is by using a VPN. Now that the Chinese government starts to remove all the major VPN applications in the country, it will cause a huge impact for working professionals based in China whose job requires access to global internet networks.
The use of VPN services in China was effectively illegalized by the government in January. This forced Apple to follow and made an immediate response as per request by the Government of China.
Currently, there is no news if similar action will be taken for Android app stores in China. While Google Playstore is not present in Chinese Android smartphones, there are couple more alternative Android app stores which continues to offer the same Android services with the exception of those services offered by Google.
The internet censorship in China even caused the removal of apps from international news sites including New York Times and Wall Street Journal earlier this year.