Nokia's entry into the premium market, relies very much on its under-production flagship device- Nokia 8. There are a lot of reasons that make Nokia 8 so anticipated. First and foremost reason lies in the fact that HMD has joined hands with Zeiss imaging for this one. And walking down the memory lane, we all know how fine that partnership turned out to be for Nokia and their handsets. And then comes the fact that it is Nokia. Believe it or not, but our mind gets struck with a subtle nostalgia whenever we talk about Nokia phones. Nokia surely tried to keep up with the smartphone competition when it entered into a joint venture with Microsoft, but sadly enough it couldn't survive. When we got the news that HMD Global would be taking over and governing the production of Nokia handsets (and that they would run on Android OS), we were a bit concerned, because Nokia was running far behind in the race and it needed to make up for the lost distance. And we all know that it has been trying hard, as it has already given us Nokia 5 and Nokia 6. Now, all our hopes lie on Nokia 8. And amongst all this gibberish, did I forget to tell you that the device was recently spotted on Geekbench?
While the company is expected to launch the flagship on August 16, Nokia 8 has already gained momentum in the market due to some of the company's policies. Nokia has made sure that all its devices would receive android updates pretty much the same way they would receive the security updates. And so the Nokia 8 that was spotted on Geekbench, was seen running a version of Android O instead of Android Nougat. Perhaps this is just a prototype and the company is testing the software on its phones.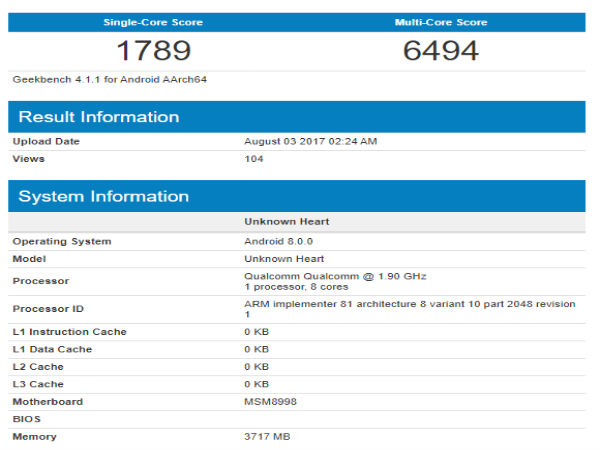 If in any case this turns out to be authentic, Nokia 8 might actually be the first non-Google handset to run on Android v8.0. It might also be possible that the handset might run Android Nougat out of the box, and get the update to the next version as soon it is made available to the other OEMs.
Anyways, we are excited about the device. Are you?