Xiaomi started the year with overwhelming number of devices. After the announcement of the white ceramic version of Mi Mix during the CES 2017, the company then followed it with couple more devices flooding all the market types. We have seen the Redmi Note 4X, Redmi 4X and Mi Max 2 unveiled earlier, but as always the highlight will go with the company's flagship for the first half year, the Xiaomi Mi 6.
And as we begin to dive deep on the second half of year, seems like the company gears to launch a new device that will be, as we suspected, a big brother of the recently launched Mi 6. The launch is said to take place on July 11, Monday and everyone is excited. As per the official Weibo account of Xiaomi, the said device is teased to have a 6GB of RAM which started to become a trend for flagship smartphones, notably the OnePlus 5. It's actually not new to Xiaomi as we have seen the same amount of RAM from their previous devices, but since the company is making this as a highlight on their new teaser, this must be a big deal.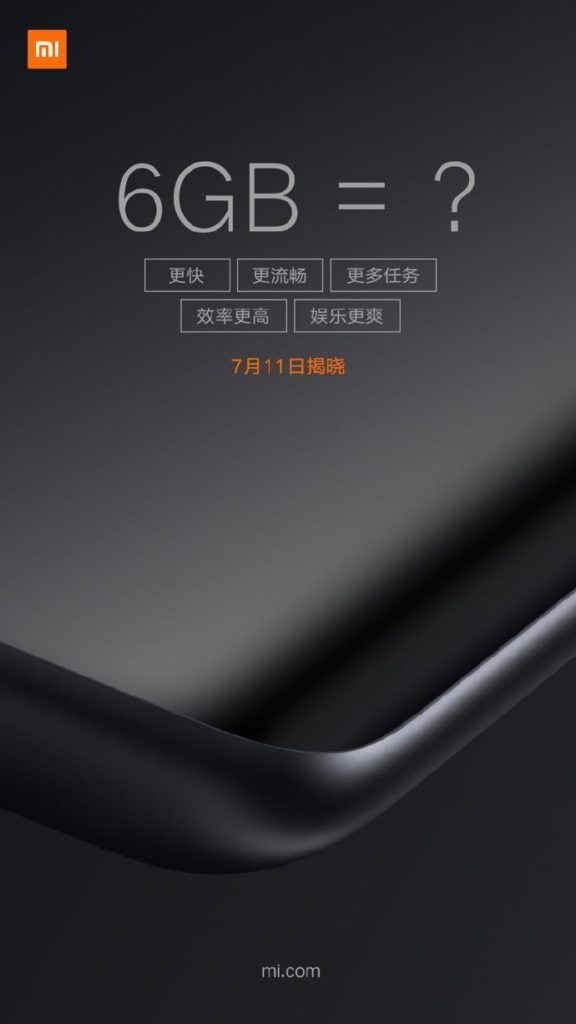 Following the teaser poster, a video went live on company's official Weibo account today. This is where things started to get more exciting. The video hints the new smartphone to house a Qualcomm Snapdragon 800 series processor, will have UFS as storage and a 6GB DDR4 RAM. The yet unnamed smartphone will be wrapped on a 3D glass body and will feature a 4000mAh of battery and 22MP rear-facing camera that can record 4K videos. There's no mentioning of dual-camera setup, although its already expected. The 13-seconds quick video teaser also mentioned the inclusion of 4G+, USB Type-C port, Quick Charge, NFC and IR Blaster.
Summing up, these specs belongs to a flagship class and the 3D glass body is telling us that this will be called Mi 6 Plus. Whatever Xiaomi is up to, we can only know after their July 11 launch. So stay tuned.